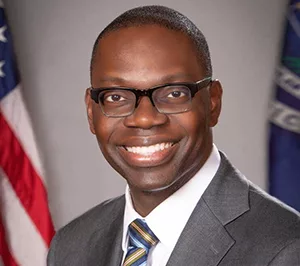 LANSING, Mich. — Michigan Lieutenant Governor Garlin Gilchrist II was elected by his peers as chair-elect of the National Lieutenant Governors Association. NLGA is the bipartisan professional association supporting lieutenant governors and seconds-in-command in all 50 states and U.S. territories. 
"The National Lieutenant Governors Association is at the forefront of our work as lieutenant governors to make a difference for communities across the country," Gilchrist said. "It brings lieutenant governors from all parties together to share best practices and collaborate on the pressing issues we all face. As Michigan shows national leadership on innovation and economic development, protecting fundamental rights, and addressing the climate crisis, I am excited to step up as chair-elect and honored by the confidence my fellow lieutenant governors have placed in me. Let us continue working together to grow opportunity and possibility and help every one of our constituents reach their full potential."
"NLGA thrives under leaders that are willing to participate, share, and learn with their peer seconds-in-command from across the country," said NLGA Director Julia Brossart. "Michigan Lt. Governor Garlin Gilchrist is an engaged leader on issues like economic opportunity, criminal justice, and technology. We are looking forward to working closely with Lt. Governor Gilchrist when he becomes chair of the NLGA in the summer of 2024."
Lt. Governor Gilchrist was nominated and approved by the NLGA membership and immediately begins service as chair-elect of the NLGA Executive Committee. The committee is responsible for supporting the nation's second-highest state officeholders and addressing issues of mutual concern to states and territories. Currently, Lt. Governor Gilchrist serves as Midwest Chair of the NLGA Executive Committee.
Michigan is open for business and on the move, innovating the future of cars, chips, and batteries and forging a bright future for individuals, families, and communities across our state. With unemployment at 20-year lows, a record number of Michiganders starting small businesses, and strong economic investment in high-tech industries like clean energy, Michigan is well-positioned to lead the NLGA and benefit from further interstate collaboration. Lt. Governor Gilchrist will host the NLGA in Detroit in 2024.
Lt. Governor Gilchrist has dedicated his career to solving problems. An engineer by training, he uses thoughtful and fact-based practices to solve real problems and make government work better for Michigan families. As part of the Whitmer Administration, Lt. Governor Gilchrist has helped Michiganders across our state realize their full economic and political potential. He chaired the Michigan Joint Task Force on Jail and Pretrial Incarceration, helmed the Michigan COVID-19 Task Force on Racial Disparities, and has led efforts to connect over 23,000 unserved locations in Michigan to affordable high-speed internet. Lt. Governor Gilchrist is committed to building a more just, equitable, prosperous, and connected Michigan where everyone can thrive. Lt. Governor Gilchrist and his wife, Ellen, reside in Detroit where they are raising their twins, Emily and Garlin III, and daughter, Ruby.