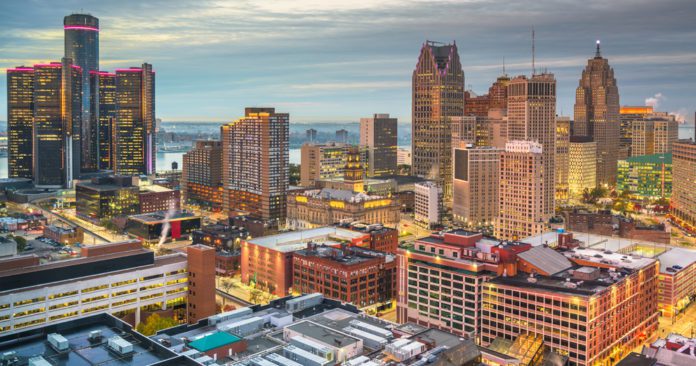 Metro Detroit offices are seeing more vacancies while newly built industrial spaces are getting snapped up quickly as the end of 2020 shows that the coronavirus pandemic still has a major impact on the way people work, according to recent industry reports.
But real-estate experts agree that as vaccines continue to roll out and companies start to go back into buildings for daily work office buildings will start to fill up again in 2021 and beyond.
In its latest report released in late January, Southfield-based Newmark found that the Metro Detroit office market last year had the highest net vacancies in the past decade.
"2020 was a challenging year for the metro Detroit office market. The effects of COVID-19 significantly reduced market activity," said Fred Liesveld, Managing Director of Newmark's Detroit office. "However, we are confident as more and more companies return their employees to the workplace, the office sector will see a return to normal market conditions."
Office market
In its 4Q2020 Metro Detroit Office Market report, Newmark found the metro Detroit office market vacancy rate edged up 80 basis points to 16.2% during the fourth quarter of 2020 as just over 548,000 square feet in net vacancies were added to the market.
The pandemic led to a slowdown in growth in the service sector and forced companies to implement work-from-home policies. As a result, the office market recorded nearly 780,000 square feet in net vacancies in 2020, a level not seen in ten years, the report said.
Also contributing to increased vacancies was newly renovated space coming back on the market in Detroit and Mercedes-Benz vacating a large block of space in Farmington Hills as it begins building a new headquarters facility.
Meanwhile, sublease space trended up 7.0% to 1,067,288 square feet from pre-stay-at-home measures in the first quarter to the end of the fourth quarter in Metro Detroit's core office markets. However, the increase was 5% when compared to levels during fourth-quarter 2019.
Industrial market
According to Newmark's industrial report, the metro Detroit industrial vacancy rate fell 20 basis points to 4.3% during the fourth quarter of 2020, as just over 1.3 million square feet were absorbed. Total net absorption for the year amounted to nearly 1.4 million square feet, compared to 4.5 million square feet in 2019.
The difference is attributed to the drop in pre-leased speculative and build-to-suit completions in 2020 compared to 2019. In addition, many companies continue to vacate large pre-1960 era facilities in exchange for facilities that offer more efficient space to manufacture or store and distribute goods. The industrial market still has a strong undercurrent of demand with 6.5 million square feet of mostly pre-leased new product under construction during fourth-quarter 2020.
Bulk warehouse makes up 72% of overall construction activity as the vacancy for bulk distribution space is just 1.3%. Many of the new bulk warehouse projects are being developed in Southern Wayne County, where companies such as Amazon, Lowes, Kroger, Pitney Bowes, DHL and Performance Food Group are pre-leasing significant blocks of space. Demand is also strong in Macomb, Southeast Oakland and, increasingly, the City of Detroit.
"The fourth quarter of 2020 is providing a preview of what the Detroit industrial market is going to look like in 2021–a market with strong industrial demand that will continue to fuel the construction pipeline," said Detroit office managing director Liesveld.
Residential rent
With the first full month of 2021 data in the books, Apartment List in its monthly report said that rent estimates are showing that COVID's impact on the market is continuing to stabilize. Its national index is up by 0.1% month-over-month, the first monthly increase that it has seen since last August.
Although it continues to see significant regional variation, Apartment List said, "the markets most impacted by the pandemic are beginning to enter calmer waters. Take the pricey coastal metros where rents have been plummeting, this month's data implies that we may have reached the bottom. At the other end of the spectrum, many of the mid-sized markets, where we have seen rents grow rapidly through the pandemic, only show modest increases."
Here are some of this month's highlights:
• Rents in Detroit increased 0.1% month-over-month, and are up by 1.1% year-over-year.
• For comparison, year-over-year rent growth in Detroit was 0.3% at this time last year.
• Median rents in Detroit currently stand at $655 for a 1-bedroom apartment and $874 for a two-bedroom.