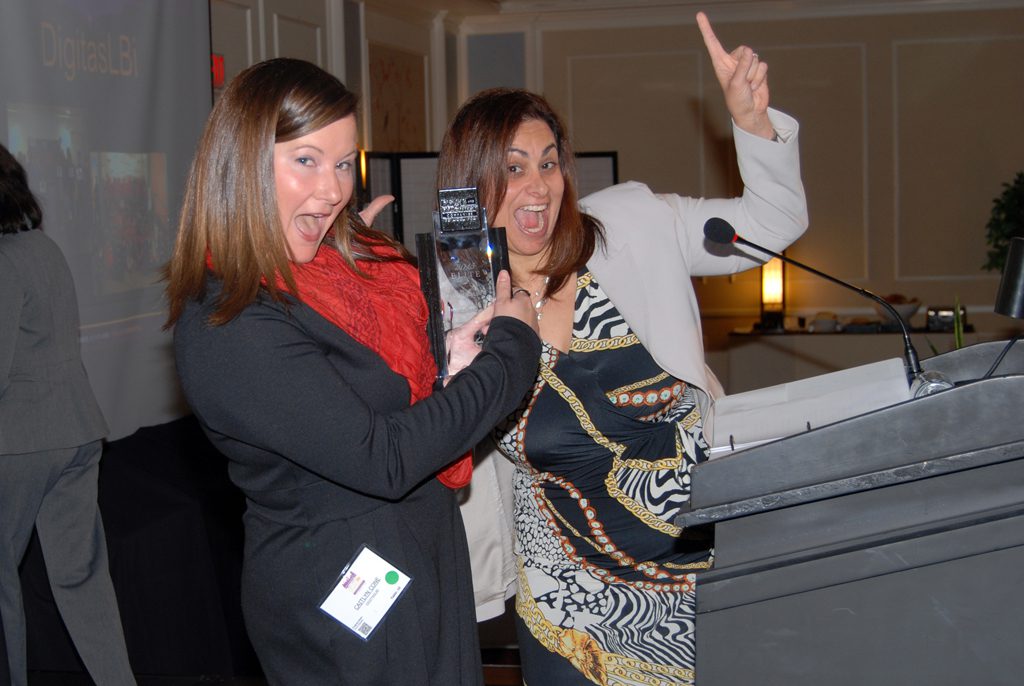 Employee teams from San Francisco's standout companies in human resources practices celebrated big time Nov. 12 at Hotel Kabuki as they met and to mark their winning results in the 2015 San Francisco Bay Area's Best and Brightest Companies to Work For competition.
The Best and Brightest Companies to Work For competition identifies and honors organizations that display a commitment to excellence in their human resource practices and employee enrichment. Organizations are assessed based on categories such as communication, work-life balance, employee education, diversity, recognition, retention and more.
The awards, networking and informational event highlighted company practices that treat employees right. The best companies and organizations clearly know that engaged and inspired employees make better workplaces, communities and bottom lines. Here are their stories.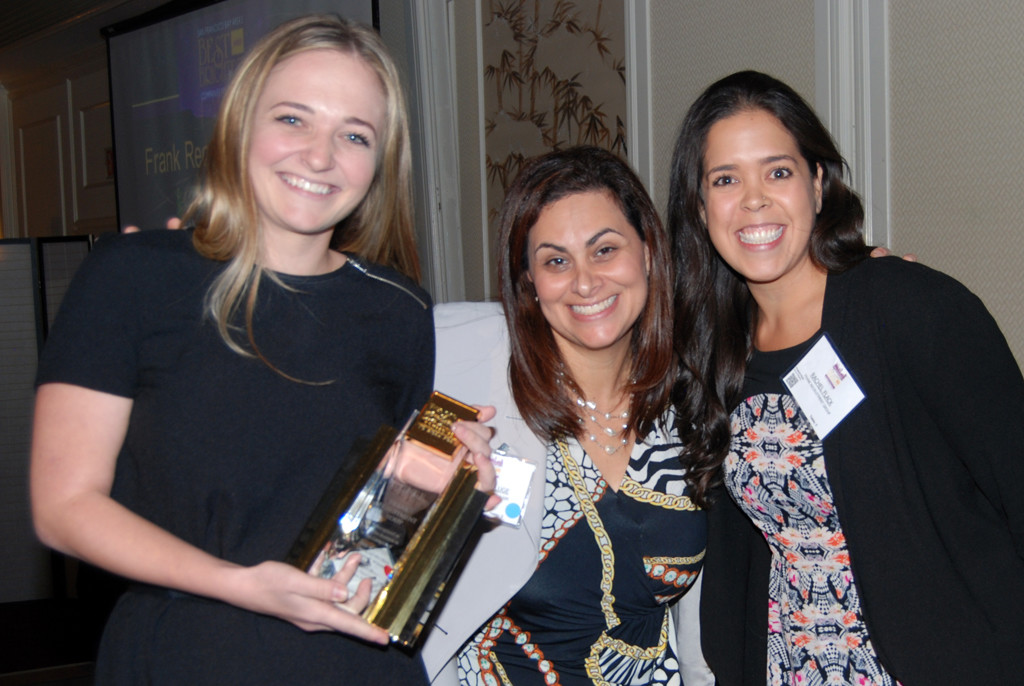 Best of the Best Overall Winner – Frank Recruitment Group
On the first Thursday of every month, Frank Recruitment Group's San Francisco Senior Vice President Robert Morgenroth gathers his team around and reviews the month's highlights and major successes. He recognizes excellent performances that stand out from the rest and awards individuals deserving of recognition, including the monthly MVP, complete with trophy and lunch on the house the next day. And, he announces promotions.
First Thursdays are one of the most valued and fun companywide practices at Frank Recruitment Group, a global recruitment and staffing firm with offices in Newcastle, U.K., London, New York, Singapore, Melbourne and San Francisco. After the administrative part of First Thursdays finishes, team members gather for drinks and appetizers at a local watering hole.
That's the culture driving their success. Senior VPs take top performers to a 5-star restaurant monthly, employees compete for Rolex watches, and top performers can earn all-expenses-paid trips to wonderful and exotic destinations.
But the most popular benefit at the company is its annual summer conference in New York City. The four-day event brings together Frank Recruitment Group employees from across the United States for speeches, networking, explorations of the city and professional development. The most recent gathering included a Great Gatsby-themed party at a historic mansion on Long Island, as if the Frank team stepped right into F. Scott Fitzgerald's famous story.
All Frank Recruitment Group employees receive four weeks of paid vacation every year and are invited to participate in cultural diversity social events, bringing employees together in a safe space to celebrate their individual backgrounds. This year, a themed competition featured individuals celebrating their family histories, through a potluck lunch featuring traditional cuisine, in conjunction with the World Cup.
Frank Recruitment Group is known as a global leader in Microsoft recruitment. Company leaders believe its success is directly related to its fun culture and productive environment that rewards hard work and dedication. Employees have realistic expectations for success with measurable goals for sales and performance-based bonuses for operations folks. Senior leaders review individual performance regularly, to help employees stay on target for their yearly goals. All employees are offered Monthly Business Reviews with their direct manager.
New this year is Frank Recruitment Group's Sales & Recruitment Boot Camp, a 12-week training program for new hires that sets a foundation for sales and recruitment careers. A strong mentorship relationship is part of this process. Employees can evolve to the Nigel Frank Training Academy, which teaches advanced sales and recruitment techniques after employees reach their 6-month and 12-month anniversaries, and again when they are promoted to Senior Consultant status.
But it doesn't stop there. Managers gather for Tuesday Night Training every week, to continue professional development throughout one's career.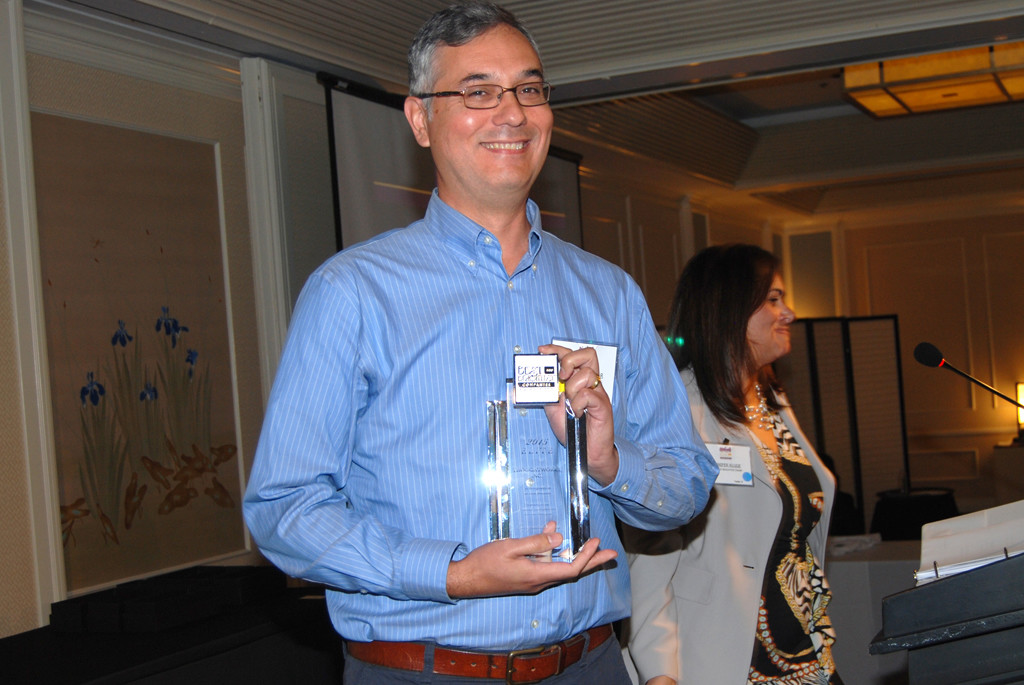 Second Place Overall Elite Winner – ThoughtWorks Inc.
Seeking to create software excellence and revolutionize the IT industry, ThoughtWorks has woven social justice and community advocacy into the fabric of the company. "At ThoughtWorks, we encourage everyone to think and reflect on our place in society," say company leaders.
Using its deep knowledge of technology, ThoughtWorks partners with community organizations to enhance lives and improve communities, in all of its corporate locations. Many of the local workshops take a diverse pool of youth and adolescents through detailed workshops that empower and educate in the details behind Web design and coding, entrepreneurship and consulting. The company also welcomes high school interns every summer.
In San Francisco, ThoughtWorks partners with organizations focused on increasing access to opportunities, including Black Girls Code, Technovation, Black Male Achievement Hackathon, Women of Color in Tech, Hands Up United, Qeyno Labs, San Francisco Citizens Initiative for Technology and Innovation (sf.citi) and Year Up. Local advocacy efforts focus on the SF Food Bank, Project Homeless Connect, Bay Area Women Against Rape and Impact HUB.
Within the company, ThoughtWorks encourages and facilitates leadership development and promotes work-home harmony, while offering competitive benefits to employees along with free cell phones, parking and fitness club allowances, and reimbursements for DSL service at home. The company offers a generous maternity/paternity leave as well as parenting class reimbursements, assistance in adoption and surrogacy and coverage for all of these efforts along with reproductive assistance.
On the leadership track at ThoughtWorks, employees are encouraged to attend professional seminars and join associations in their field, and the company buys books for further education and research. From new hire induction programs to ThoughtWorks University, all employees are privy to a unique career development program at every level as they advance in their skills and responsibilities.
The ThoughtWorks team eagerly anticipates Thank You Time Awards, which awards additional paid time off, compensation and other recognition and rewards for people who have gone beyond the expectation for their role. Companywide communication and transparency are key to the corporate culture, with connection common between senior level leaders and staff at all stops on the corporate ladder.
When it comes to home-work harmony, ThoughtWorks has put a lot of thought into how to best serve and support its employees. Quarterly home office days, regional away days, ad-hoc dinners and happy hours are some of the ways employees are rewarded with dedication in the office and on the clock.
ThoughtWorks' Sabbatical Leave Policy gives its most tenured employees, who have been with the company for at least a decade, the ability to take up to 12 weeks off with full salary. After 10 years, employees can choose to take shorter sabbaticals more frequently (up to six weeks every five years).
Finally, with so much time spent in the workplace, ThoughtWorks wants its team to have fun on the job – which is why on-site recreation options include video games, play rooms, table tennis and more.
"ThoughtWorks values building quality systems that last a long time, yet provide rapid return. That's a difficult balance to strike. It requires very bright people and ThoughtWorks is the brightest bunch I've worked with," says Martin Fowler, chief scientist.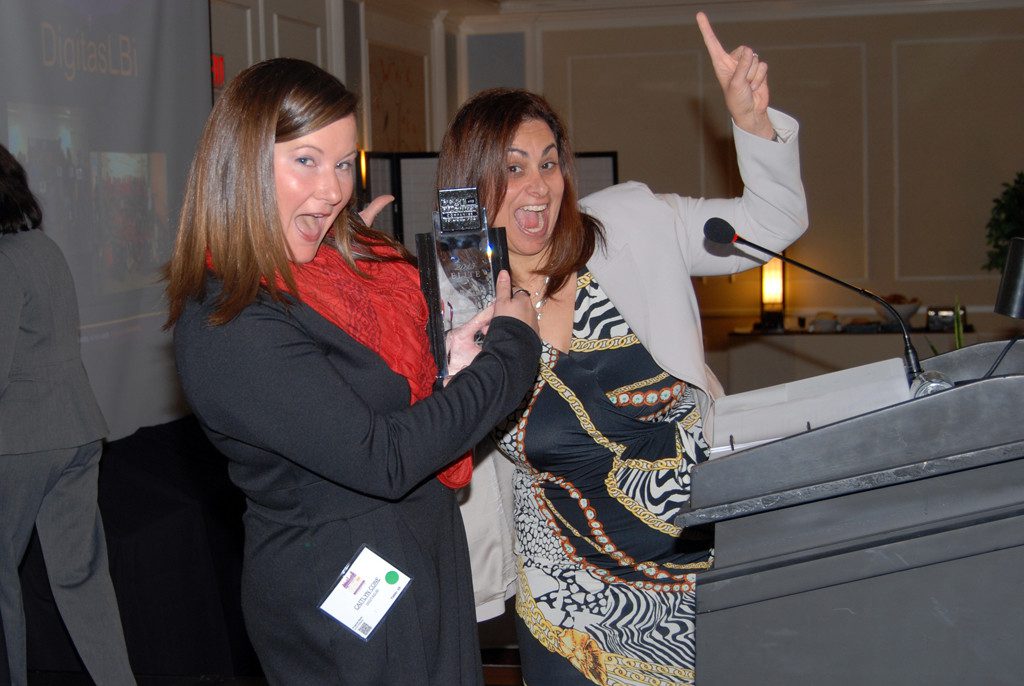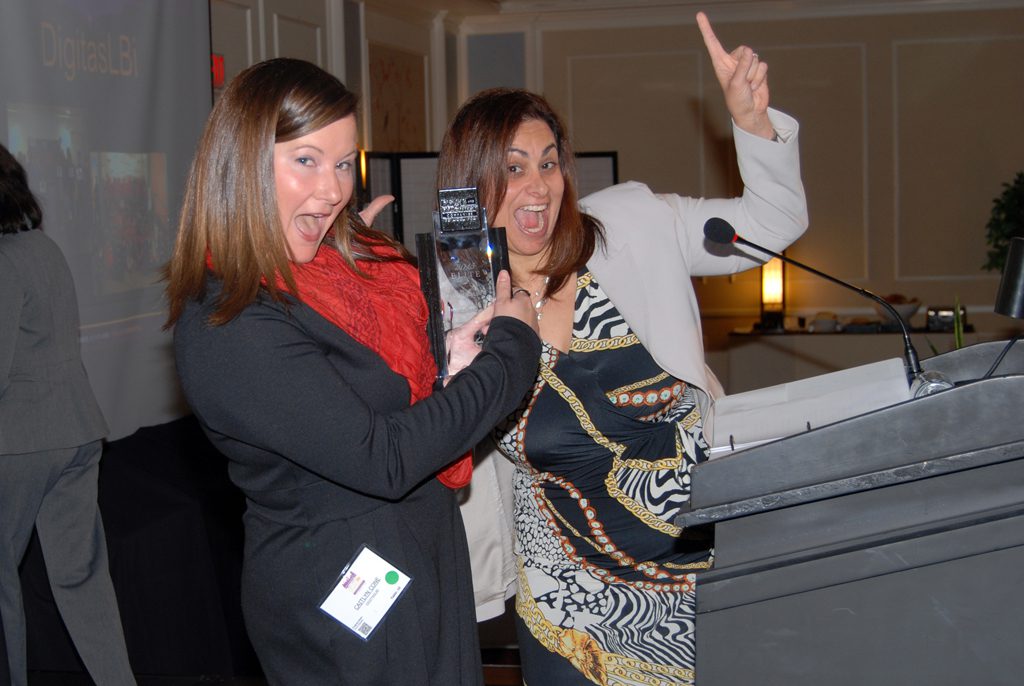 Third Place Overall Elite Winner – DigitasLBi
The powers-that-be at DigitasLBi have thought long and hard about how they want to build their company culture – so much so, that they have designated the unicorn as their company mascot, hoping to capture its magical, creative and playful spirit for the workplace.
If you're going to do something, the leadership at DigitasLBi figures you'd better do it well. Be all in. Which is why the mythical mascot graces a recently launched newsletter called Unicorn Picks, in which The Americas CEO Tony Weisman and Chief Creative Officer Chris Clarke highlight inspiring things happening in the global marketing and technology industry. DigitasLBi employees receive this along with Tony's Weekly Reader, keeping up with what's happening in the company and sharing Weisman's industry insights.
Data plus storytelling. That's the formula that works for this company, which considers its collaborative workplace as a "blending" experience – taking talent, perspective and team members from across 40 offices worldwide to create the right mix for each project. Blending applies, too, to the balance between career and personal life, and DigitasLBi is dedicated to finding a variety of ways to support and encourage this harmony for employees, including:
• Its health and wellness stipend – $100 reimbursement for gym membership, weight loss programs, yoga pants or more!
• Pet benefits – aside from pet insurance, DigitasLBi gives bereavement time for pets, a pet parents group and a warm welcome to dogs that come to work.
• A New Parent Transition Program that eases new parents back into the workplace after childbirth, adoption or surrogacy and a private Mothers Room for nursing mothers.
New parents are invited to a company Parents Group. Newlyweds receive a Tiffany frame. Digitas pays for Care.com membership for employees to find high quality caregivers for children, elderly relatives, pets, housekeeping and more, and the company offers affordable childcare through a cultural au pair program that links families with nannies from foreign countries for a cross-cultural caregiving experience.
The company just wants to make it easy and comforting to go to work every day. Once there, performance is king and the company has thought of that, too.
DigitasLBi's Pay for Performance philosophy offers merit-based opportunities, rewards and growth for employees. Performance management happens under Track360, where managers collect feedback from peers, direct reports and senior staff to guide them in deciding annual merit increases, quarterly promotions and adjustments as needed.
Employees write self evaluations and set goals with their managers for the coming year. Every year, approximately 20 percent of the staff is recognized with a promotion. The Reward & Recognition Program encourages employees to thank each other for a job well done. The DigitasLBi Mentor Program connects leaders with employees to provide coaching and advice, and the Fluid Talent Program is but one of many learning and development offerings for professional development and career-building.
Finally, DigitasLBi honors one employee in each office as the "Heart of the Company." This peer-nominated award is bestowed by the CEO. And then the fun begins – with parties, surprise feasts, little gifts and big opportunities (chiropractic and yoga on-site or frozen yogurt for everyone one warm afternoon).
There is so much more about this company that makes it a winner – from volunteer initiatives to widespread support of LGBT families. "At DigitasLBi, we believe that our company isn't just a place, it's a belief," leaders say.
Here's a look at the winners in the 2015 San Francisco Bay Area's Best and Brightest Companies to Work For.
3Degrees Group Inc.
3Degrees Group Inc.
San Francisco
www.3degreesinc.com
3Degrees is a renewable energy and carbon offsets provider for Fortune 500 companies, utilities, green building firms and other organizations working toward making their products, operations and services sustainable. Through its partnerships, 3Degrees seeks to accelerate the world's transition to a low-carbon, renewable energy economy by increasing demand for renewable energy and carbon offsets.
Access Communications
Access Communications
San Francisco
www.accesspr.com
Access Communications is a 20-year-old communications agency that creates custom campaigns, which include product positioning, product launches, media relations, special events, analyst relations, crisis communications and reputation management. The company is built on the premise that success comes from crafting the right messages; storytelling is a prominent corporate value, with a goal of developing compelling messages and corporate narratives and coaching individuals to become quotable storytellers.
Amnet Group
Amnet Group
San Francisco
www.Amnetgroup.com
Amnet helps clients build effective and efficient media investments with a programmatic approach. The company uses data to help prospect for new customers, set attainable acquisition goals, and interpret behavioral data to create more successful campaigns.
AnswerLab
AnswerLab
San Francisco
www.answerlab.com
Created in 2004, AnswerLab guides Fortune 1,000 companies to create meaningful and successful digital experiences using original research and insights. The company provides proprietary solutions to shape user experience and improve online marketing effectiveness and product performance. The team helps clients optimize and maximize existing operations while innovating new ones as well.
AppDynamics Inc.
AppDynamics Inc.
North Tower San Francisco
www.appdynamics.com
AppDynamics helps clients assess the effectiveness of software apps to avoid problems, resolve issues and help businesses be more effective and successful. Founded in 2008, the company became a leader in application performance monitoring by 2012 and continues to raise venture capital to expand and grow. It has released platforms and programs for client use.
Arena Solutions
Arena Solutions
Foster City, Calif.
www.arenasolutions.com
Arena Solutions was created in 2000 to provide businesses with a product lifecycle management solution that increases the speed of prototyping, reduces scrap and streamlines supply chain management. The company invented cloud-based PLM applications to enable manufacturers to deliver high-quality products on time and within their budget. Its products' collaborative capabilities help clients centralize, control and analyze complex and constantly changing product information including bills of materials, part specifications and change orders.
Ascent
Ascent
Walnut Creek, Calif.
www.ascentsg.com
Ascent is a professional staffing company that founded three of the fastest-growing, discipline-specific professional associations, including Project Portfolio Management Professionals, Data Management Professionals and Contingent Workforce Management Professionals. With offices around the country, Ascent looks to build long-term relationships with clients and staff for greater success.
BlackBerry
BlackBerry
Pleasanton, Calif.
www.blackberry.com
One of the world's best-known smartphone providers, BlackBerry provides enterprise software and devices for people to stay connected in an increasingly connected business landscape. Originally a dominant innovative telecommunication and wireless company based in Canada, the worldwide brand has evolved to become best known as the developer of the BlackBerry brand of smartphones and tablets as well as reliable software for industrial applications and mobile device management.
Buchman Provine Brothers Smith LLP
Buchman Provine Brothers Smith LLP
Walnut Creek, Calif.
www.bpbsllp.com
Buchman Provine Brothers Smith LLP is a law firm that focuses on business, employment, real estate and estate/tax planning matters. Its legal team is comprised of 17 attorneys and paralegals who aim to be responsive in providing advice and guidance on a broad range of legal matters.
Commune Hotels + Resorts
Commune Hotels + Resorts
San Francisco
www.communehotels.com
Commune is an international hotel management company with boutique and resort brands that include Alila, Joie de Vivre, Thompson Hotels and Tommie. Its hotels are located around the world, with signature style for each brand. Commune is known as the world's largest lifestyle hotel company, with more than 50 boutique hotels and 25 years of expertise in the market.
Crane Worldwide Logistics
Crane Worldwide Logistics
Hayward, Calif.
www.craneww.com
Opened in 2008 by a group of former senior EGL executives, Crane Worldwide Logistics is a global freight management and contract logistics services company that reports more than $680 million in revenues with 113 locations in 25 countries. It prizes its ability to provide transparency to the global supply chain using cutting-edge technology to transform the industry.
DigitasLBi
DigitasLBi
San Francisco
www.digitas.com
www.digitaslbi.com/us/
DigitasLBi is a global marketing and technology agency that seeks to transform businesses for the digital age. Its expertise guides companies and brands to embrace the creative and technological changes of the day through a variety of services including Web design, affiliate marketing, creative, branded content, content strategy, mobile, social media, CRM and more.
DoubleDutch
DoubleDutch
San Francisco
www.doubledutch.me
DoubleDutch is an event app provider that seeks to enhance the conference experience by eliminating the need for paper handouts and increasing social participation for attendees. The company provides mobile event apps and event performance analytics, building purpose-driven apps that reinvent the event experience.
Dynavax Technologies Corp.
Dynavax Technologies Corp.
Berkeley, Calif.
www.dynavax.com
Dynavax Technologies Corp. is a clinical-stage biopharmaceutical company with multiple product candidates in development for the prevention of infectious disease, the treatment of autoimmune and inflammatory diseases and the treatment of cancer. The company develops cutting-edge immunotherapies based on Toll-Like Receptor (TLR) biology and its ability to modulate the immune system.
Everlaw
Everlaw
Berkeley, Calif.
www.everlaw.com
A unique law firm support system, Everlaw built a team of individuals representing the fields of law, computer science, business, physics, math and sports to create software to aid in litigation. It is a technology creator that seeks to enhance and make more effective the experience of attorneys supporting clients in their legal pursuits.
Extractable
Extractable
San Francisco
www.extractable.com
Founded in 1999, Extractable is a digital design agency dedicated to high-tech. The company focuses on helping clients gain a competitive advantage via digital channels. The company has published more than 250,000 Web pages in its tenure, creating digital strategy in a variety of industries, including financial services, health care, B2B technologies and green energy.
Frank Recruitment Group
Frank Recruitment Group
San Francisco
www.nigelfrank.com
www.nigelfrank.com/us
Established in 2006 in Newcastle U.K., Frank Recruitment Group has rapidly grown into a global leader in Microsoft recruitment. With offices around the world, Frank Recruitment Group finds high caliber candidates for Microsoft partner and end user clients. Its mission is to continue to be a global leader in Microsoft recruitment by matching more candidates with their dream jobs than any other recruitment organization.
GeoVera Holdings Inc.
GeoVera Holdings Inc.
Fairfield, Calif.
www.geovera.com
GeoVera Holdings Inc. provides innovative, competitively-priced residential insurance products in California, Hawaii, Oregon and Washington. Products include earthquake insurance and windstorm hurricane insurance. With offices in California, Wisconsin and Florida, GeoVera specializes in developing and managing catastrophic risk insurance with experienced claims professionals and specialists in homeowners property and liability insurance.
Harley Ellis Devereaux
Harley Ellis Devereaux
Oakland, Calif.
www.harleyellisdevereaux.com
With a century-long history, Harley Ellis Devereaux is an architecture firm dedicated to the built environment. Its work focuses on affordable housing, senior living, market rate, student housing and special needs as well as commercial, recreational and residential environments.
Hotel Nikko San Francisco
Hotel Nikko San Francisco
San Francisco
www.hotelnikkosf.com
Hotel Nikko San Francisco is a hotel near Union Square in the heart of San Francisco that attracts guests for business and professional purposes. With 552 rooms, including 22 suites, Hotel Nikko offers pampering details and great city views from top floors.
hrQ Inc.
hrQ Inc.
San Francisco
www.hrqinc.com
hrQ provides human resources talent to organizations across the country via national HR search, Interim HR staffing and HR consulting. Launched in Denver in 1998, the company opened its San Francisco Bay Area office a decade later and remains dedicated to provide high-quality HR talent and guidance to companies seeking quality.
IDT Inc.
IDT Inc.
San Jose, Calif.
www.idt.com
IDT develops a broad range of low-power, high-performance mixed-signal semiconductor solutions that optimize customers' applications in key markets. In addition to market-leading timing products, IDT offers semiconductors targeting communications infrastructure, high-performance computing and power management, which are used for next-generation development in areas such as 4G infrastructure, network communications, cloud datacenters and power management for computing and mobile devices.
Intacct Corp.
Intacct Corp.
San Jose, Calif.
us.intacct.com
More than 10,500 organizations and individuals use Intacct cloud financial management to help their organizations run more efficiently. The cloud accounting software company is a leading provider of best-in-class cloud ERP software, bringing cloud computing to finance and accounting. Its system includes accounting, cash management, purchasing, vendor management, financial consolidation, revenue recognition, subscription billing, project accounting, fund accounting, inventor management and financial reporting applications.
Jobvite
Jobvite
San Francisco
www.jobvite.com
Jobvite is a recruiting company that has the lowest cost-per-applicant and the highest click-to-apply rate in the industry. With a decade-long focus on recruiting software, Jobvite uses a comprehensive, analytics-driven recruiting platform that increases velocity for customers in 160 countries.
Jumpstart Automotive Group
Jumpstart Automotive Group
San Francisco
www.jumpstartautomotivegroup.com
A digital automotive marketing company, Jumpstart Automotive Group provides creative solutions and exclusive access to one of the largest, most diverse and highest-performing in-market automotive audiences. Founded in 2001, it provides a diversity of content, for a 5-million fan/follower base.
Krux
Krux
San Francisco
www.krux.com
Krux offers a data management platform to help businesses provide better content, advertising and shopping experiences by unifying, analyzing and activating consumer data signatures across devices. Called People Data Activation, this effort uses a combination of SaaS technology, implementation, advisory and data science services, interacting with more than 2 billion devices globally.
Lending Club
Lending Club
San Francisco
www.lendingclub.com
Lending Club is the world's largest online credit marketplace, facilitating personal loans, business loans and financing for elective medical procedures. It operates fully online with no branch locations and uses technology to lower costs.
McGuire and Hester
McGuire and Hester
Oakland, Calif.
www.mcguireandhester.com
Founded in 1926, McGuire and Hester is a construction company that began with residential housing and grew to include underground construction, grading and paving, concrete and mechanical work, enabling them to initiate and complete major build projects. In more recent years, the company added landscaping, architectural concrete and aggregate divisions to its operations. It began as a family-owned company and evolved to become an employee-owned company in the last decade.
McGuire Real Estate
McGuire Real Estate
San Francisco
www.mcguire.com
McGuire Real Estate is a local, luxury boutique real estate firm focusing on the San Francisco Bay Area's high-end niche markets. With nearly 200 agents across seven offices, McGuire specializes in knowing local markets and assisting clients in finding the right home for their family.
MRC Smart Technology Solutions
MRC Smart Technology Solutions
San Diego, Calif.
www.mrc360.com
Founded in 1994, MRC Smart Technology Solutions is a technology and services company specializing in workflow solutions and office systems. Its products guide document management, communication and other workplace functions in a variety of industries, including health care, manufacturing, legal, education and financial services. The company is Xerox's largest Agent Sales Partner in the country.
PowerReviews Inc.
PowerReviews Inc.
San Francisco
www.powerreviews.com
PowerReviews Inc. offers software and network products that empower brands and retailers to generate and display ratings, reviews and answers to consumer questions, using a flexible, multi-tenant SaaS platform. The system connects reviews with new shoppers to inform their experience and motivate brand connection. Its Open Syndication Network is the industry's largest, extending user-generated content to 2,500 retailers and more than 700 million shoppers every month.
Protiviti
Protiviti
Menlo Park, Calif.
www.protiviti.com
A global consulting and internal audit firm, Protiviti's team includes experts in risk, advisory and transaction services who help clients solve problems in finance and transactions, operations, technology, litigation, governance, risk and compliance. Protiviti has more than 70 locations in more than 20 countries, offering business performance assessment, data management and analytics, IT consulting, risk and compliance services, financial audit and advisory, and restructuring and litigation support.
Resolution Media
Resolution Media
San Francisco
www.resolutionmedia.com/us/en/
Resolution Media is a performance marketing agency with more than 1,350 specialists in more than 60 offices and 50 markets worldwide. Services include analytics, content, social, mobile, feed management, SEO and audience insights, among advertising and content functions. The company also provides solutions for social media marketing, mobile marketing and other strategies for getting to customers in innovative ways.
RiseSmart
RiseSmart
San Jose, Calif.
www.risesmart.com
RiseSmart is a job placement company that helps people turn a setback into an opportunity by linking them with relevant job leads and expediting the job search process. Its outplacement solution, Transition Concierge, and its recent innovation, RiseSmart Spotlight, are tools that have grown the company by providing clients with even smarter ways to build the career they desire.
Spark
Spark
San Francisco
www.sparkpr.com
Spark is a public relations firm that focuses on content generation, social media and digital strategies for global technology companies and startups. Calling itself a new-economy communications agency, Spark provides services in narrative, public relations, creative, content, social and analysis.
Sqor Sports Inc.
Sqor Sports Inc.
San Francisco
www.sqor.com
Sqor Sports is an online sports paraphernalia site selling signed memorabilia as well as signature brand attire. Its collections include Tyrone Crawford, Tim Brown, Troy Daniels, Rodolfo Vieira, Peyton Manning, Felice Herrig, Brett Favre, Chris Lytle, Carla Esparza and Brandon Bolden.
SThree
SThree
San Francisco
www.sthree.com
SThree was founded in 1986 to resolve the skills shortage in IT, the specialist staffing company has 41 offices in 15 countries, working with companies in diverse sectors, from biotechnology to mining and beyond. The company has grown to include the accounting and finance sector, banking, engineering, energy and life sciences as well as placing IT staff worldwide.
Taulia Inc.
Taulia Inc.
San Francisco
www.taulia.com
Taulia provides solutions to strengthen supplier relationships in finance, invoicing and management functions. Based in San Francisco, Taulia has offices around the world. Its open architecture technology platform integrates into clients' ERP system with full security and functionality alongside its existing processes.
ThinkHR Corp.
ThinkHR Corp.
Pleasanton, Calif.
www.thinkhr.com
ThinkHR seeks to empower HR professionals to be more efficient and effective through its programs, ThinkHR Live Advisors, ThinkHR Comply resource center and ThinkHR Learn training solution. ThinkHR supports clients by taking care of the hiring, promoting and compliance functions for HR professionals.
Thoughtworks Inc.
Thoughtworks Inc.
San Francisco
www.thoughtworks.com
A software company and community, ThoughtWorks seeks to create technology solutions and advocate for positive social change that will revolutionize the IT industry and create positive social change. ThoughtWorks has more than 3,600 people in more than 35 offices around the world.
TriNet Corp.
TriNet Corp.
San Leandro, Calif.
www.trinet.com
TriNet provides small and midsize businesses with an HR solution so they are not burdened with the complexities of HR. TriNet oversees the HR function for its clients, contains costs, minimizes employer risk and relieves the administrative responsibility for HR. Its cloud-based products and services include payroll processing, human capital consulting, employment law compliance and employee benefits.
True Partners Consulting
True Partners Consulting
San Jose, Calif.
www.tpctax.com
True Partners Consulting is a tax and business advisory firm that helps companies navigate complex tax and financial regulations. The company provides an array of income, sales, use and property tax services. It was created in 2005 by former Arthur Andersen professionals and has grown to include more than 200 tax professionals in nine cities.
WalkMe Inc.
WalkMe Inc.
San Francisco
www.walkme.com
Founded in 2011, WalkMe's platform is a cloud-based engagement platform that is used by more than 700 enterprise service providers and SaaS vendors. The platform anticipates user needs and drives users to action by highlighting features and recommending items. It operates in three modules: WalkeMe Player (placing apps in a central place), WalkMe Editor (managing apps with one intuitive tool) and WalkMe Analytics (measuring performance).