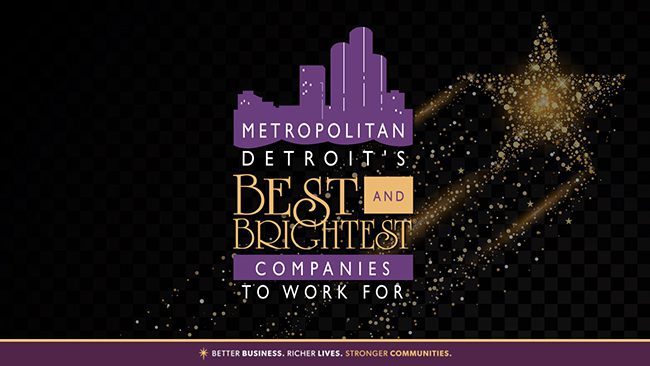 The National Association for Business Resources honored Metropolitan Detroit's Best and Brightest Companies to Work For during a virtual awards celebration Wednesday.
Not only were the winning companies recognized, but fourteen Elite winners representing fourteen different award categories were also honored (find a list of the winners here).
"These companies have shown fortitude and have inspired others to make critical decisions for the betterment of their teams," said Jennifer Kluge, President and CEO, National Association for Business Resources and the Best and Brightest Programs "They focus on the needs of their employees as a primary objective, and are the leaders of the Metropolitan Detroit community."
Metro Detroit's elite winners included:
The Best of the Best Small Business
Digitas
The Best of the Best Medium Business
Coretek Services
The Best of the Best Large Business
Barton Malow
Communication and Shared Vision
Walbridge
Community Initiatives and Corporate Responsibility
Blue Cross Blue Shield of Michigan
Compensation, Benefits and Employee Solutions
Amerisure Mutual Insurance Company
Creative, Wellness and Wellbeing Solutions
Honigman LLP
Diversity, Equity and Inclusion
Epitec
Employee Achievement and Recognition
Lake Michigan Credit Union
Employee Education and Development
United Wholesale Mortgage
Employee Enrichment, Engagement & Retention
Towne Mortgage
Leadership, Strategy, and Company Performance
OneDigital Health & Benefits
Recruitment and Selection
Total Quality Logistics
Work-Life Blend
Marsh & McLennan Agency LLC
These Elite winning companies demonstrate exceptional innovative human resource and employee engagement practices; and set high standards for all Metropolitan Detroit businesses. The winners were selected based on their overall high scores in each category and their respective category. (See list of winners following.)
The Best and Brightest is a powerful community of the nation's elite leaders who share ideas, practices, and have proven they are employers of choice. This national program celebrates those companies that are making better business, creating richer lives and building a stronger community. It is presented in several markets, including Atlanta, Boston, Charlotte, Chicago, Dallas, Denver, Detroit, Houston, Miami, Milwaukee, Nashville, New York, Portland, San Diego, San Francisco Bay Area, Seattle, and nationally.
Metro Detroit's Best and Brightest Companies to Work For® is sponsored by Baudville Brands, BlackBerry, NOW Health Group, BASIC, Corp! Magazine, Blue Cross Blue Shield, M. C. FONA, WDIV Channel 4 News, WJR 760 AM, Davenport University, DTE Energy, Detroit Athletic Club, Frankenmuth Insurance, Enterprise Rent-A-Car (Enterprise Holdings), and uMap.
Nominations are now being accepted. Visit www.thebestandbrightest.com for more information.