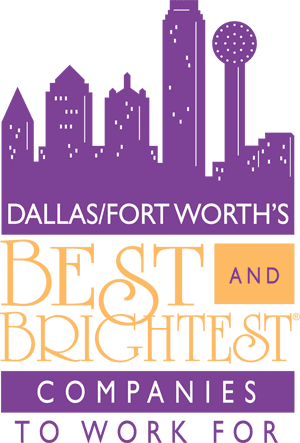 The Dallas-Fort Worth area is home to innovative and forward-thinking businesses that provide a great place to work and services that guide clients toward growth and satisfaction. Those attributes rose to the top Jan. 11 at Dallas/Fort Worth's 2016 Best and Brightest Companies to Work For competition at the Marriott Quorum.
The Best and Brightest Companies to Work For competition identifies and honors companies that deliver exceptional human resource practices and an impressive commitment to their employees. Organizations are assessed based on categories such as communication, work-life balance, employee education, diversity, recognition, retention and more. Participating companies have the opportunity to benchmark results with other cities such as Atlanta, Los Angeles, New York, Nashville, Chicago and more.
This year's overall elite winners in Dallas/Fort Worth were Axxess as the Overall Best of the Best and MDI Group, the Best of the Best Small Business winner. What sets these companies apart from the rest is their dedication to serving their teams with the highest regard through a variety of innovative human resources practices and perspectives.
IT staffing company MDI offers monthly, quarterly and yearly recognition to top performers as well as those employees who exhibit the company's core values and provide exceptional attention to customers. But even before that can happen, MDI takes a targeted approach to finding the right talent for the company. Its director of Talent Development oversees training and goal-setting for employee education, while MDI's director of Talent Acquisition and Development implements new hire orientation.
At MDI, work-life balance is essential. The staffing company promotes creativity and innovation by offering telecommuting, flexible scheduling, summer hours and personal days off for all staff. After all, if you don't take care of your staff, they don't take care of you.
Axxess follows the same philosophy, using a "concierge" approach to serving their staff so their team members will be happy to work at Axxess. The health care support and software company enforces an open-door policy and collaborative work environment, where they maintain a motto of "may the best idea win."
Leaders say they believe in taking care of their employees, asking for feedback via third party surveys, employee focus groups and reviews of benefits and perks. Every Axxess team member has one-on-one guidance toward career development, with encouragement to set individual goals as well as company goals so everyone is aligned.
Some of the best steps in HR best practices including building a strategic plan year to year, acquiring the right talent, avoiding layoffs, adequate and inspired compensation planning and creating a great culture. These five keys in the human resources philosophy are prevalent at the winning companies, where the employee experience matters almost more than anything else. Studies show that the more satisfied employees are, the more satisfied customers will be. Congratulations to these exemplary businesses!
Alsbridge Inc.
Alsbridge Inc.
Addison, Texas
www.alsbridge.com
Alsbridge Inc. helps clients use cost-effective, value-added sources for IT infrastructure, network carrier, hardware, software, application support and development, cloud services and business processes. The company helps clients manage IT assets and networks as well as access and understand emerging technologies as they apply them to their businesses.
Amnet Group
Amnet Group
Fort Worth, Texas
www.amnetgroup.com
Amnet Group leverages data to create meaningful and personalized messaging for clients, using the Dentsu Aegis Network. The company specializes in driving online traffic, and using audience data to plan, analyze and activate brand building campaigns.
Anistar Technologies
Anistar Technologies
Plano, Texas
www.anistar.comAnistar Technologies is a staffing solutions provider that works with companies under Federal and Department of Defense contracts as well as those specializing in networking, structured cabling, installations, cable and satellite television and fiber optics. Anistar staff find the right IT talent for their clients, believing the right person is out there, even for "hard to fill" positions.
Axxess
Axxess
Dallas
www.axxess.com
What began as a consulting firm specializing in the home health care industry grew quickly into a support organization providing home health organizations with software to support their unique needs. Axxess provides integrated software and mobile apps for these agencies nationwide.
BDO USA LLP
BDO USA LLP
Dallas, Fort Worth
www.bdo.com
For more than a century, BDO has built a global network of accountants who provide services in assurance, advisory, consulting and tax support. BDO professionals serve an array of industries including financial, gaming, hospitality and leisure, government, health care, manufacturing and nonprofit, among others. Today, it employs more than 4,000 people in the United States alone among 63 offices.
Benchmark Mortgage
Benchmark Mortgage
Plano, Texas
www.benchmark.us
For more than 15 years, Benchmark Mortgage has served clients by building long-term relationships toward servicing the same clients again and again as they move from starter home up to dream home. The company is guided by a mission to provide personal service, competitive rates and efficient loan processing.
Camden Kelly Corp.
Camden Kelly Corp.
Dallas/Fort Worth
camdenkelly.com
A staffing services company, Camden Kelly Corporation helps companies find qualified IT professionals for their teams. Its all-female team specializes in guiding individuals to find a fit among corporate teams and helping companies find the talent they need to grow.
Capital Title of Texas LLC
Capital Title of Texas LLC
Plano, Texas
www.ctot.com
Capital Title of Texas is the largest independently owned title company in Texas, serving 32 counties. The company operates more than 65 branch offices, employing some of the most experienced escrow officers in both residential and commercial real estate.
Carlton Staffing
Carlton Staffing
Dallas
www.carltonstaffing.com
Since 1979, Carlton Staffing has helped Texas companies find the right talent for office, light industrial, technical, skilled trade, accounting and finance positions. With eight branch offices, Carlton Staffing is known as a leading firm to find talent for several of its focus industries.
Christus Physician Group
Christus Physician Group
Irving, Texas
www.christushealth.org
Christus Health is a Catholic health ministry providing wellness solutions through more than 40 hospitals and facilities in seven states, Chile and six Mexican states, with assets of more than $4.6 billion. It is ranked among the top 10 Catholic health systems in the United States.
Collin College
Collin College
McKinney, Texas
www.collin.edu
Since offering its first classes at area high schools in 1985, Collin College has grown to serve 53,000 credit and continuing education students every year. The only public college in the county, Collin College offers more than 100 degrees and certificates in a wide range of disciplines.
Conway MacKenzie Inc.
Conway MacKenzie Inc.
Dallas
www.conwaymackenzie.com
Conway MacKenzie helps troubled companies get back on track, through financial, operational and other strategic services in offices throughout the country. Founded in 1987 as a debtor-oriented consulting firm, Conway MacKenzie offers turnaround consulting and litigation support services in addition to transaction services, investment banking, performance improvement counseling and more.
Crane Worldwide Logistics
Crane Worldwide Logistics
Houston
www.craneww.com
Founded in 2008, Crane Worldwide Logistics serves the global freight management and contract logistics services sector, with revenues in excess of $680 million, generated by 113 locations in 25 countries. Its full-service operations serve air, ocean, trucking, customs brokerage and logistics clients.
Crest Cadillac
Crest Cadillac
Plano, Texas
www.crestcadillactx.com
For three decades, Crest Cadillac has been a leading car dealership in the Dallas-Fort Worth area, with sales, financing and auto repair on-site. Crest sells and services new, used and certified pre-owned Cadillacs.
Eastfield College
Eastfield College
Mesquite, Texas
www.eastfieldcollege.edu
Part of the Dallas County Community College District, Eastfield College offers academic, technical, occupational and continuing education opportunities. Students aim for associate degrees or to transfer to four-year institutions along with completing technical and workforce programs with certifications that serve the needs of the local and state workforce.
Eduphoria! Inc.
Eduphoria! Inc.
Plano, Texas
www.eduphoria.net
Eduphoria! Inc. offers software applications for educators to reinforce classroom success. From curriculum development, to institution management and beyond, Eduphoria!'s software solutions empower educators with additional classroom capabilities toward helping all educators foster a love of learning.
EPITEC Inc.
EPITEC Inc.
Addison, Texas
www.epitec.com
EPITEC Inc. is a staffing solutions company that focuses on reducing costs, increasing efficiency, adding resources and simplifying management for its clients. Its goal is to be a premier IT, engineering and professional staffing organization that focuses on employee satisfaction and technological edginess.
Fairway Mortgage
Fairway Mortgage
Plano, Texas
www.fairwayindependentmc.com
Founded in 1996, Fairway Independent Mortgage Corp. employs more than 3,000 people and was voted the best company to work for by Mortgage Executive Magazine last year. With more than 300 branch offices nationwide, Fairway focuses strongly on purchase business as a way to grow revenues every year.
Frontline Source Group Inc.
Frontline Source Group Inc.
Dallas
www.frontlinesourcegroup.com
For more than a decade, Frontline Source Group has provided staffing services to businesses across the country, finding direct hire, temporary, and temp-to-hire employees for companies in these industries: technology/IT, human resources, oil and gas, engineering, administrative, accounting and finance, customer service and clerical. Established in 2004, Frontline is one of the fastest growing placement firms in the nation, operating as an extension of its clients' internal hiring team.
Gables Residential
Gables Residential
Dallas
www.gables.com
Gables Residential is a real estate company and privately held REIT specializing in the development, construction, ownership, acquisition, financing and management of multifamily and mixed-use communities. Gables manages 31,500 apartment homes and 500,000 square feet of retail space nationwide in high-growth U.S. markets such as Atlanta, Austin, Boston, Dallas, Denver, Houston, South Florida, Southern California and metropolitan Washington, D.C., while providing third party management services in a variety of markets.
Grand Hyatt DFW
Grand Hyatt DFW
DFW Airport
www.granddfw.hyatt.com
Inside Terminal D at the Dallas Fort Worth International Airport, the Grand Hyatt DFW offers 298 guest rooms with 39 suites, serving primarily business travelers. The hotel also provides ballroom, banquet and meeting spaces, a restaurant lounge and more.
GuideIT
GuideIT
Plano, Texas
www.guideit.com
GuideIT is a provider of technology optimization services rooted in EDS and Perot Systems. With expertise developed in the current technology market, GuideIT helps clients align their technology strategy and execution with their broader business strategy.
Healthcare Payment Specialists LLC
Healthcare Payment Specialists LLC
Fort Worth, Texas
www.healthcarepayment.com
Founded in 2002, Healthcare Payment Specialists, LLC (HPS) provides health care eligibility, government reimbursement and compliance reporting solutions for hospitals and health care systems using its proprietary STINGRAY software platform. Using cutting-edge technology and a deep expertise of government reimbursement processes, Healthcare Payment Specialists has recovered more than $600 million in reimbursement on behalf of more than 500 active hospital clients.
Homecity
Homecity
Dallas
www.homecity.com
HomeCity.com is an online search site providing access to the best real estate in Texas. The company provides specific and easy search access to homes on the market, with prospective buyers looking by school district, neighborhood, zip code or subdivision. Visitors can also find out the worth of their home and find real estate agents in their area.
hrQ Inc.
hrQ Inc.
Dallas
www.hrQinc.com
Founded in 1998, hrQ, formerly HR Search Firm, helps organizations find human resources talent on a national basis through HR search, interim HR staffing and HR consulting. Its leaders speak widely on building the DNA of an organization, what hiring managers wish everyone knew and how to use social media to recruit and retain talent.
Jackson & Cooksey
Jackson & Cooksey
Dallas
www.jacksoncooksey.com
Established in 1981, Jackson & Cooksey provides real estate representation (tenant representation) including consulting, construction coordination and monitoring, real estate investment and lease administration. Jackson & Cooksey serves a global client base with a dedication to maximizing value and reducing risk.
JHP Architecture/Urban Design
JHP Architecture/Urban Design
Dallas
www.jhparch.com
JHP is an award-winning architecture, planning and urban design firm with a national clientele. Founded in 1979, the firm's primary practice areas include such specialty markets as: Transit Oriented Development (TOD), high-density urban infill communities, mixed-use, sustainable development, and market-rate, senior, student and affordable housing. The firm embraces the tenets of Whole Community Design, which seeks to create memorable environments for people that are rich in diversity, unique to the place, and sustainable over time.
Kent Companies
Kent Companies
Dallas
www.kentcompanies.com
Kent Companies Inc. is a full-service concrete construction firm with 55 years of experience in all aspects of commercial concrete applications. As a third generation family-owned business that began as a residential concrete company, Kent has grown to diversify its services to include concrete pumping, floor underlayments, concrete polishing and staining, facility services, mudjacking, foundation restoration, excavation and masonry.
Lennox International Inc.
Lennox International Inc.
Richardson, Texas
www.lennoxinternational.com
Lennox International Inc. (LII) is a global leader in the heating, air conditioning, and refrigeration markets, designing, manufacturing and marketing climate control products for the heating, ventilation, air conditioning and refrigeration markets. The company operates in three segments: Residential Heating & Cooling, Commercial Heating & Cooling, and Refrigeration, selling products and services directly as well as through distributors.
LGI Homes
LGI Homes
Dallas, Fort Worth
www.lgihomes.com
LGI Homes is a builder of housing developments in the southern region of the United States. The 21st largest home builder in the nation, LGI was founded in 2002 and by 2008, was named the fastest growing private building company in the nation.
Lone Star Analysis
Lone Star Analysis
Addison, Texas
www.lone-star.com
Lone Star Analysis provides Enhanced Decision Analysis, multi-discipline modeling and simulation, and executive advisory support to clients in the military and intelligence sector, as well as aerospace and defense, energy, and communications and technology industries. Lone Star uses leading software tools, delivery processes, data sets and expertise to solve challenges for clients.
MDI Group
MDI Group
Dallas
www.mdigroup.com
Founded in 1988, MDI Group is an IT staffing and recruiting agency, providing IT workforce solutions to help in-house teams achieve their goals. The company has placed more than 10,000 technology consultants with organizations nationwide.
Milestone Electric, Air & Security
Milestone Electric, Air & Security
Dallas, Fort Worth
www.milestoneelectricdfw.com
Milestone Electric, Air & Security helps residential and commercial customers with electrical, heating, air conditioning and home security needs. Milestone helps customers with a variety of electrical support services.
NovaCopy Inc.
NovaCopy Inc.
Dallas, Fort Worth
www.novacopy.com
NovaCopy is a full-service provider of 3D printer technology, copiers and innovative document solutions. A leader in its industry, NovaCopy provides state-of-the-art office technology, on-site services and customizable workflow solutions to more than 15,000 businesses throughout the United States.
Optomi
Optomi
Plano, Texas
www.optomi.com
An IT Staffing company, Optomi has more than four decades of experience finding the right talent for its clients. Optomi specializes in finding business analysts, project managers, application development, cloud, mobile, network design and quality assurance personnel.
Protiviti
Protiviti
Dallas
www.protiviti.com
Protiviti is a global business consulting and internal audit firm composed of experts specializing in risk, advisory and transaction services. Serving clients through a network of more than 70 locations in more than 20 countries, Protiviti employs more than 3,700 professionals who partner and advise clients in business performance improvement, data management and advanced analytics, IT consulting, risk and compliance, internal audit and financial advisory, transaction services and restructuring and litigation.
Safeguard
Safeguard
Dallas
www.gosafeguard.com
Safeguard started as a small check-printing business and grew into a fully diversified business solutions enterprise. For six decades, Safeguard has provided more than 500,000 small business customers with office products and services through 270+ independent distributors.
Saville Dodgen & Company PLLC
Saville Dodgen & Company PLLC
Dallas
www.savillecpa.com
Since 1965, Saville Dodgen & Company has provided faith-based accounting services for companies and corporations around the world. Saville is a member of Allinial Global, a network of recognized accounting firms, and Saville has been named to Dallas' lists of best accounting firms for seven years.
Savills Studley
Savills Studley
Dallas
www.studley.com
Founded in 1954, Savills Studley is a leading commercial real estate services firm specializing in tenant representation. It is part of Savills plc, a premier global real estate service provider with more than 30,000 professionals more than 600 locations worldwide.
Stryker Communications
Stryker Communications
Flower Mound, Texas
www.stryker.com
One of the world's leading medical technology companies, Stryker offers an array of products and services in Orthopaedics, Medical, Surgical, Neurotechnology and Spine to help improve patient and hospital outcomes, with a presence in more than 100 countries. Stryker Communications is a subsidiary of the Stryker brand, offering communications products to support medical technology.
Sun Coast Resources Inc.
Sun Coast Resources Inc.
Grand Prairie, Texas
www.suncoastresources.com
In 1985, Sun Coast Resources was founded on the concept of purchasing premium petroleum products from refiners and providing products to end-users, including high quality fuels, lubricants, chemicals, tanks, transport services and operational solutions. A woman-owned business and one of the nation's largest wholesale petroleum marketers, Sun Coast is licensed in 39 states with 17 offices.
Superiorhire
Superiorhire
Dallas
www.superiorhire.com
Superiorhire is a staffing and executive recruitment firm specializing in finding high quality employees for companies in commercial real estate, retail and direct selling, financial services, health care services, hospitality, education, insurance, manufacturing and not-for-profit. Staffing searches are less technology-driven than hands-on, so company leaders can determine the fit between a candidate and the company.
Systemware
Systemware
Addison, Texas
www.systemware.com
Systemware develops industry-leading enterprise content management software solutions. The company offers a complete suite of enterprise content management solutions, from a suite of ECM software to industry and business-specific applications that can be implemented traditionally or delivered through Cloud or SaaS models.
TCD Consulting Inc.
TCD Consulting Inc.
Dallas
www.tcd-inc.om
A direct sales and marketing company, TCD Consulting Inc. offers a management training program to groom leaders. It seeks to be the top outsourced sales and marketing firm worldwide.
The Intersect Group
The Intersect Group
Dallas
www.theintersectgroup.com
Founded in 2006, The Intersect Group provides staffing and consulting services with expertise in finance, accounting and information technology. With more than 1,000 employees between offices in Atlanta and Dallas, The Intersect Group serves clients nationwide.
Total Quality Logistics
Total Quality Logistics
Dallas
www.tql.com
Total Quality Logistics is one of the largest freight brokerage firms in North America, with more than 3,200 employees. Founded in 1997, TQL serves such industries as produce, food, manufacturing, retail, energy and more, working with more than 50,000 carriers and providing 24/7 live support.
Transplace
Transplace
Frisco, Texas
www.transplace.com
Transplace is a North American provider of logistics technology and transportation management services working with manufacturers, retailers, chemical and consumer packaged goods companies. The company's services and capabilities include Transportation Management Services, Intermodal, Brokerage and SaaS transportation management (TMS) solutions supplemented by consulting services, supply chain network planning and design, and transportation procurement.
Weaver
Weaver
Dallas, Fort Worth
www.weaver.com
An accounting firm that provides assurance, tax and advisory services nationwide, Weaver works with clients in such industries as construction, financial, government, health care, higher education, insurance, manufacturing, nonprofit and more. It specializes in guiding clients through market cycles and regulatory compliance.
WRH Realty Services Inc.
WRH Realty Services Inc.
Dallas, Fort Worth
www.wrhrealty.com
A leading multifamily property real estate management company, WRH Realty Services Inc. is one of the largest full-service property management firms in the southern United States. Specializing in multifamily apartment homes, WRH manages a portfolio of communities of more than 16,000 units, the company provides services in property management, construction, advisory, real estate investment and mortgage banking.