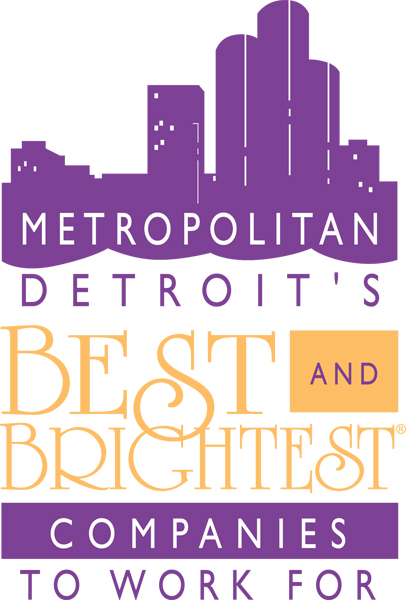 With companies struggling to attract qualified employees in today's tight labor market, they're increasingly adopting innovations designed to make their workplaces desirable to prospective new hires and to retain talented existing workers.
Many of them, however, have a long way to go to catch up to this year's winners of Metro Detroit's Best and Brightest Companies to Work For competition.
These are companies that for years have recognized the importance of having the right people in place to create true value. They have set the bar high for other employers when it comes to employee relations.
The Best and Brightest Companies to Work For competition identifies and honors organizations that display a commitment to excellence in their human resource practices and employee enrichment. Organizations are assessed based on categories such as communication, work-life balance, employee education, diversity, recognition and retention. All participating companies receive a complimentary assessment report and benefits throughout the year.
Winning companies were invited to celebrate at a Sept. 22 reception at the Detroit Marriott at the Renaissance Center.
Gaining special recognition were 13 Elite Winners. Their profiles follow.
Blue Chip Talent (formerly Computer Consultants of America Inc.)
Best of the Best – Medium Business Elite Winner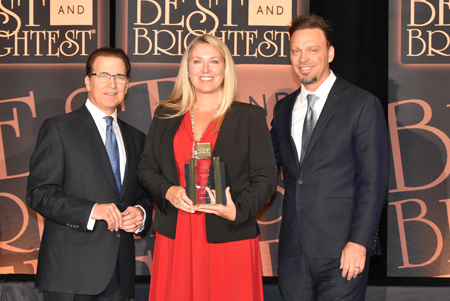 Blue Chip Talent, a Bloomfield Hills-based employment agency, keeps its mission simple and straightforward: "IT Must Be Different With Us." The company believes that its team approach to talent acquisitions requires it to build relationships with candidates, employees and clients in a way that is unique for each one. For example, with candidates, it starts with those who are currently not looking for new opportunities and are typically off the radar of Blue Chip's competition. Blue Chip commits two hours a day solely dedicated to calling potential candidates. This is rightfully dubbed "Call Block," and it is the engine that drives Blue Chip's proprietary 75,000-plus database of potential candidates. The company admits that finding passive candidates is harder to do and requires a much bigger investment in the recruiting/delivery side of its business. However, it results in Blue Chip Talent providing candidates to clients who are not seen from their own HR departments or from Blue Chip's competition.
At the same time, Blue Chip Talent is continuously looking for ways to improve the experience of employees through innovative and competitive compensation and benefits. At Blue Chip, compensation goes well beyond the paycheck. While it prides itself on offering competitive and lucrative compensation packages to employees, it also provides a long list of benefits, such as comprehensive health care, 401(k) with matching contributions, more than 20 days of paid time per year plus the ability to "cash in" any unused time, and business expense reimbursement. Blue Chip Talent also offers its employees various discounts on goods and services, including credit union, General Motors, BMW, Verizon, Brooks Brothers and GMAC.
Blue Chip Talent has incorporated into its culture a philosophy called "e4L," which stands for "Employees for Life." The company believes it is important to invest in the whole person, not just the business side, so it strives for a lifelong relationship from the very first contact and throughout workers' careers, whether they continue to be employed by Blue Chip Talent or not. The company nurtures e4L relationships through several means, one favorite being a one-on-one lunch with the company's director of human resources or CEO. Employees have dedicated time to discuss any concerns or issues or to catch up on their business and personal goals. Another favorite e4L engagement tool is a monthly lunch with the sales and recruiting team, which offers another way to get to know employees on a personal level and make sure Blue Chip Talent is there to assist them in any way possible.
Blue Chip Talent also encourages family and community involvement in sports and volunteering, with several corporate employees coaching Little League and high school football, soccer, lacrosse, hockey and more. Blue Chip Talent's policy is to allow company time and resources to participate in such activities, based on the belief that it not only is good for the employee, but for the communities the employees belong to.
The company also prides itself on its "red carpet" style orientation program. On an employee's first day, they are welcomed as soon as they step into the lobby with their name written on the welcome board. From there, they are met by their manager, who shows them to their workspace, which is decorated with balloons, candy and a welcome poster signed by everyone in the company. Next, new team members are introduced to each person in the office and given a tour. For lunch, the new person is the guest of honor and other team members ask "get to know you questions" while the entire company enjoys lunch purchased by the owners. In the afternoon, new workers are introduced to their BCT Buddy. This person is a peer they can count on for questions or go to for resources throughout their entire employment at Blue Chip Talent. The rest of the day consists of a series of meetings in each department so they have a full understanding of Blue Chip Talent's inner workings. The following weeks include formal training of the job as well as lunch with each of the following: CEO and president, their manager and their BCT Buddy.
Contract Professionals Inc.
Recruitment, Selection and Orientation Elite Winner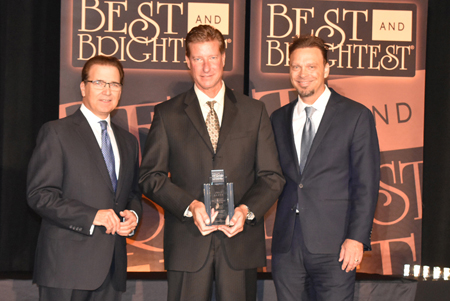 Certified by the Department of Veterans Affairs and National Veteran Business Development Council as veteran-owned, Contract Professionals Inc. (CPI) is a global provider of technical professionals offering a wide range of services, including staffing, managed services, specialty programs and technical publications. Founded in West Bloomfield in 1982, CPI (now based in Waterford, Mich.) has maintained a focus on continuous growth and superior operating results for more than three decades — all the while with a special focus on serving those who have served our country.
For example, in 2015, CPI employed nearly 1,000 professionals — more than 40 of whom were veterans. CPI's continued focus on veterans is a long-term strategy. With the U.S. armed forces reducing to pre-World War II size, about 1.5 million active-duty service members, national guardsmen and reservists are leaving military service and entering corporate America. With a well-established veteran recruitment strategy, which includes working with military transition centers across the nation, CPI seeks out and employs talented veterans. The goal is to bridge the gap between active duty and the transition into the civilian workplace, as well as develop clear employment pathways for the nation's veterans.
At the same time, CPI's "Cool Places to Work" committee continues to meet monthly to discuss how the company can provide better/improved benefits and perks to employees. Employees from each department are represented on the committee. All employees are encouraged to take concerns, questions or suggestions to their representative. The committee is responsible for all implementation and execution of special employee programs. This includes the wellness program, meditation room, flex time and working from home.
CPI also has a companywide wellness educational program, which is executed once a year. In addition, CPI trains all employees on its recruitment and applicant tracking platform and has implemented comprehensive and sophisticated recruitment software that allows all employees to receive up-to-the-minute information and data. Finally, CPI has an onsite educational and training coordinator to assist with all training.
In order to recognize the achievements of all CPI employees, CPI holds companywide picnics for at least four months in a row. Upper management attends these picnics and gives special recognition to the entire team. CPI also has the You Rock Program, through which anyone can nominate any CPI employee for his or her contributions or hard work. Out of these nominations, two employees are randomly chosen. Each winner receives special recognition from management and a gift. All You Rock nominations are read aloud at the CPI companywide quarterly review meeting.
CPI has been engaging in charitable activities since it began. Each year the company engages in different philanthropic activities. In 2015, CPI worked with the Michigan Opera Theatre (MOT) to sponsor "The Passenger," a Holocaust-themed opera. CPI worked with the MOT to honor veterans during the final performance of the opera. In addition, CPI worked with 60 other community-based organizations to spread the message that discrimination in all its forms should be eradicated.
CoStaff Services LLC
Employee Education and Development Elite Winner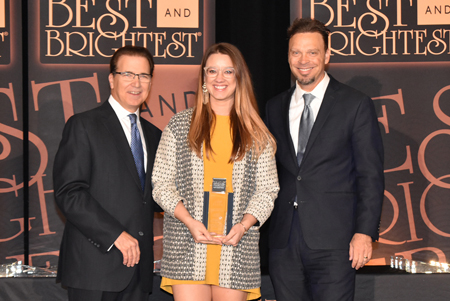 Last year, CoStaff Services LLC, a Southfield-based human resource consulting firm, conducted engagement interviews with each employee and developed an action plan based on employee feedback. As a result of that feedback, the company enhanced its benefit offerings, offered summer flex hours and revamped its workspace. CoStaff believes in the development of staff, and in addition to standard training, it promotes cross-functional training to ensure employees understand how the departments and roles overlap and rely on each other. Additionally, the company likes to test the employees' knowledge and engage in "Train the Trainer" and "Role Playing" sessions so that it can gauge how well workers are adapting to the knowledge, process and culture.
In an effort to make an excellent first impression, CoStaff has revamped its on-boarding process. CoStaff values employee referrals and offers monetary awards for them upon hire, and then again after the new hire is continually employed for six months. CoStaff also allows peers to recognize each other throughout the month, and special monetary recognition is provided during monthly staff meetings when a client compliments an individual. The level of recognition varies from a "jeans chip" that employees can use to wear jeans or other casual wear on a non-Friday. Higher levels of recognition can range from gift cards to additional PTO days.
CoStaff tries to maintain a culture of open communication with the staff. Managers conduct 90-day reviews with new hires to gain a sense of how things are going, determine if their expectations are being met, ask for suggestions for improvement, etc. Regular daily, weekly, biweekly and monthly meetings with staff continue the communication. Annual performance reviews with each employee provide feedback on what is going well and what improvements can be made to a specific department or the company as a whole. Quarterly SMART Goal meetings with staff members ensure they are meeting or exceeding their goals and expectations.
CoStaff promotes a healthy work-life balance as much as possible. While it offers standard paid time off, policies are very flexible as situations arise that require additional time off. As a small employer, it is not required to offer federally mandated leave, but it will work with staff members who need additional time off, have babies and request a leave of absence or have a serious medical condition.
CoStaff makes giving back to the community and charity an important objective. For example, the company is heavily involved in the Leukemia and Lymphoma Society and also participates in an adopt-a-family program and Pets for Vets.
DigitasLBi
Work-Life Balance Elite Winner
DigitasLBi is a global marketing and technology agency that transforms businesses for the digital age. To do so requires a unique culture capable of supporting diverse talent, believes the company, which calls its collaborative way of working blending. Whether in a single room or across its 40 offices worldwide, blending lets DigitasLBi cast the right people for the challenge. The perfect blend takes clients further and faster on their digital journey. This approach embraces the creative tension between left brain and right brain. DigitasLBi believes that when you combine data and storytelling — when mathematicians and poets join forces — you get more powerful results.
The company's compensation and benefits programs are designed around thorough benchmarking processes to evaluate the competitive market practices that exist in the geographic areas where it operates, ensuring it offers compensation packages that are highly competitive for its industry and locations. DigitasLBi operates under a pay-for-performance philosophy in the administration of compensation programs. Opportunities, rewards and growth for employees are based on their contributions and merits. Its Track360 process, which includes performance management, supports the pay-for-performance philosophy. As part of this process, managers collect 360-degree feedback on all employees from peers, direct reports and senior-level staff to provide input into performance progress and career development. The heart of the Track360 process is careful consideration for each employee's contribution.
The company aims to build an engaged workforce by embracing the unique talents and personalities of employees and building them directly into its culture. As a result, DigitasLBi is a place where people want to work because the environment is fun, energetic, honest and hardworking. It offers flexible schedules, bagels from the Detroit Institute of Bagels every Friday, anniversary milestone gifts and various other benefits aimed at fueling the collective fire of the company's creative minds.
DigitasLBi boasts a culture of continual learning and growth. The company believes it is important for employees to take ownership and accountability for their own career goals, and it is committed to providing them with the tools and information they need to build their skills and support their passions. The DigitasLBi Tuition Reimbursement program is in place to support the commitment to employees' professional development. All regular full-time and part-time employees are eligible for up to $5,500 per calendar year.
The company's diversity strategy is focused on continuing to build awareness across the agency, promote diversity internally and externally, and celebrate people from various backgrounds. DigitasLBi takes layers of diversity to heart, realizing that diversity means appreciating differences in everyone.
The company also aims to allow all employees to be more productive on their own terms and in their own ways. For example, employees have flexible schedules that allow them to visit a family member, wait for a repair person, go to a doctor's appointment or attend a child's school play and remain in touch when necessary. Employees also have access to secure sites such as the employee portal, timesheet system, email system and team sites when they are out of the office. Employees may request to work from home or a remote location for a portion of the regular work week (usually up to two days a week).
Epitec Inc.
Communication and Shared Vision Elite Winner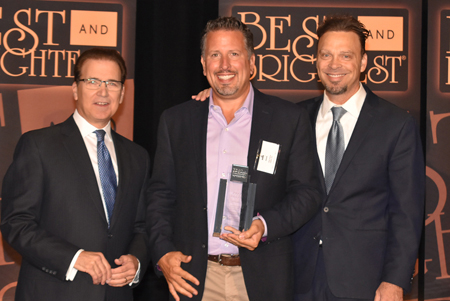 At Epitec Inc., which calls itself the ultimate technology talent search agent, employees receive a customized compensation package during their initial on-boarding that is built to fit their personal needs. Employees negotiate a pay rate that they can tailor with paid time off and benefit options. They can also request reimbursement for relocation, cell phones, parking and home internet access when applicable. Signing bonuses are utilized to secure the services of top talent. The flexibility in the compensation package does not stop after on-boarding. If current employees need more paid time off or realize they no longer need three weeks of vacation and would prefer to maximize their pay rate and give up a week of vacation, they are welcome to do that at any time.
The Southfield-based company cares about each step in the lifespan of an employee. For example, it offers a single portal for employees to access paycheck stubs, benefit details, forms and time and expense forms. Ticketing systems are in place to reach out to internal human resources, IT and finance teams around the clock. The internal Epilink system has a personalized dashboard of individual employees' pending tasks along with a mobile application to reach the same internal systems they see at their desktop from anywhere. Other methods designed to improve the employee experience include employee appreciation happy hours, Halloween goodie bags and other seasonal treats, beer breaks where everyone stops working and meets in the kitchen for a drink, and monthly handwritten anniversary and birthday cards routed and signed by all corporate employees.
Epitec embraces a set of six core values: 1. We Care 2. We Embrace 3. We Engage 4. We Empower 5. We Innovate 6. We Impact. All managers have accountability and frontline meetings with their teams on a weekly and monthly basis. As a company, it meets monthly and on an annual basis, and it holds a kickoff meeting to take a look at the entire year. The accountability and frontline meetings are designed to give the delivery staff at Epitec a clear vision and focus for the week on what is expected. Goals and challenges are discussed and followed up with a one-on-one at the end of each week to discuss progress.
Epitec uses many tools in the office to ease communication. An upgrade to Skype for Business has added a great deal of value in how it communicates. TV monitors strategically placed in the office share vision and strategy. The company's mission, vision and values flash on the screens as do tips to stay organized and job aids on recruiting. The management team is trained in conflict resolution and issue escalation methodology. In addition, the process is documented on the company's corporate intranet site. Employees can suggest a process improvement, it is reviewed when the leadership team meets each week, and a formal response and decision is always followed.
Epitec also believes its corporate social responsibility initiatives are directly connected to the success of the business. As a minority-owned business over the past 38 years, Epitec has built and sustained a culture of inclusion and diversity. Epitec's core values — including placing people first, embracing the differences in one another and caring deeply for employees — support a diverse workplace, and the company has found that extending inclusion and diversity efforts to suppliers has been important and effective.
Greenleaf Trust
Employee Enrichment, Engagement & Retention Elite Winner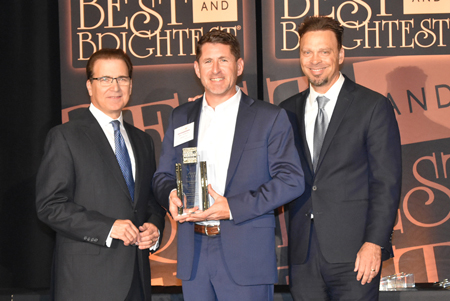 Greenleaf Trust is an independent Michigan-chartered trust-only bank exclusively focused on wealth management, trust administration and administration of company-sponsored retirement plans. Through its unique, client-centric team approach, it provides highly personal and customized client service, with no conflicts of interest, to ensure clients' financial security from generation to generation. The Kalamazoo institution manages billions of dollars for individuals, families' corporations and endowments. It is best suited to serve clients with at least $2 million in liquid assets.
But as for Greenleaf internally, it considers its team members as its most valuable asset, and it takes various measures to ensure they are well cared for and prepared to take advantage of opportunities for advancement. It rewards team members who achieve career milestones by way of promotions, designations/certifications and educational growth with lump-sum monetary rewards. It ties bonuses and salary increases to individual performance to ensure that people are paid appropriately for their talents and contributions.
At the same time, Greenleaf's Communication and Culture Workgroup is dedicated to cultivating a caring workplace culture that inspires employee connectivity, fosters teamwork and embodies the company's core values. Formed 11 years ago, the workgroup meets monthly to focus on nurturing and growing the workplace culture and internal communications. Workgroup members are selected from all divisions to ensure fair representation.
Communicating and sharing positive impact with teammates is woven into the fabric of Greenleaf's culture. Among company practices that help communicate the importance of each role are printed client testimonials that are read aloud at all-staff meetings to invoke understanding and pride in the team, and service excellence awards through which leaders share stories of team members going above and beyond to provide remarkable client service.
Employees are also encouraged to communicate face-to-face instead of through email. Understanding that coworkers at one time or another disappoint each other, company leaders speak to the importance of building trusting relationships beforehand. Recently a teammate shared, "At Greenleaf Trust, I often forget that I'm a millennial. That's because I work for a company that values talent over age and experience. Through a supportive and collaborative team environment, Greenleaf Trust allows me and each person to have a voice and encourages candor and leadership at every level. When you open the doors for all employees to be a part of the vision of an organization like Greenleaf Trust, the possibilities are endless."
Greenleaf Trust also strives for diversity and inclusion in all it does, realizing that all the things that make employees unique make the company better as an organization. Greenleaf has a healthy mix of gender in the organization and in leadership roles, with 45 percent women and 55 percent men overall, and with 35 percent of the leadership/management team being women and 65 percent being men. Greenleaf also has a variety of people with different physical abilities and makes sure they are well cared for and have what they need to perform their job to the fullest of their ability.
Lake Michigan Credit Union
Strategic Company Performance Elite Winner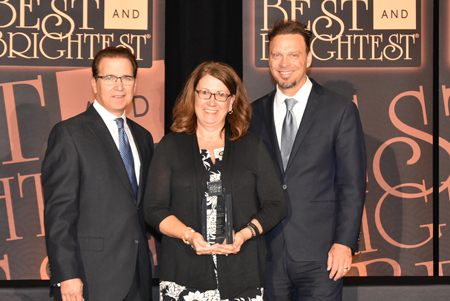 As the largest financial institution headquartered in West Michigan and the largest credit union in the state, Lake Michigan Credit Union (LMCU) has decided to use its strength of numbers to empower employees to give back to the communities the financial institution serves. Last year, Grand Rapids-based LMCU introduced a volunteer paid time off program for all staff entitled, "Make the World Better." Employees are granted a paid day each calendar year to volunteer for any event. But volunteering is hardly new to LMCU. For many years it has partnered with numerous organizations and hosted various volunteer events. Last year alone, LMCU employees donated more than 18,000 hours toward volunteer opportunities in LMCU communities.
The LMCU culture also highlights rewarding and recognizing staff, which LMCU believes promotes retention. Among its recognition initiatives: peer-to-peer on-the-spot recognition awards, called "put 'em ups"; peer-to-peer culture awards, awarded publicly by co-workers; and annual employee formal award celebration programs. LMCU's goal is to create a high-performance, sustainable organization that meets its strategic and operational goals and objectives by, among other measures, cascading the organizational strategy so all employees understand how they contribute to LMCU success; clarifying performance and behavioral expectations; identifying positions/roles that have the most potential to impact strategic success; building leadership bench strength; and developing and nurturing a culture of accountability.
LMCU has a holistic recruitment and onboarding process designed to ensure success not only in hiring, but also in finding candidates who fit culturally first and foremost. Cultural fit is most important to LMCU, with technical skills and experience second. The LMCU Formal Internship Program is a source of talent, with 23 percent of recent participants moving into permanent positions within the company. And with filling open positions becoming more and more difficult, LMCU created a new program to reward employees for referring top talent.
LMCU strives to continually communicate goals and outcomes from the top down in an effort to create a well-informed and successful staff through monthly digital all-employee newsletters, intermittent additional videos and emails, and town hall meetings. Lake Michigan Credit Union is also committed to providing a work atmosphere that is free from all forms of discrimination. Its people come from many different social backgrounds and cultures, and LMCU aims to recognize these differences and pull the best ideas from diverse individuals.
Lake Michigan Credit Union understands employees have lives outside the workplace, and as such it provides staff with the opportunity to take time off when needed. "I find it really important to this organization to balance your home life and your work life, and I've had to personally learn that the hard way," says CEO Sandy Jelinski. "If you give everything you have to your company, you have nothing left … and that really hurts the home life."
The "I am LMCU" way-of-life program was named by a branch employee and was organically grown by a group of staff representing a cross-section of areas. The premise was that, instead of focusing on cross-selling, staff strive to make the member experience better. In other words, the program aims to deepen member relationships and focus not on the transaction, but the quality of the interaction.
MB Financial Bank, Mortgage Division
Compensation, Benefits & Employee Solutions Elite Winner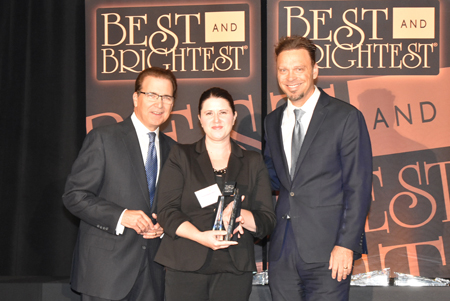 MB Financial Bank's Mortgage Division proudly touts the ongoing training it offers to all team members through various methods. For example, it provides online compliance and professional development throughout the year, live and on-demand webinars for professional development and job-specific training, and live classroom sessions for soft skills and job functions. It also offers leadership development courses for all current and emerging leaders, and it has a formal leadership development program. Cross-training is encouraged for all teams, and MB Financial even holds classroom training sessions for team members to learn more about other areas of the business.
In addition to standard interview forms for positions to assist with recruitment needs, MB Financial also provides leaders with interview and diversity training. It has a collaborative process for hiring that involves multiple leaders and the human resources department. HR plays an active role to connect the right matches to the open positions, and MB Financial also screens for a cultural match. More than half of new hires come from referrals, and the bank has a lot of internal promotions.
The bank has several programs to recognize team members. The RAVE program is an informal way for team members to acknowledge a job well done. Anyone can write someone a RAVE by filling out a card from the RAVE bins throughout the building or completing one electronically. The completed RAVES then get submitted to recipients' leaders, and the leaders typically read them at their team meetings. MB Financial's WOW! Program is more formal. Anyone can nominate someone for a WOW! Award for going above and beyond and doing something extraordinary. Senior leaders select the WOW winners, and they are publicly recognized at ceremonies, in a newsletter and through email. The MB Excellence Award program is for exemplary performance throughout the year. Anyone can nominate team members for the award, but the executive team selects only one or two. The winner(s) are announced at the annual holiday party and receive a recognition plaque and gift. The award(s) are also announced in the newsletter and through email after the event.
MB Financial holds annual diversity training for its leaders and teaches them about cultural differences, including those that might come into play during an employment interview. The company also offers a generous paid-time-off program, which includes floating holidays that employees can use to observe holidays and other cultural celebrations during which MB Financial might keep its offices open.
In addition, MB Financial offers a flexible work environment with flextime, work-from-home programs and active workspaces. WiFi is available throughout the operation centers, as are comfortable break rooms and hotel workspaces. Many team members work from home and different operation centers on a regular basis. It also has summer interns and additional summer part-time opportunities during its busy season.
Michigan Medicine (formerly University of Michigan Health System)
Employment Achievement and Recognition Elite Winner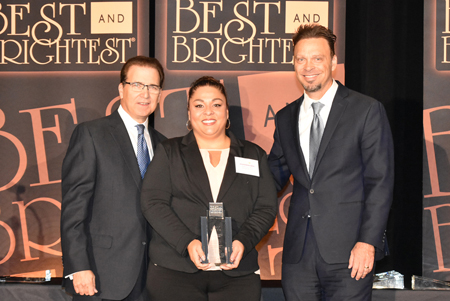 Michigan Medicine's vision is to create the future of health care through discovery and to become the national leader in health care, health care reform, biomedical innovation and education. Everyone who works or trains at Michigan Medicine plays a role in creating the operation's future and achieving these goals: create the ideal patient care experience; attain market leadership in key areas; generate margin for health system investment; translate knowledge into practices and policies that improve health and access to care; engage in groundbreaking discovery and innovative scientific collaboration; cultivate an interdisciplinary, continuous learning environment, and promote diversity, cultural competency and satisfaction among faculty, staff and students.
Michigan Medicine believes its success depends on faculty and staff at all levels using their unique strengths, experiences and ideas to foster excellence in education, patient care, community service, and research and technology development. While generous compensation and benefit programs are important tools in attracting and retaining a talented staff, factors such as work environment, learning and development opportunities, and relationships between employees and managers are critical to creating an ideal employee experience, providing meaningful and rewarding work. Michigan Medicine believes this integrated approach to attracting, motivating and retaining talent is its competitive advantage.
Michigan Medicine focuses on employee engagement by establishing "engagement" as one of the key measures tracked by the organization. Employees are surveyed annually, and faculty every two years. Each manager completes an annual action plan outlining work within their team to improve engagement or to maintain a high level of engagement. The organization provides a variety of workshops, tools and human resources support to leaders as they work within areas to improve employee engagement. Michigan Medicine also participates in a university-wide initiative, Voices of the Staff, which encourages a sense of community among employees by promoting dialogue between Voices teams and executive officers.
Michigan Medicine is also committed to employee development, beginning with orienting each new employee to the organization. A system-level orientation workshop is conducted each week, and supervisors can access tools and receive human resources support in the development of unit-based orientations. In 2015 and again in 2016, the health system provided a 1½-day staff development conference. Employees could attend the entire conference or select one or more workshops topics, allowing for maximum flexibility for the employee and work unit scheduling. Workshop content included finding your purpose, managing change, diversity & inclusion, team effectiveness, quality improvement, etc. Employees could attend the conference with supervisor approval at no cost to themselves or their departments to allow greater participation.
With more than 30,000 faculty, staff and students, not to mention alumni who are a key part of its audience for news, Michigan Medicine is a community of its own. Its Department of Communication helps promote news, events, announcements and more within the Health System community through the daily Headlines newsletter, which is Michigan Medicine's No. 1 source for news. Headlines reaches more than 30,000 UMHS faculty, staff, students and even some alumni. In addition, the system's internal home page has a wide reach within the institution. The rotating carousel and links are used to share news of broad interest to the Michigan Medicine community, including messages from top leaders, institutional initiatives, major celebrations, research news and safety/health/employee benefits information. Emergency messages are also shared here.
Prudential Advisors, Great Lakes Financial Group
Community Initiatives Elite Winner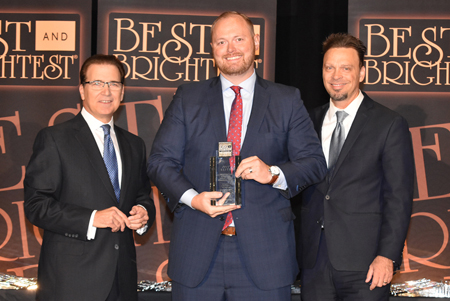 Troy-based Prudential Advisors, Great Lakes Financial Group offers a Career Development Program for its financial representatives with four years or less in the industry. Additional training and education are provided to those hired within the past 12 months, including joint-work coaches, weekly core skills training, wholesaler-sponsored educational events, daily role-play, recognition and coaching.
The operation's hiring and selection process is categorized into three areas: interviewing and placement, pre-contract phase and contract phase. It also sources from multiple "buckets," including agent referrals, career fairs, job boards and social media.
Prudential Advisors, Great Lakes Financial Group has a weekly conference call recognizing top leaders in performance for the prior week, as well as daily recognition based on the prior day's activity. An annual awards banquet that recognizes top individuals, teams and management for their contributions throughout the calendar year in categories such as Rookie of the Year, Newcomer of the Year, Top Financial Advisor of the Year, Top Manager of the Year, Top Team of the Year and Community Involvement Award.
All of its community service events encourage family participation, and the company promotes team-building activities such as dinners, movies and sporting events. Prudential Advisors allows flexible work hours so employees have the ability to attend family functions and various other events throughout the workday without having to take time off.
The company's corporate and community engagement activities encourage employees to use their passions, business skills and expertise to make meaningful contributions. In addition, the Prudential Spirit of Community Awards is the United States' largest youth recognition program based exclusively on volunteer service. The program was created in 1995 by Prudential in partnership with the National Association of Secondary School Principals to honor middle-level and high school students for outstanding volunteer service. The program's goals are to recognize young people who are volunteering in their communities and to inspire others to consider how they might make a difference too. Every year, the program honors youth volunteers in grades 5-12 at the local, state and national level. Over the past 21 years, more than 115,000 middle and high school students have been officially recognized for their volunteer service.
Each quarter, Prudential Advisors, Great Lakes Financial Group stages a Marketing Day, an all-day employee event that provides a platform for education, marketing support and fun. The aim is to generate high productivity by creating fun competition among advisers. Its leadership team and product partners provide breakfast, lunch and dinner; have various vendors come in for employee appreciation such as shoe-shining, chair massages and arcade games; and recognize and reward leaders throughout three marketing sessions.
SME
Best of the Best – Overall Elite Winner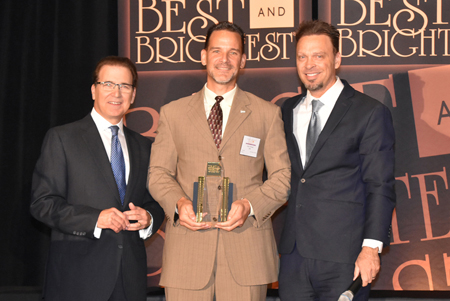 SME, a Plymouth-based consulting engineering firm, aims to serve as a trusted business ally by providing valued scientific and engineering services to support the built and natural environments.
With the uptick in the Michigan economy and new construction, competition for engineering and technical talent has drastically increased. At the same time, SME has experienced growth in the 20-25 percent range. Many of the people SME has hired were "opportunity hires" — people for whom the company created opportunities because they were recognized in the industry for technical and leadership excellence. The company believes it was able to attract them at least in part because it continues to offer a flexible and individually tailored package of compensation and rich benefits. Flexible scheduling (available to all employees) is a particularly meaningful and highly valued component of its benefits package. In addition to offering above-market base wages and salaries, SME offers team members generous, discretionary performance bonuses that typically average 5- 20 percent of base pay. SME also belongs to that rare breed of employers (less than 5 percent nationwide) that provides fully paid medical coverage.
SME has really hit its stride in "employee engagement" in creative ways and with a variety of assessment tools, survey instruments, task force groups and employee meetings. It has an innovative program designed to engage and incentivize all SME team members by offering four additional days of paid time off to everyone if the company improves its safety record, completes career development plans and improves invoicing/collections turnaround time. It created a catchy "Goals Tracker" to statistically track progress. Each month it is distributed to all SME team members. The ONE|SME initiative is designed to encourage greater teamwork within the firm by "working together at every level and location in the company to drive collaboration and remove barriers to fully apply our resources firm-wide."
SME's educational and professional development expenses continue to increase significantly. It sponsors a three-day training event, "SME's All Hands Meeting," that takes place at St. John's Golf and Conference Center the third week in February and has become an annual educational "retreat" for all SME team members from the company's 11 office locations in Michigan, Ohio and Indiana. The event includes a fun and challenging team building exercise and safety training. On the following Saturday, a community service activity is held.
SME is widely recognized as a performance-based organization. Those who fall into a category of "top talent" are recognized and rewarded through a generous annual discretionary performance bonus program. Each year, about 15 percent of team members are promoted and profiled in SME's internal newsletter. Promotions go to the best performers — not necessarily the people who have the most seniority with the company. Pay raises are awarded based on merit and, from time to time, increases are awarded to valued employees due to changing market conditions. Perhaps as important, top performers are provided with opportunities to work on challenging and stimulating projects, many of which bring them high visibility and public recognition.
For years, SME has sought to recruit and hire new team members who hail from diverse racial and ethnic backgrounds. In addition to embracing the unique cultural richness a diverse workforce brings to SME, the company has expanded its recruiting efforts to include targeted colleges and universities that have a high number of minorities. In recent years, SME has attracted candidates of African American, Central American, Asian, and Middle Eastern descent.
Turner Construction Co.
Diversity and Inclusion Elite Winner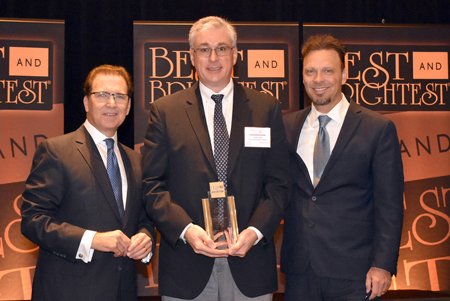 Turner Construction Co. believes that recognizing employee achievement is critical to successful business outcomes. Employees not only want good pay and benefits, they also want to be valued and appreciated for their work, treated fairly, do work that is meaningful, have advancement opportunities, and opportunities to be involved in their company. That's why at Turner, acknowledging employees for their good work takes many forms and comes from many avenues. It can be as simple as the day-to-day interactions that make employees feel that their contributions are appreciated, to recognizing employees who achieve professional certifications, to annual appreciation pay bonuses where employees know they are being recognized for their own unique qualities.
In addition to the standard forms of communication through committee meetings, emails, performance reviews, etc., communication between Turner management and staff occurs through a variety of other channels. These include formal and informal gatherings, office-wide and national department meetings, the intranet, e-mail, newsletters and blogs. Communication also takes the form of meetings, such as job-site staff meetings where senior leadership updates the entire staff on recent events and news. These site meetings serve as a forum to discuss the company's and individual offices' overall and business-unit performance, staff additions, promotions and staff awards, as well as to provide time for socializing to build camaraderie among the staff. Senior staff makes it a point to visit project site teams at their often-remote locations. These include a tour of the construction site where the project staff can show off their accomplishments and have an extended opportunity to discuss a wide variety of issues with leadership.
Turner also fosters a culture of diversity and inclusion in which all employees contribute creative ideas, seek challenges and have the opportunity to grow. Its diverse and inclusive workforce positions the company for growth, enhances its presence in diverse markets, and helps it build enduring relationships among employees, industry partners and clients. Turner does its best work in teams made up of individuals with different backgrounds, skills and passions, so it cultivates diversity in its offices and on its sites. Turner's long-term success is positively impacted by an enhanced sensitivity to a culturally inclusive workforce, and quality and productivity are maximized in an environment in which all employees feel that they can achieve their full potential.
Turner's senior leadership realizes that employees sometimes struggle to maintain a true balance between work and life. The construction industry can be particularly difficult as the market is very competitive and client and project needs can be very demanding. Scheduling demands require staff be accessible many times after normal work hours and frequently on weekends and holidays. As such, the company has made it an ongoing priority to create a more flexible and effective environment in which employees are encouraged to achieve their goals and aspirations in their work setting as well as in their personal lives. The firm has adopted a number of initiatives to ensure this happens. Managers receive training about building staff relationships and developing open lines of communication so that they can understand their employees' personal and professional needs. With a nationwide office network, Turner is able to transfer employees who would like or need to work in a new location. Employees react differently to life-changing circumstances. Therefore, allowing staff to tailor their daily work schedule is another way Turner meets their needs during difficult times.
V-Suites
Best of the Best – Small Business Elite Winner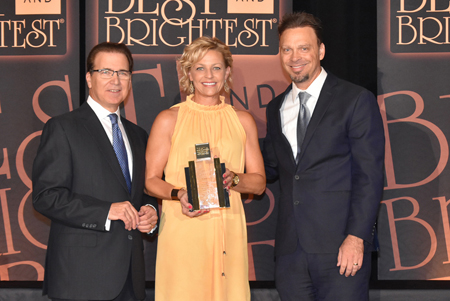 Farmington Hills-based V-Suites offers renters luxury, furnished short-term housing options, complemented by contemporary class and a sophisticated style. V-Suites is one of the only corporate housing companies in direct connection with a property management company, allowing it to provide guests with a specialized housing experience.
V-Suites realizes the importance of a comprehensive and competitive benefits package. The company's benefits program is designed to make associates' lives manageable and help them lay the foundation for future growth and advancement. Among the perks it offers: comprehensive insurance coverage, a 401(k) plan with matching company distributions, quarterly and annual performance-based bonuses, annual merit increases, and leadership education and development.
V-Suites also maintains constant open communication with all employees to elicit feedback and to determine what interests and motivates each employee. With open communication, it tailors duties and goals toward employees' interests and motivations. For example, an accounts receivable specialist was interested in software systems and processes and excelled at troubleshooting software issues, so the company created a new role of inventory and systems coordinator, which she has been wildly successful in. And an inside sales associate had a desire to use more of her marketing skill set and is now spearheading V-Suites' online platform initiative and presence.
Extensive and specialized training is offered through the University of Village Green (UVG), V-Suites' in-house continuing education program with classes geared toward associates' position and career goals. V-Suites' desire is that associates will continue to develop their professional skills and apply that knowledge to the fullest extent in the workplace.
New Hire Orientation (NHO) is V-Suites' intense five-day customized orientation program for all newly hired associates. NHO provides the foundation for associates to be successful in their job and career path. Associates learn the company's history, standards and the leadership's expectations and gain the knowledge to begin their career at V-Suites. All new hires have an experienced employee sit with them and teach the inner workings of the company's systems and processes.
 V-Suites promotes diversity by creating policies that require equal treatment for everyone, and require all new and existing employees to abide by these policies. V-Suites encourages the recognition of holidays and occasions celebrated by people in different regions of the world in order to provide a greater understanding of the values of various cultural groups. In addition, V-Suites allows employees to take time off for a variety of religious holidays.
 As a morale booster, V-Suites created "Spin the Pin," which features all employees' names on a large wheel. On a random day, the company's senior director will spin the pin, and the employee chosen will get to immediately pack up his or her belongings and go enjoy the rest of their day. Also, associates have the benefit of being able to stay in any of V-Suites' furnished apartments across the country free of charge.