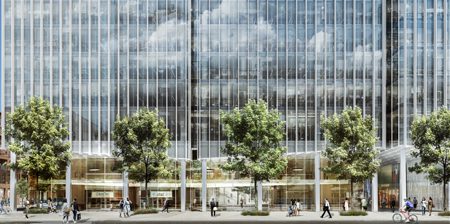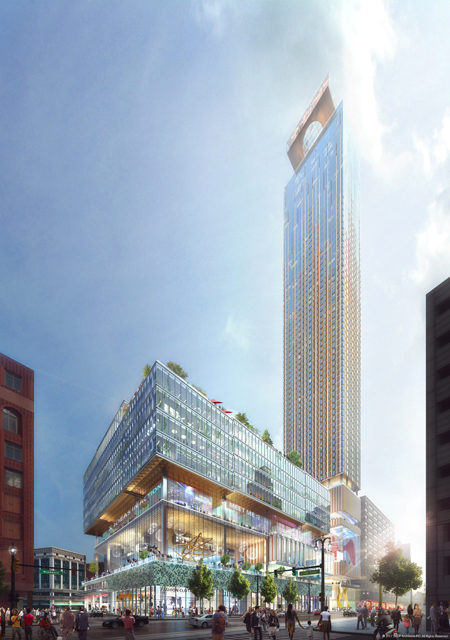 In an estimated five years Detroit will look decidedly different with the addition of what Bedrock Detroit called "four transformational developments" totaling $2.1 billion slated for downtown Detroit, an area that Bedrock is betting on with gusto.
These developments will add 3.2 million square feet and more than 2,000 parking spaces to the city's downtown core, addressing the city's need for additional office space and parking. They also will create up to 24,000 jobs – about 15,000 construction jobs and up to 9,000 permanent positions, Bedrock officials said during their announcement.
This is the next phase of the city's growth, and it will be a substantial transition that will change the downtown skyline, Bedrock officials added. Plus, it adds to the already sizable investment the company has made in Detroit, spurring local, national and international interest in the city that was once shrinking and badly in need of additional investment.
The package of projects, which includes the Hudson's Site, Monroe Blocks, Book Tower and One Campus Martius expansion project, will now go before the Detroit Brownfield Redevelopment Authority as the first step towards the approval of new state financing under the MIthrive program enacted into law earlier this year.
Detroit-based Bedrock is a full-service real estate firm specializing in acquiring, developing, leasing, financing, and managing commercial and residential buildings. Since its founding in 2011, Bedrock and its affiliates have invested more than $5.6 billion in acquiring and developing more than 100 properties in downtown Detroit and Cleveland, totaling more than 16 million square feet. Bedrock's real estate portfolio consists of more than 330 office and retail tenants in Detroit's technology-centric downtown.
Going up – both in terms of buildings and the city's opportunities for redevelopment – is the only way for Detroit to move forward as quickly as it has been, said Dan Gilbert, Bedrock's founder and chairman.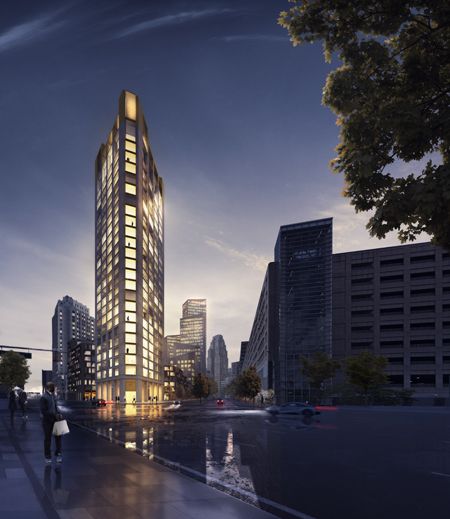 "In fact, that is the only way to create any type of significant expansion in the city because we are virtually at full occupancy for residential and commercial space in both downtown and midtown," Gilbert said in a statement. "Transformational projects like these are necessary to both accommodate the expansion of current downtown businesses as well as making Detroit a legitimate competitor for new businesses and massive opportunities (like Amazon's HQ2), and attracting vital talent from all over the country and world."
Gilbert, Detroit Mayor Mike Duggan and other elected officials and community members gathered Sept. 20, 2017 at Detroit's iconic Book Tower to announce the developments and funding.
The four projects include:
· Hudson's Site — The approximately $900 million, 1 million square-foot redevelopment of the iconic Hudson's site will create a landmark attraction and make Detroit a national and international visitor destination. The project includes the tallest tower in the City of Detroit, complete with a publicly accessible sky deck on top of the residential floors. It also includes dynamic restaurant, retail and office space, and extensive exhibit and public space that will be open to all.
· Monroe Blocks — The $830 million transformation of the Monroe Blocks between the Greektown district and Campus Martius Park will deliver a 35-story, 814,000 square-foot office tower to attract leading companies and jobs to Detroit, 482 residential units, vibrant restaurants and retail, and three public plaza spaces for all to experience.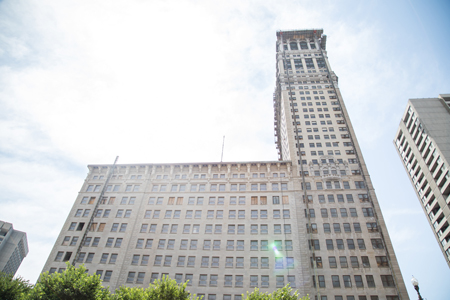 · Book Tower — The $313 million rehabilitation of the Book Building and Tower will be one of the most significant historic rehabilitation projects ever undertaken in Detroit and bring one of the City's most treasured buildings back to life with a combination of 95 residential units, 180,000 square feet of retail and office space, along with a planned hotel.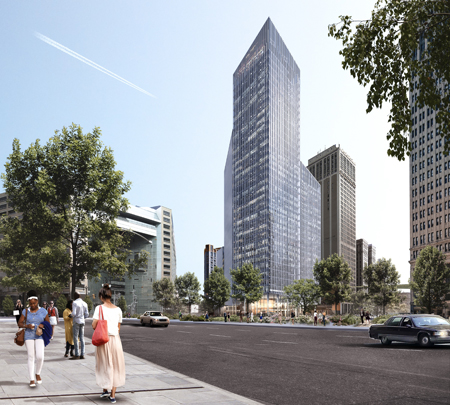 · One Campus Martius — The $95 million expansion of the One Campus Martius site will provide 310,000 square footage of critically needed office space so Detroit can continue to attract new companies and jobs and sustain its growth and momentum.
Bedrock will be investing equity and potential outside debt totaling $1.9 billion or 88 percent of the project costs, while securing approximately $250 million in bond funding or 12 percent of the total cost of the projects through the MIthrive program.
These investments are made possible through new state legislation passed earlier this year, known as the Michigan Thrive initiative or MIthrive. Detroit will be the first city to put this new state financing tool to work.
MIthrive builds on the existing local Brownfield Tax Increment Financing (TIF) program by providing additional state support needed to make the most significant development opportunities across Michigan financially possible.
MIthrive works by allowing these projects to keep a portion of the new state tax revenue they generate to help close the gap between high redevelopment costs and what market rents can support. This mechanism is known as tax increment financing or "TIF."