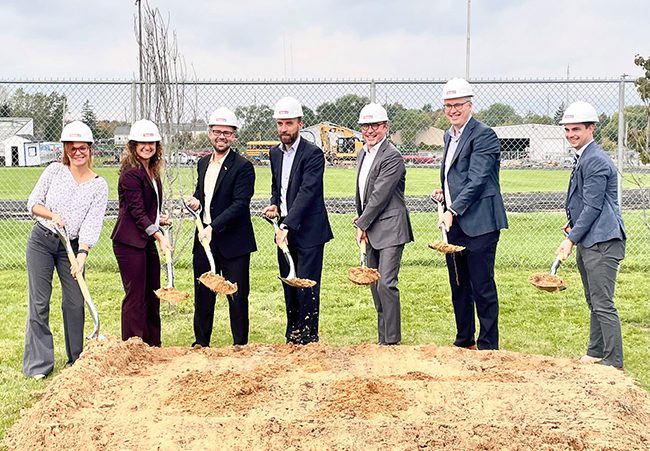 GRAND RAPIDS — The Right Place, Inc., in collaboration with the Village of Sparta, announced that global adhesives manufacturer, tesa tape, Inc., will be expanding its current location at 324 S Union St. in Sparta. In addition to a capital investment of $36 million, the expansion will bring at least 25 new jobs to the area.
tesa, a global pressure-sensitive adhesives manufacturer headquartered in Norderstedt, Germany, opened tesa Plant Sparta in 1982. The Sparta location was the company's first operations outside of Europe at the time. Today, tesa Plant Sparta produces innovative adhesive tapes and self-adhesive system solutions for various industries and employs 125 of tesa's 5,000 global employees.
As part of the tesa Strategy 2025, the company is seeking to increase its presence in North America. A major component of this initiative is to expand its local production footprint with eco-friendly production technology. tesa made the decision to expand its Sparta facility and will begin construction on the plot adjacent to it, which previously housed a local sports field.
"The enormous investment in our tesa plant in Sparta is a big step towards being able to offer customers from important industrial sectors – such as the automotive and building industries –more sustainable and innovative self-adhesive technologies and products", said Daniel Germain, tesa Regional Manager North America.
The Right Place worked closely with tesa, the MEDC and the Village of Sparta to ensure the company continued its growth in the region rather than other out-of-state locations that were considered. The Village of Sparta has also approved a PA 198 Tax Abatement in support of the expansion. Pending approval, MEDC will also be supporting the project.
"tesa's decision to expand in Greater Grand Rapids is a prime example of the region's status as a globally competitive destination for business," said Olivia Lanctot, Business Development Coordinator and project lead for The Right Place, Inc., "Over the last 35 years, our region has established itself as a destination for business success. We have skilled talent, economic growth potential and an incredibly strong business community that allows us to position ourselves advantageously on a global scale."
Shay Gallagher, Village Manager, Village of Sparta, is thrilled at the company's decision to expand its current operations.
"tesa has been a key employer in our community, and the company's decision to continue growing here will be an excellent boost to our local economy," Gallagher said.