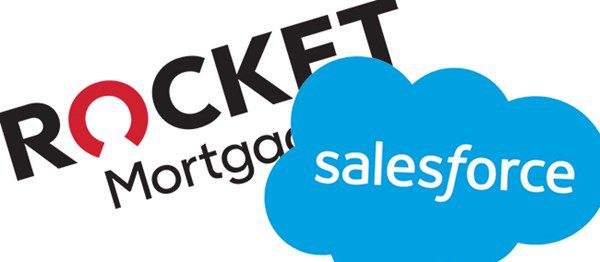 DETROIT – Rocket Mortgage, America's largest mortgage lender and a part of Rocket Companies announced a partnership Friday with Salesforce.
Rocket officials said the deal will make the company's mortgage origination technology available to banks, credit unions and other financial institutions nationwide through Salesforce Financial Services Cloud.
"Today's news displays what is possible with the Rocket platform and the technology that powers it. This will be the first time a home lender will provide an end-to-end 'mortgage-as-a-service' solution through Salesforce Financial Services Cloud – a platform that thousands of financial institutions already heavily rely on," said Jay Farner, Vice Chairman and CEO of Rocket Companies. "We recognize the important and personal role local banks and credit unions play with so many Americans – they have a trusted relationship with their customers. Financial institutions can now combine those relationships they've already established, while leveraging Rocket Mortgage's transformational platform powered by Rocket technology."
In a press release posted to Rocket's website, officials called the opportunity "significant," with nearly 5,000 FDIC-insured banks and more than 5,000 credit unions in the U.S. While some have highly specialized mortgage operations, most have disparate partners and technology vendors that handle home loans for them. Through this partnership, Rocket Mortgage plans to deploy its technology in Salesforce Financial Services Cloud regardless of how the financial institution chooses to offer mortgages, simplifying a potentially fragmented process.
This partnership builds on Rocket Companies' existing relationship as a Salesforce customer. Currently, the company leverages Salesforce Financial Services Cloud and Marketing Cloud to serve as a single source of truth for their customer data on an engagement platform, tailored to real estate and lending. Rocket Companies knows firsthand the value that integrating with Salesforce technology can provide and how it can improve the client experience.
If financial institutions have licensed mortgage loan officers they will be able to use Rocket Mortgage's technology, directly in Salesforce Financial Services Cloud, as their Point-Of-Sale (POS) and loan origination system (LOS), to provide a simple client experience to home buyers and those refinancing their mortgage. Even more importantly, financial institutions will, in many instances, be able to offer home loans without the need for underwriters, processors, compliance or closing teams since Rocket Mortgage will handle all the processing after the financial institution's loan officer advises the client on their mortgage options and helps them complete the application.
"We're incredibly proud to expand our partnership with Jay Farner and his team at Rocket Mortgage with new innovations for the financial services industry," said Marc Benioff, Chair and CEO of Salesforce. "Together, we are reimagining the mortgage experience for a digital-first and trust-first world, transforming the home buying process for thousands of financial institutions and their customers."
Financial Services Cloud helps financial institutions deliver quality service through automation, integration, intelligence and pre-built processes. This technology helps financial institutions better understand how clients interact with branches, ATMs and digital properties – giving organizations a 360-degree view of their relationships to learn how they can better assist their customers. By integrating Rocket Mortgage with Financial Services Cloud, financial institutions will have the tools to help them curate personalized client experiences without the need to staff up through the entire home loan process, from application to closing.
"The value of Financial Services Cloud aligns with the mission of Rocket Companies – to use innovative technology to build and deepen relationships with customers to help them achieve their goals faster," said Eran Agrios, SVP and GM, Financial Services at Salesforce. "This new offering from Rocket Mortgage shows how Financial Services Cloud will help reimagine mortgage-as-a-service with an application, origination and loan services experience, tailored for our financial services customers."
This new offering will enable Rocket Mortgage to increase market share while giving financial institutions flexibility in the products they offer. Rocket Mortgage plans to help make the home buying experience better for all, throughout every community, by integrating with Salesforce.
Rocket Mortgage has ranked highest in client Satisfaction for Primary Mortgage Origination by J.D. Power for 11 straight years, 2010 through 2020. A driver of that award is the company's mortgage technology, with Rocket Mortgage leading in every category that makes up the total satisfaction score.