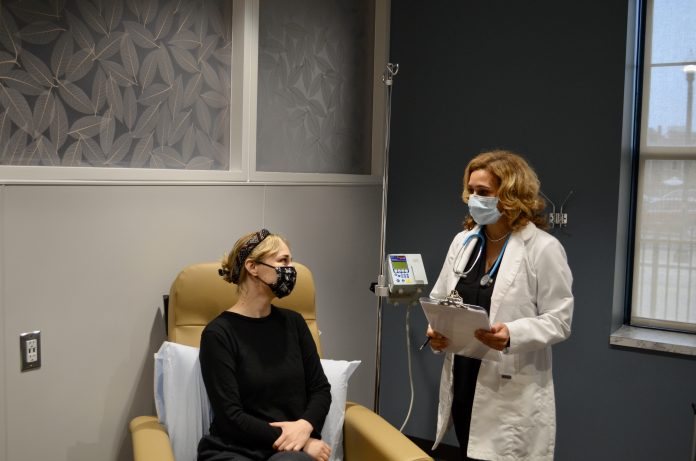 Detroit residents will have convenient access to infusion services for immunological and inflammatory diseases with the November 1 opening of Wayne Health's new outpatient Infusion Clinic at its 400 Mack Detroit Health Center in Midtown.
The comfortable, contemporary infusion clinic will serve patients with conditions such as systemic lupus, Crohn's disease, connective tissue diseases, multiple sclerosis and other neuropathies that can improve through treatment with biological agents.
Talis Healthcare, a national leader in infusion services, is Wayne Health's operational partner for the clinic.
"The use of biologic agents is growing and has become a treatment of choice for many diseases with an inflammatory or immunologic basis," said Aris Q. Urbanes, M.D., medical director of the Wayne Health Infusion Clinic. "Many of these diseases disproportionately affect specific populations and have an environmental component to their cause and course. The opening of this clinic will greatly enhance the care we are able to offer these patients."
Patients can contact the Wayne Health Infusion Clinic by calling 313-448-9870, or by emailing [email protected].
"It's a great honor to collaborate with Wayne Health and help meet the need for accessible infusion care services in Detroit," said Brian Zweben, president of Talis Healthcare. "Our mission at Talis is to offer state-of-the-art infusion services while always putting the patient first – and we've been doing that across the country at multiple locations. It's rewarding to be able to launch a clinic in the Detroit region where highly-skilled clinicians can provide this much-needed care in a comfortable and private setting."
Wayne Health's Detroit Mack Health Center opened in September 2020 and offers a full range of integrated primary, preventive and behavioral health care by physicians and advanced practice providers in internal medicine, family medicine, obstetrics and gynecology, and behavioral health.
These services fall under the umbrella of Wayne Health's Center for Population Health Accountability, offering innovative, community-based and mobile approaches to "whole-person" care, addressing physical and behavioral health needs and social determinants that diminish health and well-being.
To schedule an appointment with a Wayne Health provider at the Detroit Mack Health Center or another location, call 877 WAYNE-HC (877-929-6342). To learn more about Wayne Health, visit www.WayneHealthCares.org.