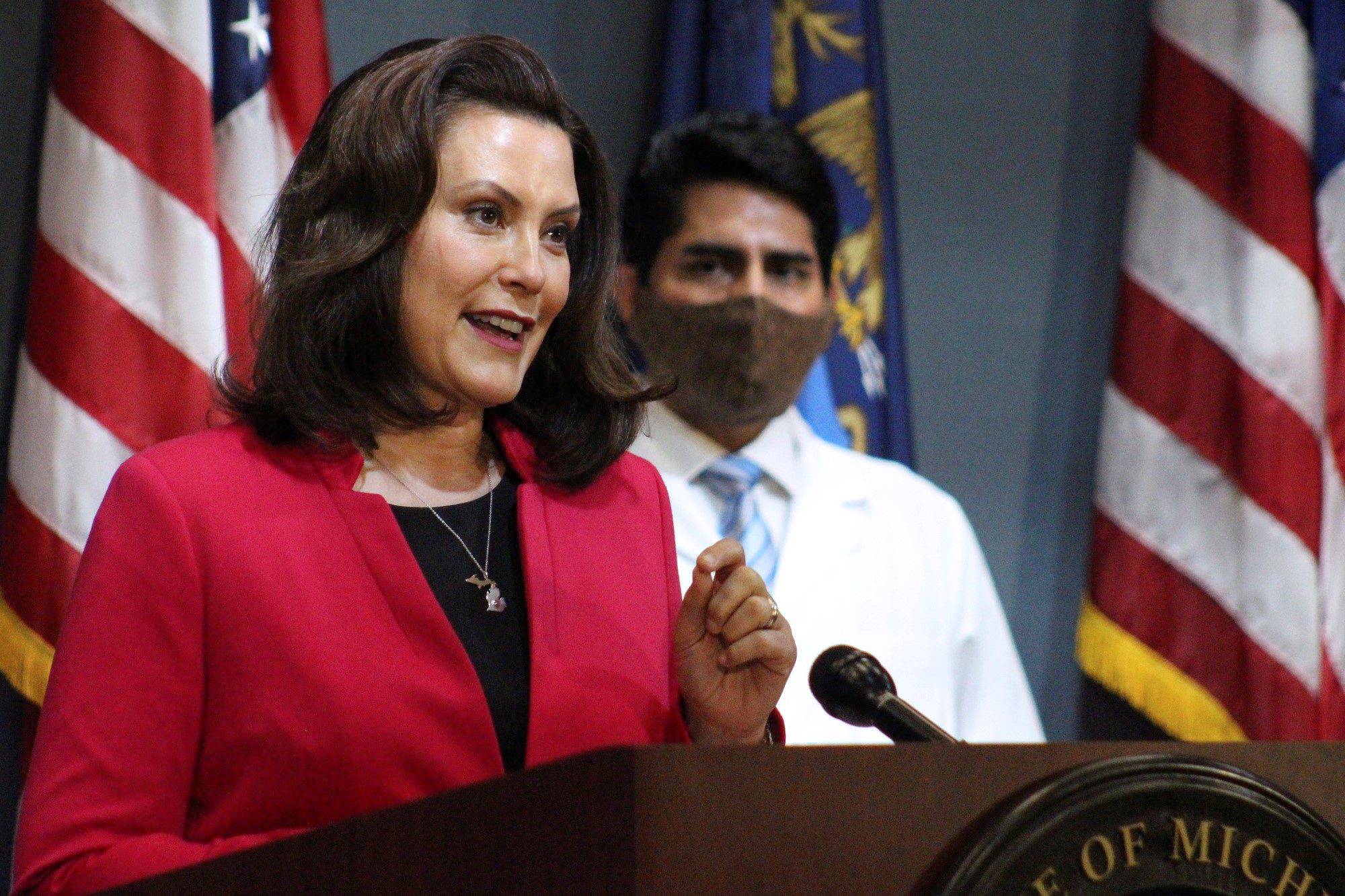 Last week, Michigan Gov. Gretchen Whitmer allowed retail operations, bars and restaurants to restart in the Upper Peninsula and the Traverse City region.
On Thursday, she signed Executive Order 2020-96 releasing some of those same restrictions in the rest of the state, allowing retail businesses and auto dealerships to reopen for by-appointment visits beginning Tuesday.
The order also lifts the requirement that health care providers delay some nonessential medical, dental and veterinary procedures statewide beginning on Friday, May 29.
"The data shows that Michigan is ready to phase in these sectors of our economy, but we must stay vigilant and ensure we're doing everything we can to protect ourselves and our families from the spread of COVID-19," Whitmer said at her Thursday coronavirus briefing. "We've taken significant steps forward to re-engage our economy safely and responsibly over the past few weeks. This is another positive step forward in the re-engagement."
"Now we're gonna need to take some time to make sure these measures are working. We know COVID-19 takes about two weeks to really see the impact of changes in our behavior. We're counting on everyone to keep doing your part. We want to continue turning this dial, but we're going to stay tethered to the data and the epidemiology to know when it's safe to do that."
And Memorial Day just got a little more interesting for Michiganders, because Whitmer also signed an order allowing gatherings of up to 10 people, effective immediately.
But the governor urged caution as families celebrate the holiday.
"You can take the boat out, you can have a beer and grill some burgers, or have a water balloon fight with your children," Whitmer said. "But please stay safe. So when you're celebrating, do it wisely."
More: Michigan's Unemployment Rate Exceeds National Average
More: States Seeing Mixed COVID Results as Economies Reopen Around the Country
More: Expert: Employers Should Be Proactive on Domestic-Violence Concerns During Downturns, Quarantines
Whitmer's order reopens retail businesses and auto dealerships, but restricts them to by-appointment-only operation and limits them to 10 customers in the business at a time, and requires continuation of social-distancing protocols.
Still, Doug North, president of North Brothers Ford, welcomed the move.
"This is great news for dealerships across the state," North said. "We appreciate the governor's leadership, and we welcome the opportunity to serve our customers in a way that helps keep everyone safe from the showroom floor to the open road."
The resumption of nonessential medical, dental and veterinary procedures means healthcare professionals can resume treating conditions not related to COVID-19.
Dr. Bobby Mukkamala, president of the Michigan State Medical Society, said doctors and other healthcare providers are "ready to resume taking care of patients."
"It is time for patients to catch up on the care that has been deferred for the past two months," Mukkamala said. "We encourage the citizens of Michigan to tend to their health and protect each other by following public health guidance to prevent spread of this virus."
All of that still needs to be done with COVID-19 best practices in mind, according to Dr. Joneigh Khaldun, the state's chief medical executive.
"As businesses continue to reopen, it's crucial that they adopt strict safety measures to protect their employees, customers, and their families," Khaldun said."I know that as medical professionals begin offering nonessential procedures again, they will do everything in their power to protect patients and their families from COVID-19."
While last week's order allowed bars and restaurants in the Upper Peninsula and around Traverse City to reopen in a limited capacity, Thursday's order does not allow the same lifting of restrictions in the rest of the state.
"We have taken a lot of steps in the last few weeks … the re-engagement of construction, of manufacturing, of retail … We've got to take a pause and see what happens with COVID-19 numbers," Whitmer said. "As we assessed risks inherent with different sectors of our economy, there are certain activities that are riskier."
Whitmer also signed a separate order updating a prior rule on workplace safety. Per the amended order, reopened outpatient health-care facilities, including clinics, primary care physician offices, and dental offices, will have to adopt strict protocols to prevent infection. The Department of Licensing and Regulatory Affairs will issue guidance to aid those facilities in adopting appropriate safeguards.
As before, businesses maintaining in-person activities must adopt social distancing practices and other mitigation measures to protect workers. They must, among other things, provide COVID-19 training to workers that covers, at a minimum, workplace infection-control practices, the proper use of PPE, steps workers must take to notify the business or operation of any symptoms of COVID-19 or a suspected or confirmed diagnosis of COVID-19, and how to report unsafe working conditions.
Consistent with the governor's previous Safer at Home orders, any individual able to medically tolerate a face covering must wear a covering over his or her nose and mouth—like a homemade mask, scarf, bandana, or handkerchief—when in any enclosed public space. Michiganders who are not working as critical infrastructure workers or at a business that has been authorized to reopen should stay home to protect themselves and their families from the spread of COVID-19.