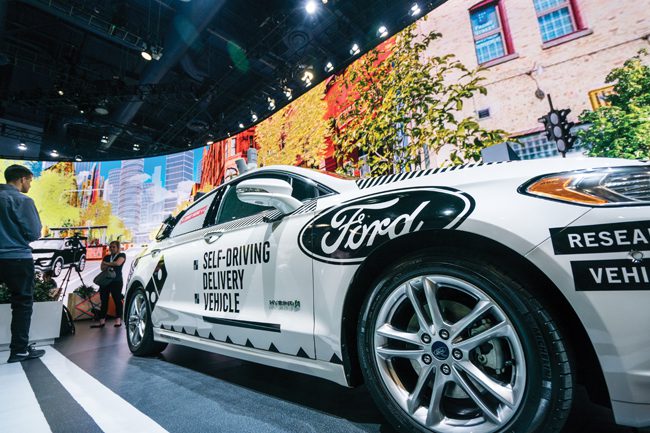 Driverless cars are accelerating their way onto Main streets nationwide and the birthplace of the automobile is poised to take a good portion of the technology fueling the market.
In fact, Michigan is first in the nation in connected and automated vehicle projects and is the leader in mobility-related patents, according to the Michigan Economic Development Corporation (MEDC). In the last five years, companies based in Michigan have grabbed nearly 2,600 patents, 1,100 more than runner-up California.
"We have intentionally seen this kind of technology on the horizon and we started to purposely work to create the right environment," explained MEDC CEO Jeff Mason. "We also passed regulations in Michigan for companies to test and do research on the roads."
MEDC, which helps fund the American Center for Mobility (ACM), adjacent to Willow Run Airport, has invested close to $50 million over a four-year time-period. ACM allows companies to lease office space, garages and other amenities to conduct testing and research.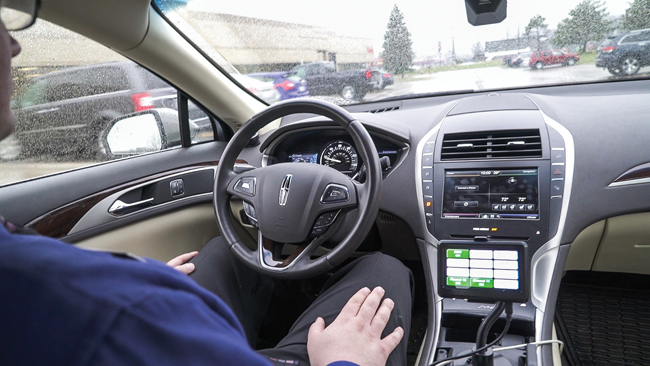 Talk to me
Another big lure is that Michigan will have more than 500 miles of roadways required for connected vehicles to communicate with each other by the end of 2019.
These efforts garnered national attention with the ranking of the Detroit as one of the top 50 cities in the nation to start a business. The Surge Cities Index ranking by Startup Genome saw Austin, Texas; Salt Lake City, Utah, and Raleigh, North Carolina as the leaders.
In an online introduction to the ranking, Surge Cities highlighted Detroit's position. "With the highest density of engineers in the country, Detroit is reinventing itself by leading the next mobility boom. Chances are, if there's something that has to do with mobility, a startup in Detroit has touched it."
Keeps growing
HARMAN International, a subsidiary of Samsung, chose Novi for its North American automotive headquarters in 2016, opening an 188,000-square-foot facility.
Toyota plans to build a test facility in Ottawa Lake, expanding the presence it already has with the Toyota Research Institute in Ann Arbor.
Michigan's growing share in the driverless car realm continues with Google's Waymo, which has a facility in Novi and employs approximately 20. The company will build its vehicle integration operations in Michigan to bring self-driving systems into the vehicle platforms of its partners. This light manufacturing facility, at a yet-to-be-determined location, will be in southeast Michigan.
The project is expected to generate private investment of $13.6 million and create 100 jobs initially, with the potential for up to 400. It resulted in a Michigan Business Development Program performance-based grant of up to $8 million. The company is looking for up to 200,000 square feet of ready-to-go, light manufacturing space to support its capacity expansion plans.
The deal involves a partnership with auto supplier Magna International to integrate Waymo's autonomous vehicle technology into the company's expanding test fleet. Magna, which has its U.S. headquarters in Troy, also has an autonomous vehicle partnership with the ride-hailing service Lyft to integrate self-driving systems on fully autonomous vehicles.
Another company, Magneti Marelli, which develops and manufactures high-tech components for the automotive industry, is also looking to grow and invest in its North American headquarters to strengthen its research and development, technology, and professional labor capabilities at its facility in Auburn Hills. The company says it will hire new employees, construct new labs and add machinery as part of a project that received a $1.59 million MBDP performance-based grant, which is expected to generate $12.5 million in private investment and create 106 jobs.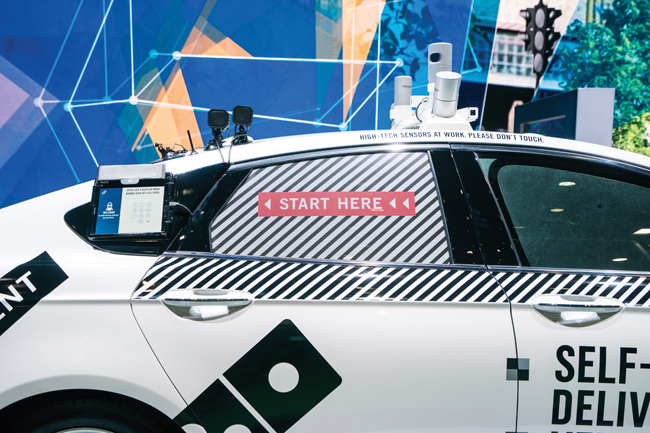 Spokes on the wheel
The evolution of autonomous cars can be broken down into three hubs: software, vehicle vision capacities and integration, according to Paul Eichenberg, a consultant based in Northville, Mich., who points to software development being primarily done in Silicon Valley, cybersecurity and mobilized vehicle vision in Israel, and integration of the technologies being handled out of Detroit.
"The thing that people don't appreciate enough about Detroit is the integration of all this together," said Eichenberg, a supplier strategist who works with Fortune 500 companies.
Eichenberg, who facilitated a panel of experts discussing the outlook of electrified vehicles at the 2019 North American International Auto Show, pointed to General Motors investing in mobility services with Lyft, as well as super cruise and cruise automation.
"They're making these kinds of investments to integrate where mobility is going in the future," he said. "It's bringing cruise automation into the chassis, in the steering and braking. The biggest issue is finding the people with electronics capabilities to develop the algorithms to enable autonomous vehicles."
All the while, there's room for improvement in building the pool of experts in Michigan, says Eichenberg.
"You have such a large pool of electronics and mechanical engineers, but this area probably hasn't done enough to develop software engineers."
Safety and capacity of providing rides are the driving motivators behind autonomous vehicles coming to market.
Bosch sees one out of four vehicles globally being electric in the near future, according to Eichenberg.
"GM is making investments, and Ford is making those investments to bring those things together to produce these very, very complex vehicles," he added.
On the road
MEDC's Mason says one focal point of autonomous car development has been testing grounds at three key spots in Michigan: ACM; Mcity in Ann Arbor; and the Kettering GM facility in Flint.
Mcity, a 32-acre site located on the grounds of University of Michigan, provides companies the ability to test connected and automated vehicles and technologies in simulated urban and suburban driving environments. Working with the Michigan Department of Transportation and in partnership with UM, Mcity simulates the broad range of complexities vehicles encounter, featuring roads, intersections, traffic signs, signals, sidewalks, simulated buildings, roundabouts, crosswalks, curb cuts, bike lanes, buildings, street lights and obstacles such as construction barriers.
Some 60 companies that have a stake in the future of mobility, have so far connected with Mcity.
"We're not rushing to the road," said Greg McGuire, a lab director at Mcity. "Mcity is here to make sure we put this technology on the road in a thoughtful, safe, measured way. We run tests, but we're also focused on shared research and model employment. We're trying out technologies in the real world before they're commercialized."
Acknowledging that there are different ownership models evolving, and companies such as Tesla, Nissan and GM involved, McGuire says Mcity acts as a bridge.
"We're here to help with barriers that no one company wants to tackle on their own," he noted.
Research at Mcity involves a wide range of issues, from motion sickness and legal questions to liability and public acceptance questions.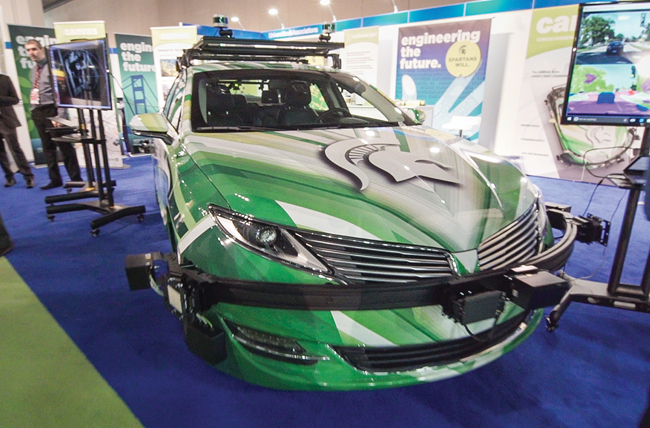 Choosing Michigan
One international company that uses Mcity locally is ZF Friedrichshafen AG, which provides driveline and chassis technology, as well as active and passive safety technology. The company's electronics division, headquartered in Farmington Hills, focuses on electronics and advanced driver assist systems, employing 700 of the 4,500 ZF employees working in Michigan. ZF has a global workforce of 146,000 and reported sales of $36.4 billion in 2017.
"ZF is the world's largest producer of forward-facing automotive cameras, which is key for detecting objects," said John Wilkerson, a senior communications manager at ZF.
"Automation, electrification and networking are critical enablers as the transport of people and goods continually increase in urban centers," he said.
The company's electronics and advanced driver assistance systems (ADAS) division, headquartered in Farmington Hills, continues to grow, said Wilkerson. "We have invested more than $30 million there in the last five years in two facilities and plan another significant investment to further expand our presence, including the hiring of 150 more positions in 2019, in addition to our 700 current local employees and a total of 500 globally in the electronics division."
The company also recently announced the introduction of its ProAI, touted as the world's most powerful super computer for automated driving, a central control unit that will enable automated driving through artificial intelligence data management.
Wilkerson predicts an increased penetration of automation in the market and "robo-taxis," along with shuttles that will come to market more quickly than passenger cars.
"There's a race going on globally and Detroit remains a key center," he added.
Other companies vying for a piece of the automated vehicle market include Volvo, Apple, Baidu, BMW, Daimler, Delphi, Honda, Hyundai, Microsoft, Mobileye, Nissan, Nvidia, Bosch, Tesla, Toyota and Volkswagen.
Nuts and bolts
Key technology wrapped into automated vehicles include sensors, radar and Lidar (Light Detection and Ranging), a surveying method that measures distance to a target by illuminating the target with pulsed laser light and measuring the reflected pulses with a sensor.
Information is taken from the sensors and processed to direct how the car will steer and brake, building on existing systems that provide brake and lane assistance.
In some automated vehicle models, cameras and laser beams create 3D images that allow the vehicle to view hazards and calculate distances. Radars help the car become aware of vehicles in front and behind and is the same adaptive cruise control systems currently used.
Other technology uses the car's software system to determine the precise position of the vehicle and to control acceleration, braking and steering.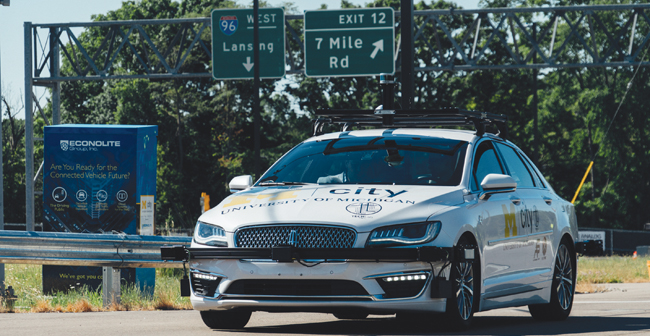 Rippling effects
Autonomous technology reaches far beyond just putting cars on the road.
One example comes from May Mobility, an Ann Arbor-based tech startup that builds and operates fleets of driverless cars in structured environments such as central business districts, corporate campuses and dense residential developments.
The company launched its first low-speed autonomous shuttle service for Quicken Loans in Detroit in the summer of 2018 and the company is expected to be operating in Grand Rapids, Columbus, Ohio, and Rhode Island in 2019. Meanwhile, Uber announced that it was going to start testing tractor-trailers that drive themselves. The ride-sharing company signed a framework agreement with Volvo to sell autonomous driving compatible base vehicles between 2019 and 2021.
The state is rewarding companies working in the driverless sector. Newly-elected Governor Gretchen Whitmer announced during January's North American International Auto Show that pilot projects will receive funds from the $8 million Michigan Mobility Challenge initiative, one early example being an autonomous electric shuttle at the Battle Creek VA Medical Center that received $2.1 million. [Editor's note: see our Executive Conversation with Trevor Pawl from PlanetM about the Mobility Challenge on page 48.]
The state is rewarding companies working in the driverless sector. Newly-elected Governor Gretchen Whitmer announced during January's North American International Auto Show that pilot projects will receive funds from the $8 million Michigan Mobility Challenge initiative, one early example being an autonomous electric shuttle at the Battle Creek VA Medical Center that received $2.1 million. [Editor's note: see our Executive Conversation with Trevor Pawl from PlanetM about the Mobility Challenge on page 48.]
In the books
The Great Lakes state also propelled itself among the first nationally with the creation of self-driving laws, measures which permit the operation of autonomous vehicles on Michigan roads. Previously, self-driving vehicles were permitted on state roads only for testing by manufacturers.
Senate Bill 995 addresses how automated vehicles will be allowed, while requiring manufacturers to adhere to all safety requirements mandated with autonomous vehicle testing. Other legislation allows for automated platoons where vehicles travel together at electronically coordinated speeds and authorizes on-demand autonomous vehicle networks.
MDOT plays a pivotal role in the automated car progression.
"The input of MDOT will be that we help the developers of vehicles understand how roads are designed and to understand the connected vehicle technology," explained Kelly Bartlett, an analyst with MDOT. "If MDOT was not involved, you would never understand how the real world works with the infrastructure and traffic laws."
Out of this world
PlanetM, a partnership between MEDC and mobility organizations, communities, educational institutions, research, development and government agencies working to deploy mobility technologies driving the future, is a way to help brand the state as a place to be, says MEDC's Mason, who likens it to a no-cost concierge service that connects businesses to the people, places and resources dedicated to the evolution of transportation mobility.
MEDC, along with the Detroit Regional Chamber, also created The Landing Zone, which provides space for young technology companies that want to put down roots in the state of Michigan.
"Our business development team works around the world to promote Michigan and to recruit and bring more companies to the state," said Mason. "We are a state that not only knows how to manufacture, but we are a state of innovation. We have a deep history of research and development in private sector and university."