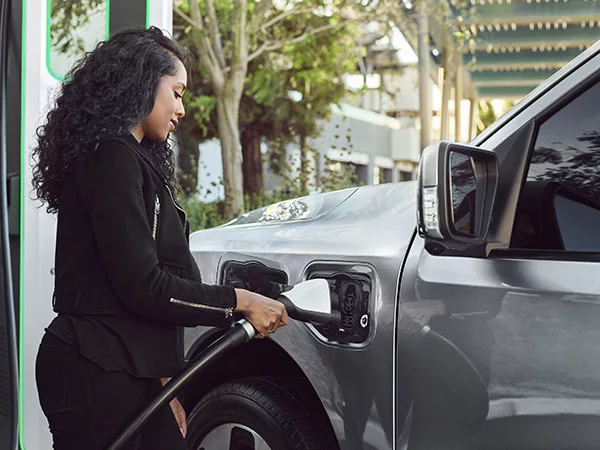 DEARBORN, Mich. – Ford announced it is joining with the U.S. Joint Office of Energy and Transportation to launch of the National Charging Experience Consortium, a new effort to rapidly develop solutions to improve electric vehicle (EV) charging across the U.S.
Ford will join a cross-industry group of automakers, charging providers, utilities and the Department of Energy national laboratories to drive innovation and universal enhancements around current and future public charging infrastructure and the entire customer experience.
The consortium will immediately focus on payment processing, user interfaces and vehicle-to-charger communication, as well as work toward collaborative diagnostic data sharing to further support solutions for all stakeholders.
"Creating a seamless and simple public charging experience requires collaboration across the entire electric vehicle ecosystem, and remains key to accelerating EV adoption and providing customers with range confidence," said Bill Crider, head of global charging and energy services, Ford Motor Company. "Bringing together a cross-section of industry, academia and government will address current challenges and drive swift improvements to the entire charging experience, helping Ford customers and all EV drivers realize all the benefits of driving electric."
As part of the ChargeX Consortium, Argonne National Laboratory, Idaho National Laboratory, and the National Renewable Energy Laboratory will collaborate with organizations representing a cross-section of the electric vehicle (EV) charging industry on complex issues that require multi-stakeholder collaboration to solve and simplify. This effort aligns with the Joint Office mission to accelerate an electrified transportation system that is affordable, convenient, equitable, reliable, and safe and fulfills a specific mandate to plan, coordinate, and implement data sharing to inform the buildout of a national charging network.
"The national labs provide the independent expertise needed to fix the most challenging, systemic problems that can impact the customer charging experience," said consortium director John Smart of Idaho National Lab. "The national lab team shares a sense of urgency and has identified an aggressive timeframe that aligns with the United States' accelerating transition to electric transportation."