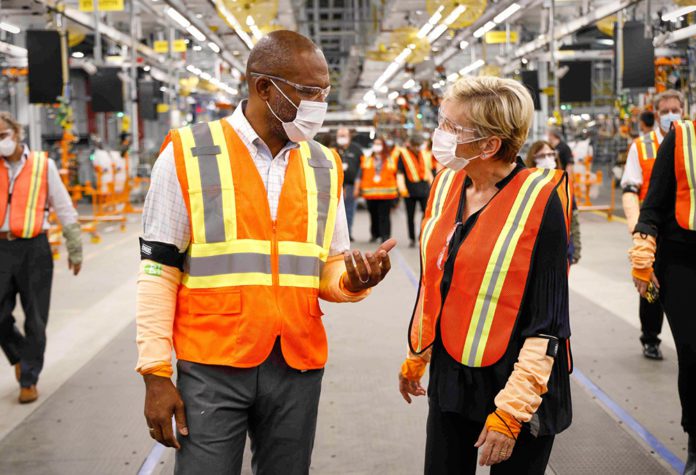 President Joe Biden wants half of all vehicles sold in the U.S. to be capable of emissions-free driving by the end of this decade.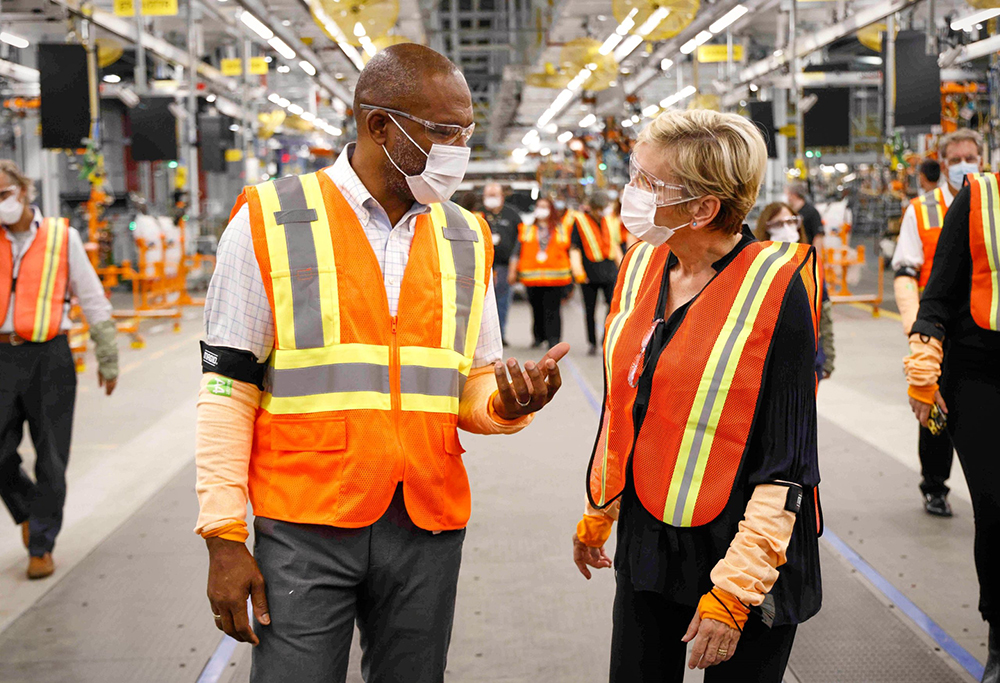 On Thursday, the idea got major support from automakers, who called it a "dramatic shift" from the U.S. market today.
Biden was joined Thursday by Detroit automakers and the UAW while he unveiled an executive order establishing the goal for half of all cars sold to be battery-electric, plug-in hybrid or fuel cell-powered by 2030, Bloomberg News reported, citing senior administration officials and a White House fact sheet.
"These new actions — paired with the investments in the president's Build Back Better Agenda — will strengthen American leadership in clean cars and trucks by accelerating innovation and manufacturing in the auto sector, bolstering the auto sector domestic supply chain, and growing auto jobs with good pay and benefits," the White House said in a statement.
Biden also announced his administration is crafting greenhouse gas-reduction standards and fuel economy requirements for vehicles, including medium-duty and heavy-duty trucks, according to the White House.
The moves are at the center of the president's climate plans and mark his administration's first major effort to use regulation to stem planet-warming greenhouse gases, Bloomberg reported.
To get it done, automakers are counting on the government's help.
"(It) can be achieved only with the timely deployment of the full suite of electrification policies committed to by the administration," Ford Motor Co., General Motors Co. and Stellantis NV said in a joint statement. "Our recent product, technology, and investment announcements highlight our collective commitment to be leaders in the U.S. transition to electric vehicles."
UAW President Ray Curry said in a statement released by the White House that the effort is needed to "build the vehicles of the future." Electric vehicles represented only 2% of passenger-car sales in 2020, according to an analysis by BloombergNEF.
"We are falling behind China and Europe as manufacturers pour billions into growing their markets and expanding their manufacturing," Curry said. "We need to make investments here in the United States."
Tesla Inc. Chief Executive Officer Elon Musk said on Twitter the electric-car maker isn't on the guest list for Thursday's event.
American car manufacturers have announced plans to invest billions in producing carbon-neutral fleets. GM, for instance, has vowed to sell only zero-emissions models by 2035. Ford said it expects 40% of its global vehicle volume to be all-electric by 2030 and Stellantis has said it is targeting more than 70% of sales in Europe and over 40% in the U.S. to be "low-emission vehicles" — meaning either electric or hybrid — by 2030.
On Thursday, Energy Secretary Jennifer Granholm, the former Michigan governor, toured GM's Factory ZERO. During the visit, GM highlighted Factory ZERO's latest progress as it is retooled into the company's first fully dedicated EV assembly plant with contiguous battery assembly. Factory ZERO will play a key role in advancing GM's vision of a world with zero crashes, zero emissions and zero congestion.
Hosted by GM President Mark Reuss and GM Executive Vice President of Global Manufacturing and Sustainability Gerald Johnson, the tour included an interactive demonstration in Factory ZERO's body shop as well as a walking tour of the facility's modular general assembly line. Employees showcased state-of-the-art operator tools and testing and validation of GMC HUMMER EV pre-production pickups.
In a statement released Thursday, General Motors officials said the automaker is "committed to a zero-emissions, all-electric future and has charted a path which aspires to eliminate tailpipe emissions from new light-duty vehicles by 2035.
"For GM, that means battery electric vehicles," the statement read. "To reach the high end of this range, we will continue to work with the Biden Administration, Congress, and state and local governments for implementation of supportive policies for the benefit of our workforce, our dealers, our customers and their communities."