Grand Hotel has been in the same family for 85 years. Some groups, such as the Knights of Columbus, have visited the hotel annually for more than 60 years. So that goes to show that the third-generation owners of this summertime mainstay know a little something about running a successful business.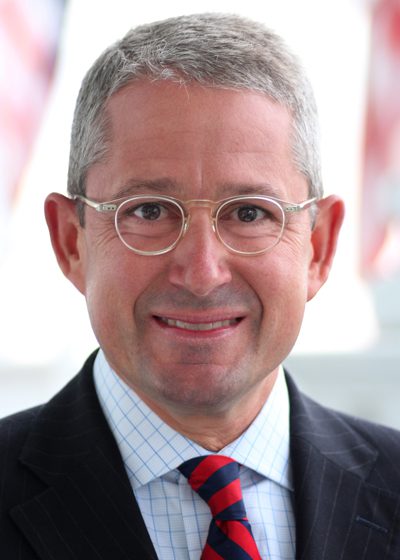 That is why Dan Musser III has his game face on when the Mackinac Policy Conference rolls in every spring. In fact, the head of this prestigious address regards the Conference as the hotel's "Super Bowl" event, bringing more than 1,600 people and 150 members of the media to his doors.
Musser's great uncle, W. Stewart Woodfill, bought Grand Hotel in 1933, having started working here in 1919 as a desk clerk. His great uncle has a vision for Grand Hotel as a formal, proper, beautiful place. Today, there is still some formality – for example, men must wear a tie at dinner.
Yet the hotel also has a family-friendly atmosphere, encouraged by Musser himself and his devotion to family and his own kids. Like all of the Grand's caretakers, Musser brings his own style and attitude to the job, and that means making sure families feel as comfortable within the hotel as the business executives who are here now.
Musser started working at the hotel in high school, raking sand traps on The Jewel. He has been a bellhop, bartender, front desk clerk, front desk manager, reservations manager, Vice President and now, President. Under his direction, he has maintained the hotel's ambiance yet changing with the times and technology.
Prepping for the Mackinac Policy Conference takes all winter, Musser says. There is no one "pep talk," it is a never-ending pep talk for the staff that makes the Grand work, he adds. He describes it as the "extreme version of having friends over" where you touch up every missing bit of paint, change the lightbulbs and stock the fridge.
Or, as his great uncle would say, if you want to improve your house, have a great party every year in the middle of summer. You'll have to do the work to get everything ready in time.
But the Detroit Regional Chamber and its staff are another key component of making this massive event work. They are perfectionists in the best sense of the word, Musser says.
"They look at every detail every year, which makes it easy to improve," Musser says. "This is a huge jump-off point for the season, so now we're operating at 110 percent. It serves us well."
The Mackinac Policy Conference also helps gel the Grand's staff into a full team. The hotel's main goal is to put its customer first, Musser says, and he believes that people who have negative experiences at the Grand tend to become its best and most frequent guests because of the way he and his employee respond.
"We're always thinking about the next day, the next month, the next year," Musser says.
Grand Hotel facts:
• At 660 feet, Grand Hotel's Front Porch is the world's largest, and is visible as you approach the Island from  Lake Huron.
• The hotel is 332,500 square feet. More than 150,000 overnight guests stay at Grand Hotel each season.
• The 5 millionth guest in Grand Hotel history checked in on June 26, 2006.
• Five U.S. Presidents have visited Grand Hotel: Presidents Bill Clinton, George W. Bush, Gerald Ford, John F. Kennedy, and Harry S Truman.
• Grand Hotel's kitchen staff of more than 100 prepares and serves as many as 4,000 meals per day.
• During the 2017 season, Grand Hotel used 9,000 pounds of prime rib, 102,500 pounds of potatoes, 5,500 pounds of rack of lamb, 6,400 pounds of bacon, 42,500 pounds of strawberries and 6,000 pounds of pecans.
• More than 60,000 Grand Pecan Balls, the Hotel's most popular dessert, are consumed each season.
• The Grand's famous Front Porch flowers include 1,375 geraniums in 147 planting boxes with 12 yards of potting soil.
• Grand Hotel uses 2,500 geraniums, its trademark flower, in all its flower beds combined.
• 24,120 bulbs are planted in the fall, including 18,000 tulips.
• More than 125,000 bedding plants (annuals) are used to create the many gardens on Grand Hotel grounds.