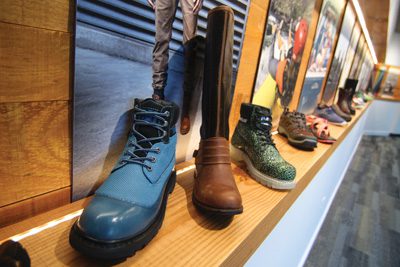 In telling the story of Wolverine Worldwide, a publicly traded footwear conglomerate based in Rockford, Mich., just outside Grand Rapids, dates are important, with one of the 135-year-old company's most important being 1959.
It was just a year after the now-iconic Hush Puppies brand was brought to market by the Krause family, at the time lead by Victor Krause, son of founder G.A. Krause.
But that year was doubly important in that it marked the "internationalization" of Wolverine Worldwide, an opportunity that not only redefined the world's 35th largest footwear company, but will likely be critical to its future growth.
Beginning with an entry into Canada and followed by Japan and the United Kingdom, Wolverine's move was, at the time, an unusual one for a consumer or soft goods company, says Blake Krueger, who has lead the company since 2007.
"What it did was allow Wolverine to begin spending the next two to three decades building up and nurturing relationships with distributors around the world and that has proven to be unbelievably important to the company."
But let's be clear. It wasn't all smooth sailing for the footwear industry in America, especially during the 1980s. At the beginning of the decade, about half of the shoes consumed in America were made here; 15 years later, that number had largely evaporated, with just 5 percent manufactured in the U.S.
That doesn't mean Americans aren't buying shoes. In fact, industry watchers say the average U.S. consumer buys 7.5 pairs of boots and shoes a year. And Krueger says the U.S. has the most retail space per capita than any other nation on the planet—seven times more than its nearest competitor.
And this is a guy who knows his shoes. During the '80s, Krueger, a native of Minnesota who earned his undergraduate degree at Michigan State University and law degree at Detroit's Wayne State University, was working at Warner Norcross and Judd, the Grand Rapids firm that represented Wolverine.
"I was there at the time some of the bad deals were being made," says Krueger, who can smile now recalling those less than spectacular days.
One reason is that the modern Wolverine is one that continues to benefit from a reorganization that began in earnest in 1992, with one of Krueger's predecessors, Geoffrey Bloom, leading a team that began divesting itself of underperforming assets and investing in growing core businesses.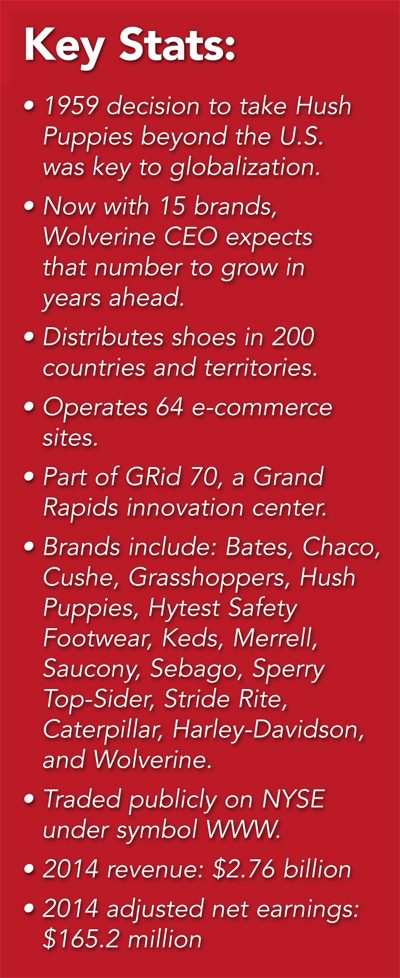 In 1993, the year Bloom became CEO, Wolverine had sold just 18 million pairs of boots and shoes; just two years later, that number had swelled to 30 million, with net sales increasing 46 percent and net earnings quadrupling.
The same year Bloom took the reins, Krueger joined the company full time as its general counsel. Bloom retired from the post seven years later, succeeded by Timothy O'Donovan in 2000. In 2007, Krueger became president and CEO and chairman of the board in 2010.
A worldwide branding machine
Setting aside for the moment some of those "bad deals" Krueger said were made in the 1980s, it was a combination of the reorganization lead by Bloom and his team plus what Krueger now calls the "plug and play" nature of Wolverine's branding culture that is at the heart of what could be called one of the world's strongest branding machines when it comes to footwear.
Consider, as an example, the 1994 acquisition of a license for Caterpillar branded footwear, a "rounding error" for the Illinois maker of heavy road building equipment but one that has turned out to be one of Wolverine's 15 popular footwear brands. Or Harley-Davidson branded footwear, the brand that Wolverine acquired in 1998 (again, one of its strongest performers).
What is key to fully understanding what makes Wolverine such a powerful branding machine is how those nameplates—now and in the future—work in the context of an organization that Krueger says can only become stronger over time.
"Remember, that decision in 1959 gave us a 40-year head start when it came to integrating brands into the organization," says Krueger. "We source from contract factories, mostly in China, but also in Indonesia, Bangladesh and Vietnam. But all our intellectual capital is here in the U.S."
For Wolverine, the 15 global brands it owns have their own distinctive character. Distribution is done both by independent companies in most regions, but also by Wolverine itself in Canada, Europe and the United States.
In all, the brands are sold in some 200 countries and territories that have intimate knowledge of the retail environment in which distributors and retailers operate.
"Those relationships have been built, quite literally, over the decades," says Krueger, with a nod to the 1959 decision by the Krause family to spread its organizational wings beyond the U.S.
Where the real magic comes is being able to free up the small brands Wolverine has been able to acquire from the service functions—like legal, human resources, sourcing, IT and the like.
"What it allows us to do is to bring in very small brands that couldn't afford to operate as standalone businesses," says Krueger. "They can focus on innovation and the creative part of the business—the fun stuff."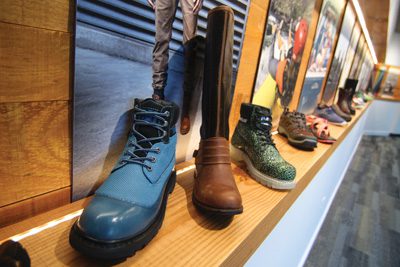 Consider the so-called "Boston brands"—the Performance + Lifestyle Group of Collective Brands that Wolverine acquired in 2012.
The $1.24 billion purchase brought several iconic names into the Wolverine fold, among them Sperry, Top-Sider, Saucony, Stride Rite and Keds. Footwear News named Wolverine its "Company of the Year" in 2012.
At the time of the purchase, only about 5 percent of the combined sales were outside of the U.S., says Krueger. "We're now taking those brands to the world."
The growth of those brands has in some ways been a mirror of that enjoyed by Wolverine when it acquired Merrell in 1997.
"At the time, it was doing $23 million in sales and losing money," says Krueger. "Once we bought it, it wasn't long before it was doing $300 million."
Communication and careers
Doing so well in a 15-brand organization has a lot to do with the way information flows throughout the company, says Krueger.
"Our people know how to communicate across brands and functions," he adds. "It's a complicated business model, but it works."
How complicated?
"We're a very 'matrixed' organization," he explains. "If the communication had to flow up through formal lines, we'd grind to a halt."
Practically speaking, the opportunities for someone who joins Wolverine early in their career are nearly unlimited.
"There are a lot of one brand companies," notes Krueger. "If the head of marketing is 48 years old, guess what? You're going to have to leave the company and start somewhere else if you want to build a career that will take you to that level. In our case, we have 15 brands, some large, some small, where you can develop and bounce around the company."
It might seem like something akin to a "pinball" career, but Krueger says it's working.
"Every brand has its own sales and marketing functions which all operate a little differently," he says. "There's a corporate culture but there's also a brand culture, a subculture within the brand and every brand gives people an opportunity to learn some more, develop their career and bring something new to the brand as well."
One of Wolverine's "boutique" brands is Bates, one of the last remaining bastions of footwear manufacturing in the U.S. Its 550-person workforce in Big Rapids, Mich. turns out boots destined for the U.S. Department of Defense and customers in law enforcement.
But remember that 5 percent of U.S. footwear production in 1995? Today, it's 0.3 percent, Bates included.
When it comes to future growth, Krueger has his eyes firmly locked on Asia Pacific.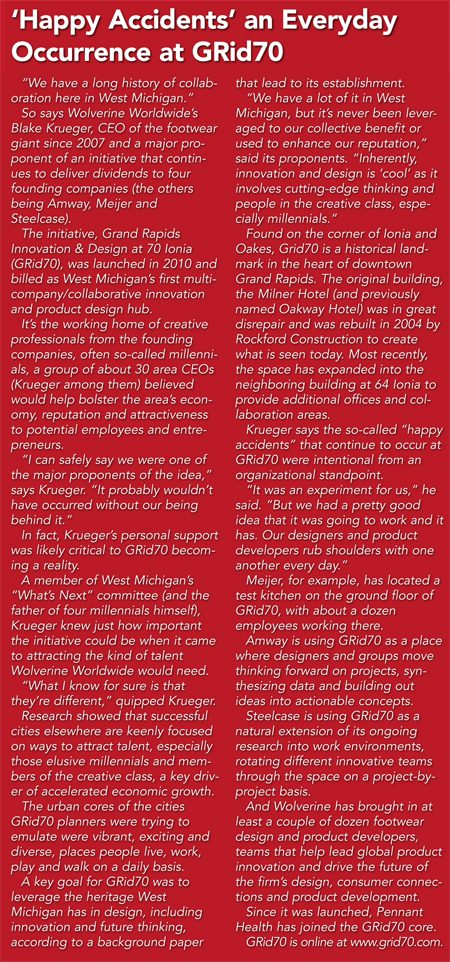 "What's shocking is that in just a few years, well over half the Gross Domestic Product in the world is going to be concentrated in 500 cities, most of them places you've never heard of and couldn't point to on a map," he says.
Yes, the U.S. remains the world's largest consumer of footwear, but a lot of the future growth is going to come from Asia Pacific as well as Europe.
Back to branding for a moment.
As technology has changed—remember, the iPhone is still less than 10 years old—the previously organic growth of design, from Milan, to London, to New York, has also changed.
"We need now to be able to implement design changes in real time," says Krueger. Those kinds of changes will come in part from formal initiatives like GRid 70, a Grand Rapids design hub that Wolverine played a big part in creating (see sidebar).
But technology aside, a company like Wolverine is still very much a collection of people, the right people.
"Like everything in life, it comes down to people," says Krueger. "The team with the best players wins."
That means spending the time on the things that count. Really count.
"When you look at the company over a period of time, I spend a lot of my time on people, having the right talent and developing the talent we have."
Krueger will admit that at least at the beginning of the recruitment process, getting someone to move to Grand Rapids can be a challenge (he says his second visit to Grand Rapids was when he was being recruited by his first employer, the law firm).
"Once we get people here, they never leave," he says. "Whether it's our company or others, being able to be anywhere on Lake Michigan within an hour or so, is tremendous when it comes to quality of life. But it's much easier today than it was in the late 70s when streets rolled up at 5 p.m., there were no bars, no restaurants, a typical Midwest rust belt city."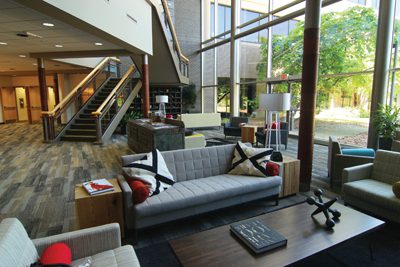 That, of course, has all changed. But it doesn't mean that Krueger doesn't have concerns when it comes to the future.
The changing retail, economic landscape
"One thing that has shifted is the way consumers behave today," he says. "I remember, for example, just five years ago, I'd ask people in an audience how many people had made an online purchase in the last month and about one in five would raise their hands. Today, I get every hand raised."
Wolverine, with its 64 e-commerce sites operating around the world, seems to be well positioned to keep pace with that changing landscape.
And Krueger understands what's driving the behavior.
"This is not a power shift that consumers asked for," he says. "But it's at their fingertips and more than half of consumers say they check price on that style of shoe before they buy."
What that means, practically speaking, is that companies like Wolverine need to make sure the retail environments provide an experience that's seamless with their e-commerce sites, and vice versa.
"You have to act differently than you acted five or 10 years ago," adds Krueger.
From an even broader perspective, Krueger, notably in his role as a member of Business Leaders for Michigan, argues that policy changes are key to ensuring that states like Michigan remain competitive when it comes to cultivating economic growth.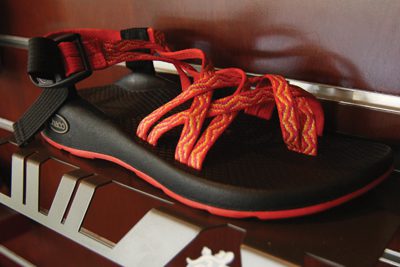 "Right now we have some 125,000 unfilled factory type jobs here in Michigan, which means we need to be focused on training the right people so that these jobs don't go elsewhere."
But that's "big picture" for Michigan. Krueger and his team are doing what they can to make a difference.
In the meantime, they're looking, quite literally, to the world to see that Wolverine's growth remains solid. And that means looking out for even more brands to replicate the success it has enjoyed from having a nimble organizational model.
"I see us enjoying even greater global expansion than we have already," says Krueger. "Yes, we have 15 brands and we operate in 200 countries and territories. But there are a lot of brands remaining, with a lot of global white space."