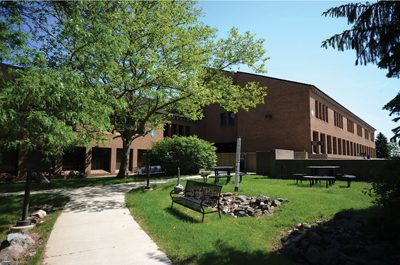 When George Cartsonis was hired at Oakland Community College (OCC) in 1970, the institution's Orchard Ridge campus was "laughingly" nicknamed "Harvard on the Highway," the greater college known as "Only Chance College." A majority of male students were enrolled to avoid being drafted to Vietnam. It was, in the general perception, a place you went because you had nowhere else to go. It was, truly, a last chance at a step into a successful life.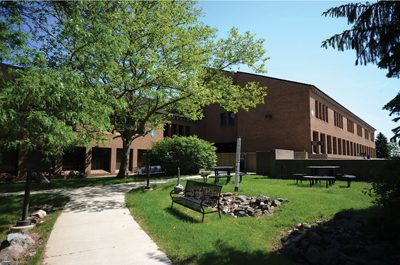 As the college celebrates half a century of educating more than 1 million Oakland County residents, the reputation of OCC has increased to one of respect, prestige and a legitimate doorway to greater career opportunities. OCC's economic impact in Southeast Michigan is "enormous," says Cartsonis, who is now retired but spent 30 years as OCC's director of college communications.
"A major component of a community college's mission is to train people for employment, specifically in high-demand fields," he notes. "The community college has the advantage of being very flexible. It's able to develop programs to meet demands on a very rapid basis. I remember, once I did a study to determine how many PhDs were attending OCC, and the numbers were considerable. We work closely with industry; a lot of our graduates are hired away even before they get their degrees, they need them so badly."
Community colleges in America
Community colleges educate nearly half of all undergraduate students (46 percent) in the United States, according to the American Association of Community Colleges (AACC). Nationwide, there were some 1,123 community colleges educating a total of 12.4 million students in the fall of 2013, according to AACC.
The average student age is 28; 57 percent of students are women and 36 percent are the first generation in their family to attend college.
In Michigan last year, 28 community colleges, four universities and one tribal college provided this level of higher education to 214,166 students, according to the Michigan Community College Network, with OCC by far educating the highest number.
A number of reasons abound for the popularity of, and increased respect for, community colleges. For one, the cost of tuition is roughly one-third of an equal number of college credits at a public four-year institution, according to AACC statistics.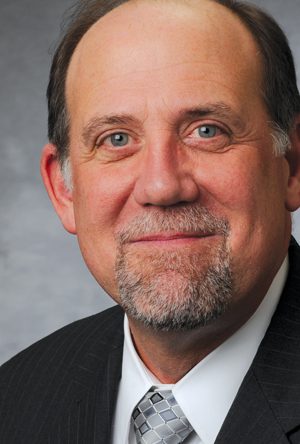 Also, students at community colleges are often enrolled part or full time while working an equal number of hours. It isn't always practical for an older student, or someone midway into their career, to pack up and move away to attend a college with a specialty in their industry niche.
Many community college students either didn't do well in high school with the "rote" learning expectations of most K-12 schools, says Dr. Timothy Meyer, OCC Chancellor; community colleges give them time and support to learn the way they learn best. Community colleges are often springboards to four-year institutions – whether because a student didn't fare well enough in high school or perhaps they frittered away their first year at a four-year institution partying.
Whatever the reason, community colleges now provide a gateway to career success and academic advancement unlike any other place, says Meyer.
A look at history
With sights set on building a skilled workforce, the first local colleges began at the turn of the 20th century, mostly to convince high school graduates to advance their education without having to leave home.  One began in Joliet, Ill., as a high school-based community college, known as Joliet Junior College and developed at Central High School. Indiana's Vincennes University created a model of higher education devoted to small classes, close student-faculty relations and emphasis on academics, as well as extracurricular offerings.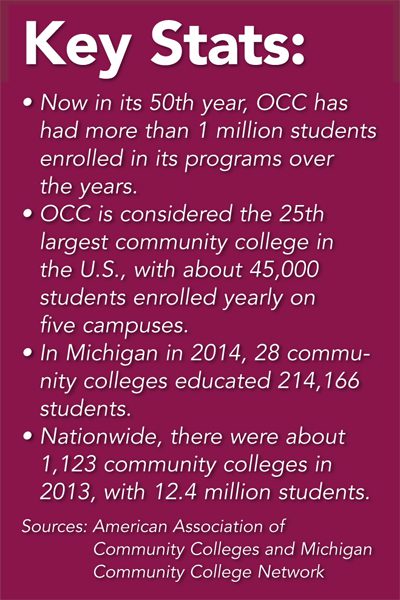 The goal of these first institutions was to meet local needs. The first community colleges enrolled 150 students as a robust population. In 1948, the Truman Commission suggested the creation of a network of public, community-based colleges to serve local needs. In the 1960s, 457 more opened and the number has grown steadily since.
Community colleges are purported to be the most responsive institution to the needs of the community and the local workforce, according to the AACC. Washtenaw Community College President Dr. Rose B. Bellanca traces the history of academic offerings: culinary arts and health courses led to manufacturing and construction and eventually evolved to respond to the downsizing of the automotive industry. Degrees gave way to certificate programs as a way of retraining and repositioning laid-off workers.
"Community colleges are partners with our economic development agencies," Bellanca says. "We focus on creating a better quality of life for all the residents in the community, which [leads to] an impact on the economic growth of the area."
The community college in the community
"If you randomly talk to two people in Oakland County, and even beyond, one of those two will relate a story unsolicited about their involvement with OCC," Meyer says. "Either as an employee or a student. It may not be them directly but it may be a family member. You can go to the Original Pancake House or Somerset Mall or the parking lot of your local ACE Hardware and walk up to two people and ask them about OCC. One of those two, almost guaranteed, will tell you about how OCC has directly impacted" someone they know.
OCC is considered the 25th largest community college in the United States, Meyer says, with about 45,000 students enrolled every year, across five campuses. The institution offers more than 100 degrees and certificate programs. "We've prepared about 30,000 graduates in business or applied technologies. That also reflects about 7,000 nurses and about 5,000 first responders, the majority of services that directly impact the security of our lives."
In the past, community colleges focused on access. "Come one, come all," Meyer says. Everyone was welcome, and that was their distinguishing characteristic compared with four-year institutions.
That has changed with the times. Today, community colleges focus on student success – whether that means developing a vocation or advancing to a four-year institution. Those goals are pretty evenly split among students' preferences.
"A good community college responds to its community," says Dr. Jim Jacobs, president of Macomb Community College. "The overwhelming majority of students who attend MCC go back into the communities they came from. We have about 140,000 alumni living within 30-40 miles of our institution."
What's more, colleges like MCC now partner with four-year institutions like Wayne State University, Oakland University and Walsh College to help students achieve their goal of launching to a four-year program. In fact, MCC  "was the first in the country to organize a university center," which means MCC students can take classes in one of 12 four-year colleges and universities that hold classes on MCC's campus.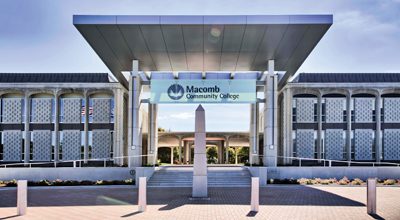 That makes achieving their goal of transition toward a four-year degree incredibly easy to achieve.
Economic impact
For decades, the principal economic focus of Southeast Michigan centered on the automobile industry. While the industry has gone through its own trials and transitions, much of our local economy does feed into this industry and its related sectors, Jacobs says.
With that in mind, MCC and other local community colleges have focused their programs on manufacturing, skilled trades, and other technical applications that help students be more marketable in their field.
Thirty years ago, MCC focused on helping students find jobs, mostly hourly hands-on manufacturing positions, Jacobs recalls. Today, as the automobile industry "has reconstituted itself to be an administrative and technical hub of a worldwide industry," MCC's programs now focus on information technology, computer-aided design and other technical courses and certifications.
Additionally, OCC, MCC and many other community colleges in the area work with local chambers of commerce, the Michigan Economic Development Corporation and a variety of industries and companies to provide direct opportunities to students.
Whether through entrepreneurial incubators, innovation loans or apprenticeships, community colleges are actively involved in building the region through direct education-to-employment scenarios. MCC, OCC and WSU participate in Goldman Sachs' 10,000 Small Businesses Program to boost business and management education, business support services and access to capital.
Many times, students enroll at community colleges after being laid-off, in search of a new career direction. Often, that means realizing a latent dream – like the student who had always wanted to be a nurse and once he was let go from his engineering job, turned to OCC to make his dream come true, Cartsonis recalls.
"Community colleges are the lifeblood of the economy because we're the people's college," says Washtenaw's Bellanca. WCC educates approximately 20,000 students every year, with an average student age of 28. It also hosts a high school on campus and offers an encore program for seniors – "you can find students here from 15 to whatever age," she notes.
"We're the ones that say, 'What do you need?' We say that to industry, to universities, to community members, everyone," Bellanca notes. "We develop what they need to be successful and make it affordable. I believe we are partners in being economic drivers for our region."