In the roughly nine months since the first COVID-19 cases were detected in Michigan back in March, Lt. Gov. Garlin Ghilchrist has lost 23 people in his circle alone to the virus, which has now claimed more than 8,000 Michigan lives.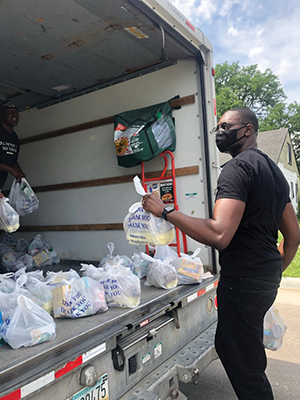 The losses included his AAU basketball coach and a cousin recently had to go to the hospital with COVID symptoms. What's more, especially in the early days, the coronavirus was hitting the state's Black community incredibly hard, disproportionately hard.
While making up just 14% of the state's population, Blacks made up nearly 30% of the infections and just over 40% of the deaths from the virus in its early days.
So the fight against the spread of the disease is far more than a theoretical battle to Gilchrist, the first Black person elected to his position in the state's history. It's why he was more than happy to jump in and chair the state's Coronavirus Task Force on Racial Disparities, signed into being by Gov. Gretchen Whitmer back in April.
"The reason I share (the number of losses in his life) is because I want people to know and understand this is real for me, too," Gilchrist told Corp! in a recent interview. "One of the issues we have with elected leaders, sometimes, is they're governing over experiences they don't understand, that they've never had.
"I want people to understand that I am experiencing this in my life," he added. "It helps fuel the urgency of our actions in the task force for me, because I don't want to get another phone call or text message to hear about someone else who passed away."
The racial disparities in the COVID-19 statistics didn't really surprise anyone, since they've existed across life "for generations" when it comes to health outcomes, Gilchrist said. Social determinates of health — access to care and insurance, educational attainment, access to jobs, literacy rates — have been connected to poor health outcomes and have been "more prevalent in communities of color, Black communities in particular," he said.
Given that understanding, and knowing the pandemic was coming, Whitmer and Gilchrist began coordinating the state's response in February. They started collecting data, including demographic data pertaining to race and ethnicity.
Gilchrist noted such a response was driven by what he called "the most diverse" response team in the country: the state's second female governor, the first Black lieutenant governor, and Dr. Joneigh Khaldun, a Black woman who serves as the state's chief medical executive.
Khaldun, Gilchrist noted, wanted to "make sure we could collect the data and information to see if and how, and to what degree, those disparities may be present" in the pandemic.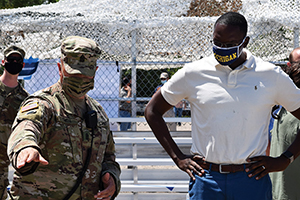 "Being able to have the ability to collect that information and report it transparently … we were one of the first states to do that and still, frankly and sadly, one of the few states to do that with any level of consistency, that's when we saw those numbers," Gilchrist said. "Once we saw that at the beginning and saw those disparities really holding for the first few weeks … that is when we made the choice to say we were going to address this head on, we were going to address this in a full-throated manner that brought to bear the full power of the state government to address these racial disparities."
More: Residential, Condo Real Estate Grows Again in October While Hotels Struggle
More: Whitmer Renews Call for $100 Million State COVID Stimulus Package
More: Study Outlines Projects to Attract Business, Visitors to Grand Rapids Area
Once established, the task force got to work, collaborating on actions such as:
• Distributing large quantities of masks to the public;
• Launching a strategic communications and social media effort targeting communities of color;
• Collaborating with regional racial disparity task forces to share data and recommendations for additional actions;
• Increasing access to coronavirus testing in communities of color through drive-thru, walk-up, and mobile testing sites.
Among direct actions spearheaded by the task force:
• Policy changes to testing protocols, specifically naming implicit bias possibly present in testing/treatment decisions, "especially when we had the constrained testing capacity we had in the beginning of the pandemic, when the Trump administration failed to deliver testing capacity to states, including Michigan," Gilchrist said.

• Increased testing accessibility. Michigan innovated the drive-through testing model, "because, of course, (Michigan) would invent a way to get tested in your car," Gilchrist said, chuckling.
• Recognizing that not everyone has a car — "In places like Detroit, 30% of people don't have cars," he said — so a "drive to" mobile testing model was fashioned, working with Ford Motor Company and other partners to have specially outfitted Ford vans that would "literally drive testing and medical professionals to a community to be able to test thousands of people on site."
• Made free-of-charge testing available for those without health insurance; helped people without symptoms and children get tested.
"We were really aggressive on that expansion because we wanted to make sure we could understand community spread, particularly in communities of color," Gilchrist explained.
• Developed the navigator program for people to engage with when they are coming into contact with a medical professional for the first time in a long time, because they're trying to get a COVID test. "We said to them, 'If you don't have a doctor, we can connect you with one. Or we can connect you to insurance or other services that can help you with food and security, income support, housing, etc., that can lead to better outcomes broadly,'" Gilchrist said. "But it also gets you (in touch) with a doctor; even if your COVID test comes back negative, it can help manage the care you need for diabetes or any other chronic conditions like asthma, high blood pressure, COPD … all of which are more prevalent in communities of color."
• Developed these neighborhood testing sites, 20+ places around the state at "trusted community institutions" that we equipped with testing infrastructure.
"Rather than having them go to a clinic, or a place that's sterile, they can go to a place they trust … a church in the community, a community center or organization that has deep relationships and credibility in the community, and say, 'This is a safe place where you can get help,'" he said.
• Sought … infrastructure particularly focused in other parts of Midwest Michigan, for example, for the state's migrant workers working on farming facilities. "We did an order that mandated testing on farms, that provided income support for migrant farm workers who needed to isolate because they tested positive, but didn't have symptoms," Gilchrist said.
"We needed to recommend and put in place interventions in the immediate term, to try and help stem that tide and help reduce the disparities in infections and deaths," Gilchrist said. "The second charge had a more medium- and long-term focus, which was to make sure we were connecting the learnings we were going to gain from those interventions to our longer-term work to address racial disparities when it comes to health and those other social determinates of health, as well."
Apparently, the task force is doing something right. By September, those numbers had dropped to 8.2% of cases and 9.9% of deaths. For her part, Whitmer praised Gilchrist's leadership and the task force's efforts to curb those rates.
"The work of the Coronavirus Task Force on Racial Disparities, spearheaded by Lieutenant Governor Gilchrist, has helped us dramatically reduce the number of African Americans who have been impacted by COVID-19," Whitmer said. "We are not out of the woods yet, and must continue to do our part to save lives and protect our brave frontline workers."
Khaldun lauded the "swift actions" of Gilchrist and the task force, which, she said, "address the health inequities that existed prior to the pandemic and were exacerbated" by the virus.
"Access to testing and adequate resources to protect communities of color will continue to be a priority as we fight COVID-19," Khaldun said. "I applaud the racial disparities task force and the multiple partners on the ground who helped decrease this disparity."
Gilchrist is quick to give credit to the task force, which included "26 great minds" from around the state with different backgrounds — public health, medical doctors, educators, faith leaders, labor leaders, young professionals, parents, elected officials.
Gilchrist said the task force has been so successful, officials from other states have been calling for advice on establishing similar groups.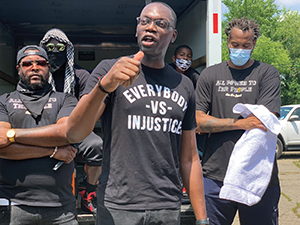 "We've had really this broad group of people coming together thinking about this," he said. "I think we've created a national model for the country."
His work on the task force — his entire career, really — was born within the walls of his childhood. He lived the first half of it in Detroit, the second half in Farmington, the son of parents who were politically active. They served as leaders in block club associations in Detroit and in Farmington. His mother, an accountant at General Motors, took a leave of absence to work on a mayoral transition.
"They were very engaged locally and I saw that engagement," Gilchrist recalled, chuckling at the memory of being a child passing out agendas at local meetings. "I knew that kind of civic engagement was really important."
When the University of Michigan's undergrad and law school admissions policies were challenged in a case he said went all the way to the Supreme Court, Gilchrist, then a U-M student, worked as a student organizer to organize on-campus and other responses to that.
"I had been politicized at a pretty young age to understand the importance of civic engagement and participation," he said.
Childhood influences also drove what he calls his "winding" career path. His grandmother, Doris, a social studies teacher for more than 30 years in the Detroit Public Schools, bought him his first computer when he was 5 years old, and Gilchrist's technology buzz was on.
"I was the first kid on my block on the east side of Detroit to have a computer," he recalled. "I fell in love with this thing and my parents really let me … do what I wanted to do. If I wanted to take it apart, if I wanted to mess with stuff, they didn't hinder me in any way.
"That particular choice — I appreciate it now as a parent — was really important," he added. "What it showed me at a young age is that I could control technology, that I could make it do what I wanted it to do. Technology wasn't happening to me; I could actually manage it and control it."
That knowledge is what ultimately led Gilchrist to want to pursue a career as a software developer, a software engineer. He went to U-M, double-majored in computer engineering and computer science. He then had a successful career as a software engineer at Microsoft, where he helped grow SharePoint into the fastest growing business in Microsoft history, something Gilchrist believes "is still true."
Going out to Seattle, Wash., to work for Microsoft is actually what eventually led Gilchrist into a political career. While he was out there, he started a political blog, something he said was "not a thing a lot of Black men did" in 2005.
Through the blog, he became aware of an unfamiliar phenomenon — he met people who actually got paid to work in politics. He built relationships that got him volunteering on the Obama campaign in 2008 and, ultimately, running social media for the state of Washington, where he helped create a national text-messaging program.
A week before marrying his wife, Ellen, he quit his job at Microsoft — "That was awesome," he said, again laughing. "I'm still married, though, so it worked out" — and moved to Washington, D.C., where Gilchrist trained as a community organizer.
"That was grounded in my childhood, in the fact that I thought there was a way for me to combine my technical training and experience with my desire to help people realize their political power and potential," he said.
After doing that for five years — working on campaigns to expand Medicare in Michigan, efforts for economic, social and racial justice and expanding voter rights — the Gilchrists moved back to Detroit with their then-10-year-old twins, Emily and Garlin III, in tow (they've since added a daughter, Ruby).
Gilchrist got out of politics and worked for city government as director of innovation and emerging technology — "I did super, super in-the-mud stuff and I was having a blast," he said. It was a brand new position where he had the ability to combine everything he'd done in his career.
It wasn't long, though, before the political pull began. He was a self-described "long-shot candidate" for city clerk in 2017, when he lost. Still, the campaign led him to where he is now, after meeting Whitmer, who ultimately put him on the ticket that claimed the governor's mansion in 2018.
His political and governmental responsibilities haven't kept him from trying to help in various causes. For instance, he participated in demonstrations following the death of George Floyd in Minneapolis, an incident that incited demonstrations all over the country.
Gilchrist said he understands both sides of the issue — he's an elected official who's been on the other side as an organizer and a demonstrator. He thinks demonstrations are "part of the work of democracy," and that people certainly should be able to "exercise those rights."
"There are probably a couple of times in a generation where these kinds of generational calls for equity and justice take place," Gilchrist said. "This one happened to hit in the middle of this pandemic and has enabled people to participate in a different and perhaps a deeper way.
"The disparities in health that were so evident in the pandemic matched the disparities that people, Black folks in particular, have been experiencing when it comes to relations with law enforcement, when it comes to access to educational opportunity and jobs," he added. "I think it was a lot of stuff that came into one cry for justice."
Gilchrist believes it's his responsibility to help knock down barriers that keep people from pursuing their dreams. He believes what someone looks like or where they live or even who they love shouldn't limit their "ability to dream."
"I feel that very deep sense of fairness and equity I feel in my bones is something I learned as a child," he said. "So I will always champion efforts, projects, pursuits that will create more opportunity for people. That is what drives me."