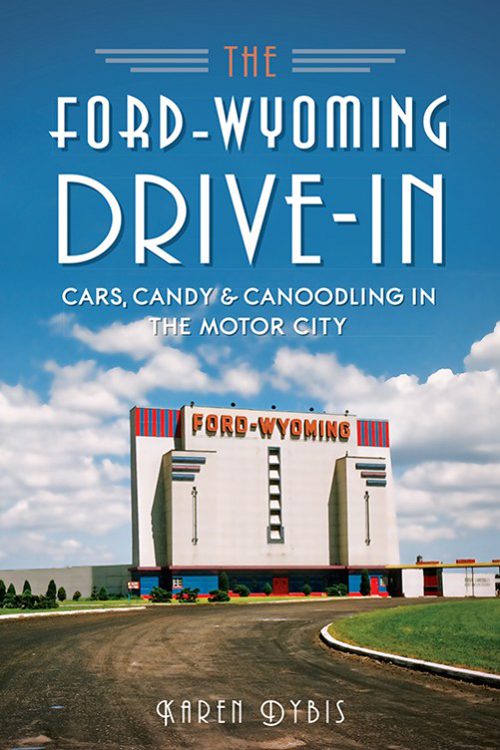 Few things make you think about summertime fun as much as a drive-in movie. And we're lucky in Michigan – our state has eight awesome "ozoners" as well as two additional sites that allow us to watch movies under the stars.
One of my personal favorites is the Ford-Wyoming Drive-In Theatre in Dearborn. That's its original name; these days, it goes by the Ford Drive-In. Recently, USA Today recognized this legendary theater in an article about the "10 Best Drive-Ins Theaters" in the nation. Its description in part read:
"Dearborn, Mich.: Said to be the largest drive-in in the world, the five-screen Ford Drive-In has a 3,000-car capacity and is atypically open year-round. Also unusual is the theater's location in Detroit's metro-area suburb of Dearborn, instead of 20 miles outside the city like most drive-ins. On some nights, visitors can even witness some bonus entertainment in the form of meteor showers, which occasionally light up the area."
I recently wrote a book about the Ford-Wyoming, and it will be released this week. It already is available to purchase online through Amazon, Barnes & Noble, The History Press and other booksellers. This little history book was commissioned and published by The History Press in South Carolina. It was a labor of love – and there's a lot to love about the Ford-Wyoming.
Partly, it is a tribute to great movie theaters, of which we have many in Metro Detroit and Michigan. We have some of the finest independently owned theaters anywhere. There are "Mom and Pop" operations such as Cinema Detroit, which has a single screen that plays independent films. We have locally owned chains. We have many drive-ins like the Ford-Wyoming that either have its original owners still at the helm or are enjoying another life with a second or third owner. It is great to have these icons still open in the state.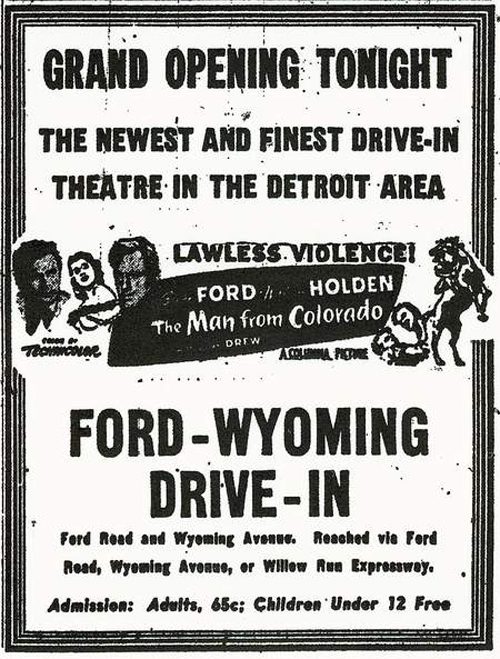 This is my first book – and one of my life's dreams. I am hugely thankful for this opportunity to not only write a book, but to become a history buff. I'm also now reading more non-fiction books than ever before and enjoying it immensely. I know this is just a little paperback, but it means the world to me. It means so much in part because I was able to share a story that I find fascinating – the lives of two families woven together via this drive-in theater. I also love that the Clark family will get their due for creating such a wonderful place.
The Clark family – which includes Clyde Clark Sr., James Clark, Clyde Clark Jr. and Harold Clark – came up with the idea to open a drive-in theater next to their place of business in Dearborn. They built the Ford-Wyoming on an empty plot of land near their Tool & Die shop in 1950. It was an instant success, joining many of the other drive-in theaters that were popping up across Michigan and the nation in the years following World War II. They were part of Detroit's car culture and the county's obsession with driving, cars and new forms of entertainment. A great love affair was born.
I've been to four of the state's eight drive-in theaters so far for research (my goal is to see movies at all of them eventually). Part of it was to experience drive-ins in their original setting and as a regular guest. For example, The Cherry Bowl in Honor about 45 minutes from Traverse City has all of its original speakers and only selects movies through PG-13 – there are no "R" rated movies showed on that screen. It is run extraordinarily well. Another trip brought my family to the Hi-Way near Michigan's Thumb.
Those owners are wonderful people, and our conversation helped get them the big Jimmy Buffett show that he did to help fundraise for drive-in theaters. So each visit was interesting and helpful. Mostly, I wanted to see what drive-ins were like – and there's so few left (one website says there were 120 at one point) that I felt compelled to see each one. Most of my visits also helped solidify what I felt in my heart and mind – that the Ford-Wyoming truly is a special theater.
Its main tower, the one the Clark family built, is amazing. It is large and substantial. It is a tribute to what drive-in theaters once were – the centerpiece of a community. They are entertainment venues like no other. And the tower at the Ford-Wyoming is a stunner. You never forget it. Other drive-in screens look like small billboards next to it. It is, as one person said, "a national treasure in Dearborn."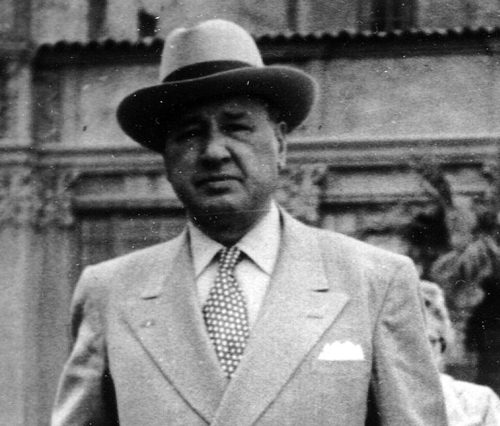 One of my favorite people interviewed was current owner, Charles Shafer. Shafer is a longtime movie guy – his father once worked at Detroit's Fox Theatre before going into business of his own, buying and running movie theaters. Walter Dennis Shafer's empire included nearly a dozen theaters and spanned four decades. Walter was considered one of the nation's pioneers in the theater construction and management business. Shafer will tell you anything about his life in the movies – his successes and his failures. One of the drive-in theaters he and his family owned had to be rebuilt because the screen fell down! That's the reality of running any outdoor movie house in Michigan. Nothing is easy.
I also had the privilege of meeting the family of James, Clyde and Harold Clark – the three brothers who have built and operated the Ford-Wyoming for 30 years (Shafer bought it in 1981). Their father, Clyde Clark Sr., got the ball rolling and the sons took it over. Because they have all passed away, I never got to find out why they started the theater in the first place; the family didn't talk about that fact as much. But I think the Clark family understood the importance of being together, and seeing a movie this way was a great community builder. Clyde Clark Sr. was a visionary – he also had a bowling alley along with his Dearborn tool-and-die business. That these entrepreneurs passed along their business to Charlie Shafer, a longtime movie man, was truly fitting.
Another favorite interview was April Wright, the creator of a documentary film "Going Attractions: The Definitive Story of the American Drive-In Movie." Her movie took her to about 500 drive-in theaters across the nation. She visited the Ford-Wyoming at its peak; this was before the recession, auto bankruptcies and plant closures took some of its audience.
"I had never been to Detroit at all," she said. "It was such an interesting city given its variety of classes and economic issues. We had driven through many of the city's neighborhoods when we arrived. I got to the Ford, and it was happening. It had huge, huge lines coming out of it at 3 a.m., and that was shocking. I hadn't seen drive-ins with that kind of line up to that point. … The tower is one of the best. It's just huge. It's one of the best original towers operating in the whole country, to be honest. There's nothing else like it—it's one of the most fascinating."
Another was author Sean Madigan Hoen, who included the Ford-Wyoming in several scenes of his 2014 book "Songs Only You Know: A Memoir." The book, which received favorable reviews, is about his life as a young musician trying to hold his family together in the late 1990s Detroit area. The Ford-Wyoming appears as a refuge for the main characters:
"Like everything else—the record stores and dollar movies and doughnut shops—I was waiting for the drive-in to close any day. There was a war on. A recession had begun, and you saw right away what it did to a town like Dearborn. The drive-in's all-night projections kept us company and soothed our fears. Or made us feel we were part of something, watching and waiting, straddling the edge of the city. 'This,' Scott said, 'is my favorite place on earth.'"
Here is a preview of the book. Hope you enjoy it!
Prologue: A Farewell Tour
It was a clear June morning when the procession carrying Harold Clark made its final inspection of the Ford-Wyoming Drive-in Theatre.
The black hearse had been past each significant landmark in the lifelong Dearborn resident's life: his childhood home on Steadman Street, the Town-N-Country Bowling Lanes in nearby Westland and the former site of the Dearborn Tool & Machine on Ford Road. One landmark remained on the schedule: the iconic "ozoner" or drive-in theater by the corner of Ford Road and Wyoming Street that Clark and his brothers built.
Clark's travels to the Ford-Wyoming that day in 2012 also took him past the statue of former Dearborn mayor Orville L. Hubbard. His figure still looms large in front of city hall on Michigan Avenue. Hubbard—that bombastic, outspoken politician and perfectionist—was the most vocal opponent to the drive-in's construction. Hubbard's many attempts to stymie the Ford-Wyoming put the Clark brothers at odds with the powerful mayor at a time when few others dared to challenge him.
Steven, Clark's youngest son, had asked for permission to take his father through the Ford-Wyoming that day. Although the Clark family had sold the drive-in nearly thirty years before, it remained part of their father's legacy. This would be his last goodbye.
The question didn't need to be asked. Of course, "Uncle Charlie" said. Clark's longtime friend and current Ford-Wyoming owner Charles Shafer was also mourning the passing of his late-night dinner companion and business confidant. It was the least he could do, Shafer said, for the family who had built the theater and been its guardian for three decades.
No one documented that cruise through the Ford-Wyoming, the hearse's wheels treading heavy on the clay and stone. The property once served as the foundation for one of Dearborn's preeminent brickyards and, later, an amateur airfield. The neighboring businesses likely chugged through their daily routines, never noticing the lineup of cars in the driveway. After all, vehicles waiting for their turn to go inside were part and parcel of the Ford-Wyoming, even after all of these years.
The theater's manager, Virgil Berean, would later ask about the procession, wondering if the rumored drive actually took place. Berean wasn't there to watch Clark make his final turn onto Ford Road. Much like those men who came before him, he was working that night, arriving just as the sun was falling and staying until nearly daylight. During that long night shift, Berean would check the screens, reattach speakers, pick up litter and prepare for another crowd. In a very real way, his work as the Ford-Wyoming's caretaker is a kind of tribute to Clark and Shafer for their devotion to this institution.
Although Clark didn't request it, it is understandable why his family wanted that final farewell. Something about this drive-in theater stays with you, whether it is its mighty height, its dusty acres or its oddly peaceful location off I-94 on the border of Detroit and Dearborn. There is a magic there, an alchemy that combines the new with the old. It is the memories of children running to the playground under the original screen's shadow. It is the smell of popcorn oil, boiled hotdogs and candy bars. It is the glare of neon signs advising drivers, "Children Playing Drive Slow." Despite its rust that comes with six decades of hard work, there is life.
Maybe it is nostalgia or an appreciation for kitsch, but every generation seems to find the Ford-Wyoming. It is Metro Detroit's community-gathering spot. It knows no race, color or creed. It serves only to entertain. As Shafer promises, it will continue to do so for years to come.