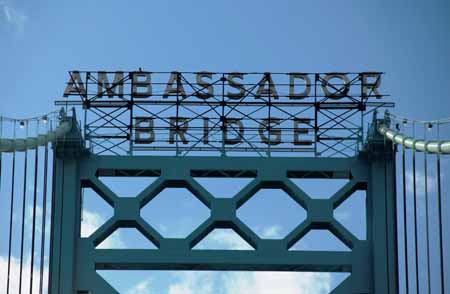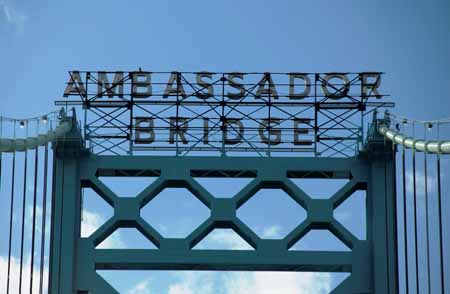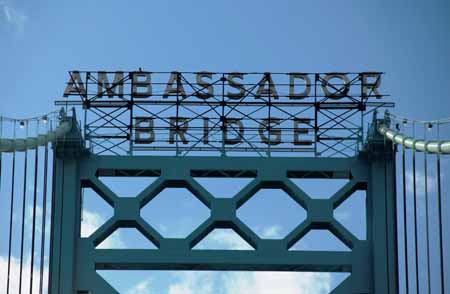 The Detroit International Bridge Company (DIBC) says it has received approval from the Canadian government to build a replacement span of the Ambassador Bridge, the international crossing connecting Detroit with Windsor, Ontario.
The permit is conditional, however, on the DIBC dismantling the existing bridge within five years of a new span opening to traffic. The DIBC must also undertake unspecified improvements to local infrastructure on the Canadian side and take steps to protect the environment.
But the news doesn't mean construction will begin immediately.
The U.S. must still approve the project, even without spending of public money, which the Ambassador Bridge owners are not seeking.
Marc Garneau, a Canadian politician who heads the Department of Transport, said in a statement that the Gordie Howe International Bridge project, along with the replacement Ambassador Bridge "will ensure that Canadians continue to benefit from the efficient movement of people and goods at this crossing while providing infrastructure improvements for the local community."
Michigan Gov. Rick Snyder, who acknowledged the conditions put forth by Canada in the permit announced by the Ambassador Bridge operator, also pointed out in a statement that the proposal is not a twinning but a replacement of the current span.
State officials have said that a remaining hurdle would be approval from the U.S. Department of Interior and the Michigan Department of Natural Resources for use of air rights for the new span as it crosses over Riverside Park in Detroit.
The DIBC has said the cost of the new 2,190-foot span would include $500 million in expense to connect local highways in both countries.
The total of cost of a new span is said to be $1 billion, significantly less than the downriver Gordie Howe International Bridge's $4.5 billion estimated cost.
The news of an approval by Canada comes in the wake of a series of apparent conflicts, some of them in court, with the idea of a bridge that would compete with the Gordie Howe International Bridge, which the Canadian government is funding. The public investment would be paid back in tolls.
Observers have said a new bridge built by the Moroun family would present complications to traffic patterns on both sides of the border.
In the announcement of the permit approval by Canada, the DIBC said the new span would be six lanes wide, three in each direction, with dedicated lanes for NEXUS and FAST, the passenger and freight pre-approval systems, as well as bus lanes.
There would be new and expanded commercial inspection facilities for the clearing of customs.