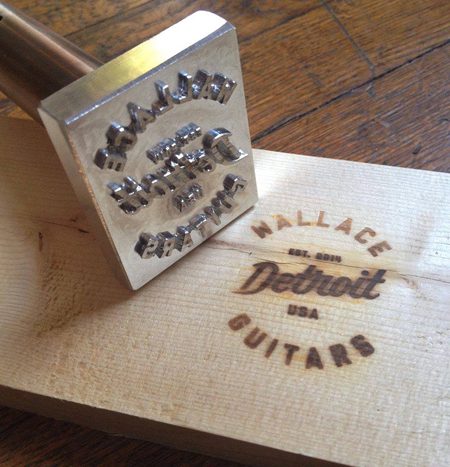 A love of history. An understanding of what musicians want and what they need. A willingness to learn. These are the ingredients behind Wallace Detroit Guitars.
The company, which Mark Wallace founded in 2014, takes ethically reclaimed wood and turns it into high-end guitars. The guitars, which use wood from Detroit buildings and historically significant locations such as the Belle Isle sawmill, are not only beautiful to look at but they also are great to play, musicians say.
Wallace is one of four Michigan craftspeople who will be featured this fall in a new television series called "Handcrafted America." The award-winning original series airs on the INSP network and is starting its third season. Its goal is to tell the stories of artisans from around the county who make products "the old-fashioned way: with their own two hands." Wallace's episode will air Oct. 27.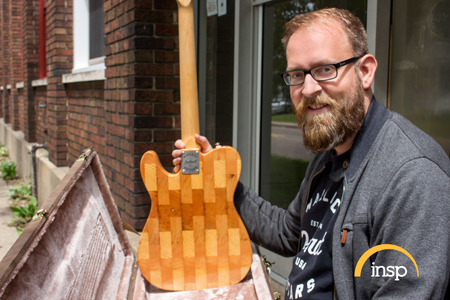 What makes Wallace's work even more interesting is that he also is President and CEO of the Detroit Riverfront Conservancy. The Conservancy is a nonprofit organization that is responsible for the establishment, improvement, operation, maintenance, programming and expansion of the Detroit RiverWalk and associated green spaces.
It's a job Wallace loves, and making guitars is a complement to that work, he believes. He is fully invested in Detroit whether it is through its homes, its music, its waterfront or its people. So finding a way to express all of that in an artistic way seemed natural, Wallace said.
"What I'm most proud of is telling Detroit's story" through the RiverWalk and Wallace Guitars, he said.
In every half-hour of the series, Jill Wagner, host of Handcrafted America, meets three gifted artisans and gets a behind-the-scenes look at how their products are created. Along the way, viewers learn about the history and cultural heritage that inspire and influence the design of their handcrafted products.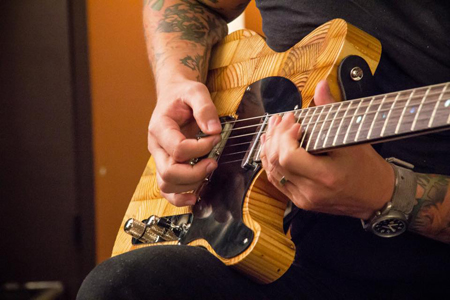 Wallace said the show reached out to him, and "it was a blast to do. We had a great time working with the crew and the talent. They appreciate that a guitar is complicated and understood what we did behind the scenes. There's a lot of steps involved … and they were willing to film in multiple locations."
The typical Wallace Detroit Guitar is made from reclaimed wood that is more than 100 years old. Finding old-growth wood in the homes and buildings that made up Detroit is part of Wallace's challenge and opportunity through his guitar business. For example, he works closely with area nonprofits that salvage the wood responsibly and create training programs for Detroiters as well. These groups as well as Wallace Guitar use their profits in part for historic restoration, to keep wood out of landfills and to help renovate buildings that can be saved.
"We're very proud of the product," Wallace said.
The reason you want old-growth wood is that is was air dried, which allowed crystal structures to form and separate from the pores in the wood. This gives the guitars a vintage sound, and allows them to vibrate more freely than modern guitars. As a result, the guitars have great sustain and tonal range, Wallace explained.