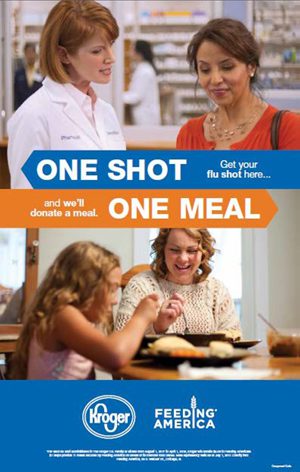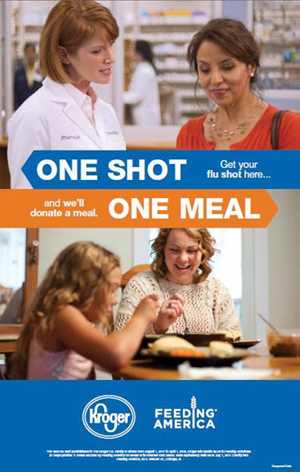 Talk about power in numbers: The Kroger Co. of Michigan through its One Shot, One Meal campaign has a goal to administer more than 50,000 flu shots this year, enabling the company to donate more than 50,000 meals to Feeding America food banks.
This is the second year the Kroger Co. of Michigan is doing its One Shot, One Meal campaign, a health and wellness program that partners the food retailer with with Feeding America, the nation's largest domestic hunger relief organization.
Between now and April 1, 2018, Kroger will donate one meal through the Feeding America network of food banks for every flu shot administered at Kroger pharmacies.
"Kroger wants to help Michigan residents live healthier lives and we welcome the opportunity to continue this initiative with Feeding America for the second year," Rachel Hurst, corporate affairs manager, The Kroger Co. of Michigan, said in a statement. "People of all ages who receive flu shots this season at any Kroger pharmacy will help protect their health while providing a meal for a hungry neighbor. Kroger donated 330 million meals on a national level in 2016 and we hope to increase the number of meals supplied this year."
According to the Centers for Disease Control and Prevention, an estimated 310,000 individuals were hospitalized last year for flu-related illnesses. The CDC recommends an annual flu vaccination for everyone six months of age and older. Flu shots can reduce the risk of more serious symptoms and outcomes, including flu-related hospitalizations.
"Feeding America aims to provide wellness, nourishment and strength to people facing hunger," Diana Aviv, CEO of Feeding America, said in a statement. "We are excited to partner with Kroger as a visionary partner that enables us to help the 46 million Americans who receive food and groceries from our network of food banks."
Every week, 5.4 million people in the United States receive help through the Feeding America network, which includes 200 food banks that lead the fight against hunger. Feeding America food banks are partners in community health by providing food that promotes health and wellness to improve hungry Americans' health outcomes.
Feeding America is the nationwide network of 200 food banks that leads the fight against hunger in the United States. Together, it provides food to more than 46 million people through 60,000 food pantries and meal programs in communities across America. Feeding America also supports programs that improve food security among the people it serves; educates the public about the problem of hunger; and advocates for legislation that protects people from going hungry.
Incorporated in Michigan in 1909 and headquartered in Novi, The Kroger Co. of Michigan includes 19,000 associates, 125 Kroger stores, 75 fuel centers, 104 pharmacies and the Michigan Dairy. Kroger, one of the world's largest retailers, employs more than 375,000 associates who serve customers in 2,640 supermarkets and multi-department stores in 34 states and the District of Columbia under two dozen local banner names including Kroger, City Market, Dillons, Food 4 Less, Fred Meyer, Fry's, Harris Teeter, Jay C, King Soopers, QFC, Ralphs and Smith's.
Recognized by Forbes as the most generous company in America, Kroger supports hunger relief, breast cancer awareness, the military and their families, and more than 30,000 schools and grassroots organizations. Kroger contributes food and funds equal to 200 million meals a year through more than 80 Feeding America food bank partners. A leader in supplier diversity, Kroger is a proud member of the Billion Dollar Roundtable and the U.S. Hispanic Chamber's Million Dollar Club.