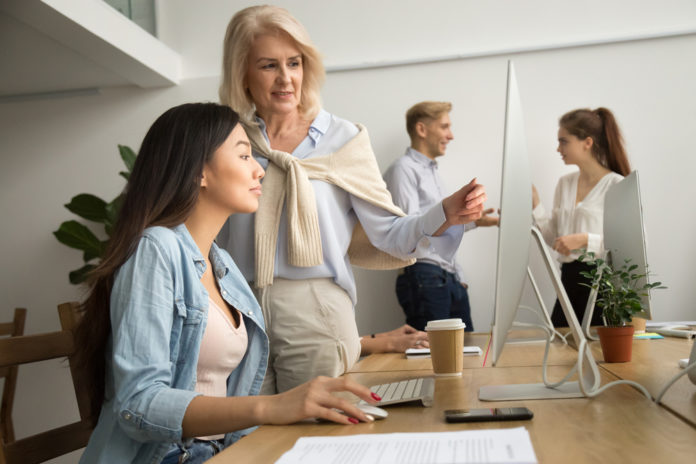 Mentorship is key at The Southern California Group, and that means giving employees of all levels of experience the tools and systems they need to become good at their jobs from day one.
Right from the first day you are hired, you are assigned a mentor who works with you through your training and into your everyday work, said Sandy DiLucci, head of Human Resources for the Torrance, Calif.-based business. This is especially important because the company hires many people right out of college, so coaching has become essential to the company's overall success, she said.
Also known as the So Cal Group, the California-based company works in what it calls outsourced customer acquisition. The So Cal Group is hired to help Fortune 500 and 100 clients acquire new business through the So Cal Group's sales and marketing teams.
"There's always someone to reach out to for questions about the job, even something as simple as what to wear to work when you first start," DiLucci said. "That gives our employees the confidence of knowing someone is behind you all of the time who has done what you are being asked to do and can help you learn the basics."
Mentoring and skills training
Younger employees are especially interested in mentoring, educational opportunities and skills training, surveys show. According to the Deloitte Millennial Survey, only 24% of millennials are "very satisfied" with the professional development opportunities in their working life. That means companies could be doing more when it comes to these areas of education and development.
At So Cal, every employee from Day One learns So Cal's approach to entry-level sales and system-based training on everything from working with clients to developing positive work attitudes to establishing good overall habits that will last you through your career, DiLucci said.
That means giving workers great examples of people who know how to establish discipline, good work habits and a great attitude while on the job. So Cal focuses on people like legendary basketball coach John Wooden or the books of authors including Dal Carnegie, who wrote the best-selling book, "How to Win Friends and Influence People."
DiLucci notes that these are things everyone – from the newest sales associate to the CEO – need to learn to be a good employee.
Education, training built in
"Even as a CEO, you have to show up. You have to have a good attitude," DiLucci said. "Our basic sales training gives you all of that and more. You learn how to manage yourself – show up on time. Be good to your customers. Learn how to close a deal. We want them to learn all of our systems in those first weeks on the job. If they're a good student, they'll succeed."
Education and training are built into the company's everyday schedule as well, DiLucci said. Reps are encouraged to sit down with one another and talk over what they're learning – that way, they'll get a sense of everyone's roles and how they're working. There also are regular workshops in sales, training and leadership skills.
If that's not enough, there are meetings daily that include the whole team. These meetings, which typically take place first thing in the morning, give managers a chance to go over the day before, to review the company's overall performance and to give talks on important topics, such as entrepreneurial mindsets.
"When you first get hired or start a new job, it can be nerve-wracking," DiLucci said. "But (with this continuous training) it's great to see how someone can grow and how much they can learn in such a short amount of time."