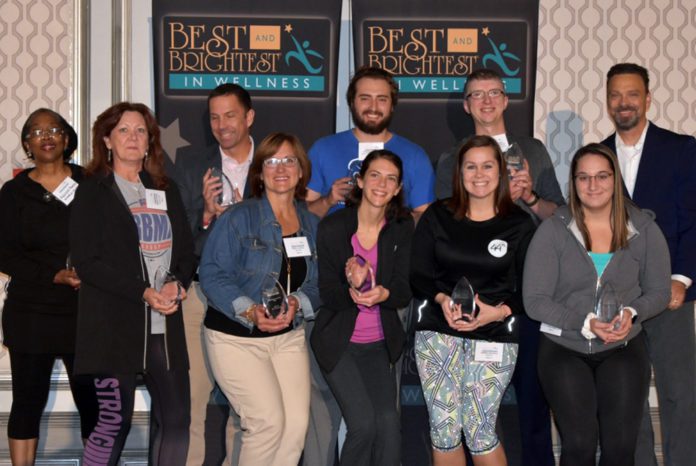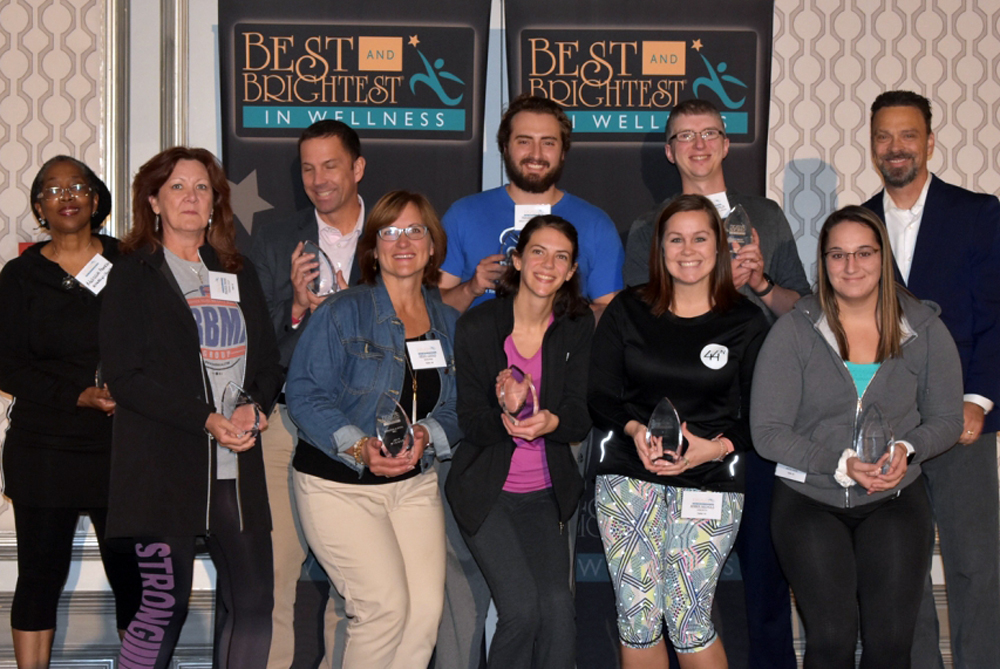 A high level of winning was on display at the eighth annual Best and Brightest in Wellness event Oct. 4 at The Henry in Dearborn.
More than 100 winning companies honored and celebrated with the theme, "Creativity and Wellness: Exploring the Relationship Between Self Expression and Wellbeing."
The celebration kicked off with an exciting cardio drumming exercise, which organizers said "pumped everyone up." That was followed by yoga and meditation to cool everyone down.
The morning keynote speaker, Mark Ostach, talked about creating a culture of digital wellness to reduce stress in the workplace. The afternoon keynote speaker, Kathy Schnur, shared how creating art can help express emotions.
The awards portion of the program was "high energy" as the winners accepted their honors.
Organizers pointed out this program "continues to impact the community with the outreach of employers, schools, faith based organizations and nonprofits." Many gave testimonies about how this program has positively affected the health and wellness of their employees, congregants, students and the community as a whole.
Congratulations are in order, and we invite you to join us in a shoutout to the winners:
Elite Winners
Philanthropic
Operation Fit — Operation Fit is a program developed by the collaborative efforts of Bronson Battle Creek, Battle Creek Community Foundation, and Regional Health Alliance, community agencies, organizations, and the philanthropic community working toward decreasing the rate of childhood obesity in Calhoun County. http://regionalhealthalliance.org/initiativesandresources/operationfit
Faith Based
Fellowship Chapel — Fellowship Chapel is a free fellowship of men, women and children who are dedicated to the fulfillment of the Christian principles of Jesus Christ in all areas of social, economic, civic and spiritual life. The belief there is that the chief purpose of religion is the search for those universal truths which will make people free, at peace and productive. https://fellowshipchapel.org/news
School
St. Charles Borromeo Catholic School — The mission of St. Charles is to assist parents in fostering total growth and development of their children by combining the Gospel message of Jesus with academic excellence. https://www.st-charles-coldwater.org/school
Wellness Provider to Individuals
Cooking with Que — Cooking With Que is a place where vegans and meat eaters coexist. The mission is to teach people how to eat to live by introducing more plant-based meals into everyday lives. https://cookingwithque.com/
Wellness Benefit Consultant Provider to Corporations
Marsh & McLennan Agency LLC — Marsh & McLennan Agency LLC (MMA) was established in 2008 as a separate operating subsidiary of Marsh LLC to serve the property and casualty and employee benefits needs of mid-size organizations. Marsh is the largest global insurance broker and risk management advisor in the world. https://www.mma-mi.com/
Small Business
Southwest Michigan First — Southwest Michigan First is an organization of privately funded economic development advisors who act as the catalyst for economic success in Southwest Michigan. Founded in 1999 on the principle that the most powerful force for change is a well-paying job, the organization works across all industries throughout the seven counties making up the Southwest Michigan Region. https://www.southwestmichiganfirst.com
Medium Business
Consumers Credit Union — Consumers Credit Union has the products and financial services that allow customers to bank how and when they want. From access to 30,000 fee-free ATMs nationwide to a Zillow-recommended mortgage team, they are local, loyal and dedicated to helping clients keep track of their life, home, car, business and future. https://www.consumerscu.org
Large Business
Quicken Loans — Quicken Loans Inc. is a mortgage lending company headquartered in the One Campus Martius building in the financial district of downtown Detroit. Quicken has helped over two million families finance their homes. https://www.quickenloans.com/
Winners
Wellness Employers
Express Employment Professionals
GMB Architecture + Engineering 
Great Expressions Dental Centers 
Humanetics Innovative Solutions
KIRCO Management Services, LLC 
Mary Free Bed Rehabilitation Hospital 
Ramco Gershenson
Sachse Enterprise of Companies 
United Shore Financial Services Company
Yeo & Yeo CPAs and Business Consultants
Wellness Benefit Consultant Providers to Corporations
Marsh & McLennan Agency LLC Michigan 
Wellness Providers to Corporations
Wellness Providers to Individuals
Elite Body Training Studio
Goldfish Swim School Franchising, LLC 
Faith Based Organizations
Family Victory Fellowship Church
Historic Little Rock Baptist Church
Historic Motor City Baptist Church
Holy Cross Missionary Baptist Church
Schools and School Districts
Bennett Elementary – Detroit  Public Schools
Cornerstone Health + Technology  High School
Martin Luther King, Jr. Senior High School
New Haven Community School District
Non Profit
Kalamazoo Regional Educational  Service Agency 
Operation Fit – Bronson Battle Creek
Redirecting Youth to  Strive for Excellence (R.Y.S.E.)