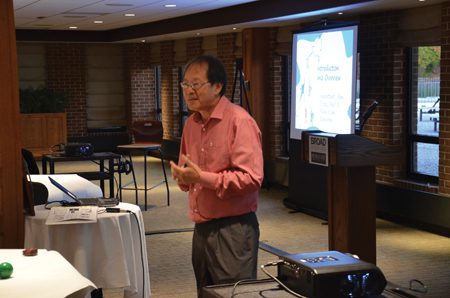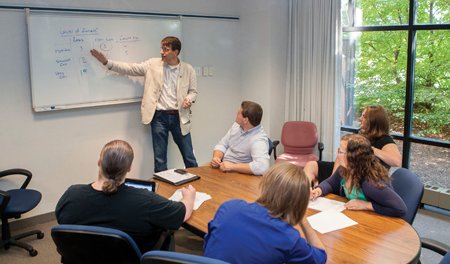 The gig economy asks participants to invoke the predatory instinct of a caveman when stalking work, yet wield a heavy club of high-tech knowledge and endless skill sets to beat the competition.
Gainful employment has undoubtedly changed.
The idea of working at one company for a lengthy period has faded like a pair of stone washed jeans on a Harley-Davidson rider.
In its place, people are increasingly getting by on a myriad of part-time jobs, temporary 40-hour stints, contract assignments and freelance work — if not a combination of all the above.
About 4.8 million Americans are working in the gig economy, according to Intuit and Emergent Research. That figure is expected to nearly double to 9.2 million in four years (2021).
The biggest turn is not only being made by the Uber driver picking up a few extra bucks while balancing two jobs trying to pay down mountainous student debt. The wheel of change is being squeezed by business professors wrestling with a seismic shift the gig economy has wrought.
Add in automation and artificial intelligence, and nearly half of what's being taught in a master's of business administration program might be outdated in five years, said Glenn Omura, Michigan State University associate dean for MBA and professional master's programs at Eli Broad College of Business.
"If we knew which half it was, we'd teach differently," Omura said. "Of course, we don't know which (half) it would be, because we cannot account for the rate of advancement in technology and different ways in thinking that others will come up with that will make the way we teach today obsolete or irrelevant.
"If that's the case, what are the kinds of competencies we have to teach our students today to make sure they are not made obsolete or irrelevant five or 10 years from now? First off, you have to teach them the fundamental aspects of business."
Omura's business colleagues at other Michigan universities agree. The gig economy is here to stay. They continue to stress core business principles, but the swing is toward changing the mindset.
Business leaders of the future will need to be nimble, fearless and — above all else — creative.
If that sounds like code for entrepreneur, you can put your spy ring away.
University of Michigan-Dearborn professor Tim Davis teaches "Entrepreneurial Thinking and Behavior," a 15-week course that delves into attitude opposed to acquisition.
"It's not an entrepreneur class in starting a business," said Davis, "it's about being an intrapreneur as it were … being someone who could jump in and make an impact on companies and how they position themselves for those opportunities."
The course, in its third year, is open to all UM-Dearborn students. Liberal arts and engineering students have taken it, Davis said.
Students are tasked with identifying a problem — in food service or mobility — and coming up with a solution. The real-life exercise taps their teamwork, project management and problem-solving skills.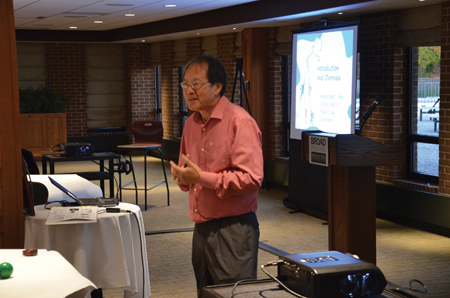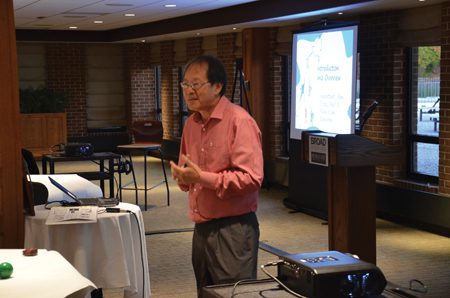 "I can teach you all kind of programming languages, all kinds of analysis tools, but those are going to change every 10 years, and the company was happy to train you on whatever fancy software they have," Davis said. "But your mindset and the way you come at these things are what make you powerful and always make you employable."
Michigan State's rigorous MBA program also takes the hands-on deep dive.
Students learn design principles from iGeo—a reference to the International Geography Olympiad, which is organized under the auspices of the International Geography Union. Those principles form a first step in pumping up confidence, said Omura.
"In a sense, we're not teaching creativity, but we're building the confidence of the student to believe that they can be creative," he said.
A study was done at a large petroleum company, where they looked at all the research and development patents. In an analysis between those who submitted the most versus people who contributed the fewest, they found the difference came down to those who believed themselves to be more creative, Omura said.
Within that morale-shaping process, MSU MBA students also receive a boost of inspiration from those who work with Disney's Imagineers from the theme park operator's Disney University.
"If you can convince people that, yes, they are creative and that all they have to do is reach within themselves to try and come up with something that is innovative, they can do it," Omura said. "By the time we become adults, much of the creativity has been quashed out of us, in the sense we believe we are not creative.
"That confidence build-up is important."
Equipped with those innovative tools, MSU graduate students are jettisoned to corporations like General Motors' Technical Center in Warren where they are assigned a problem-solving task. Last year, they had to come up with a way for the automaker to exploit the concept of connectivity using OnStar and Pandora systems.
The final phase is what Omura deems "disruptive entrepreneurship," a Shark Tank mock-up where student teams devise a business model to exploit a current disturbance in an industry.
A specific example of this can be found in the process involving the United Kingdom's exit from the European Union—known informally as Brexit—which is rife with import, tax and regulatory implications where the most innovative taskmaster could stand out, Omura said.
"They are looking for people to hire, professions, who believe there is not one right answer, (who) can turn 180 degrees when something comes in their faces, whether it's new competition, whether it's new technology, whether it's a disaster …," he said.
Educators do not tell students to expect less, only to be ready for a bumpy ride.
"The nature of employment relationships is changing in an aggregate sense and that creates opportunities and challenges for them," said Marick Masters, professor of business at Wayne State University. "We're emphasizing the skills and information they'll need to better navigate in the new economy and that includes such things as entrepreneurship, teamwork, (and) communications.
"(We're also) helping them through career services to understand how to better manage the job search process through an online, digital, social media perspective."
Soft skills, communication coachability and teamwork, remain the fabric of sound business, regardless of situation. "These are the … skills (that) machines cannot take over, at least not yet," Omura said.
That said, the ground rules for employment have changed, as has the workplace setting, which is more likely to include options for telecommuting and use of virtual office spaces.
"Now offices are having 'hot desks,' not in the sense that they work 24/7, as submariners do, but rather you come to the office and you do not have a desk dedicated to you," Omura said. "You pick a desk based on what time you come to the office. You come to the office, find an empty desk and set up shop there.
"Every employee has a small locker where they keep their laptops and whatever else. … That's all in the name of cost rationalization."
Students are catching on that they need something of a mercenary mentality when it comes to a job search.
"They are very aware of this," Masters said. "I don't think they are very accepting of it and the challenges of it. If they are not fully employed, they are continually on the job market.
"Even if they do get fully employed, there is no guaranteed job security, if we think of it in the old-fashioned way…it no longer exists. Companies restructure and they constantly restructure and the nature of the economy is changing and so all these things combined can mean you're going to be moving and you may not be able to predict or choose the time you will move."
Masters says it is incumbent that today's emerging professionals keep their skills upgraded. They also need to keep their proverbial noses to the grindstone, all the while looking for opportunities and to network on a regular basis, "even if (they) are not looking for another job."
Conversely, future business leaders are being schooled in new ways of motivating employees, since promotions and job security are no longer in play.
Some independent contractors like the flexibility, whereas temporary employees are seeking an inroad to full-time employment.
In any scenario, it's important that both sides are upfront with each other and know the expectations.
"You don't have the loyalty, you don't have the commitment to the organization per se," Masters said. "These people may be more committed to their own career than they are to a particular organization. You have to be aware of that and take advantage of their talent and use it appropriately.
"You are filling a deficiency you have and choosing to do it with an independent contractor, rather than a full-time employee."
Derrick McIver, assistant professor of management at Western Michigan, University says it's a different sort of relationship that is evolving.
"You have to reward them with work, work they find rewarding and work they continue to want to do," says McIver. "It's a different relationship and model that more and more people are getting accustomed to working under."
Duration of employment and pay are not deal-breakers with younger employees, as one might think, said UM-Dearborn's Davis, citing a Harvard Business Review report.
In "What Millennials Want from a New Job," young workers said "learn and grow" and "interest in work" trumped compensation and company. Millennials also placed a much higher emphasis on "opportunity to learn and grow" than baby boomers in a Gallup poll of 1,700 U.S. workers.
"In some ways, the motivation is the project and seeing this brand new IT system roll out," Davis said. "Seeing that accomplished is, oddly, motivation for this generation in a way that wasn't for me. (But) I'm seeing why it is. They are part of creating something and the research is out there saying this.
"Millennials are out there looking to make an impact pretty quickly in jobs."
The gig economy is the harbinger of dynamic change, said MSU's Omura, citing the looming influx of automation and artificial intelligence.
Where robotics has already impacted blue-collar jobs, automation is encroaching on white-collar careers, with websites such as Coursera, which delivers university classes online. Other examples include Artificial Intelligence (AI) software, which can perform legal research once done by attorneys, and IBM Watson's computer expertise in diagnosing lung cancer.
"This technology and automation is a greater source of job loss than outsourcing even," Omura said. "Technology is a much more potent force."
Educators are increasingly under more pressure to use the latest technology to deliver instruction.
Students want internet access and face-to-face contact with instructors, said Michael Rinkus, Walsh College chief academic officer and executive vice president.
"The common thought at one time was we would just use PowerPoint," Rinkus said. "Professors are finding it takes a lot more work and it takes a different level of expertise and muscles from the other side of the brain, if you will, to deliver quality education using technology.
"Technology is being visited in so many different areas because of efficiency," said Rinkus, adding that there is a need to reach so many people because of competitive pressures and learning pressures in the marketplace. "We see the public really demanding it. In some cases, the public is complaining about it, on the other hand, these same individuals go home and get on the internet and pay their bills on the internet and are a student on the internet and even buy their automobiles on the internet."
To navigate the gig economy, the need to update or acquire skills will remain fluid. Which is perhaps why Walsh College is seeing people in their 40s, 50s and even 60s getting up to speed.
"The days of getting your degree, going home and getting a bag of popcorn and feeling you don't have to keep yourself up to date anymore … those days are pretty much gone," Hinkus said. "They were never there for lawyers. They were never there for doctors. They were never there for professors. They always had to keep themselves up to date.
"It's now permeated into the rest of the economy, the rest of the population."