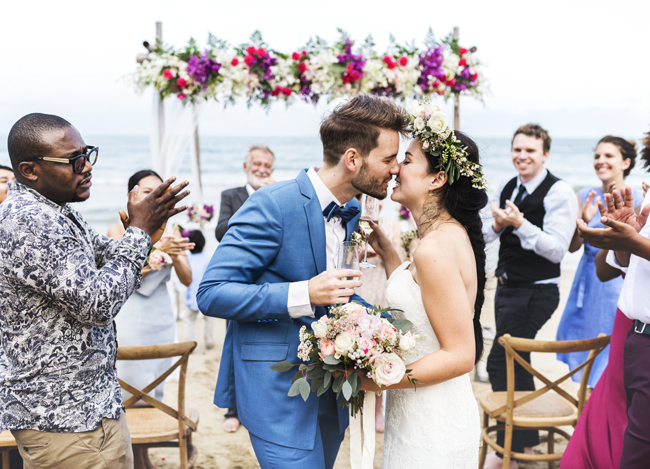 Weddings – those special events that honor a couple's lifelong devotion to one another with a party unlike any other – are more custom, unique and personal than ever, according to trend watchers.
But having exactly what you want in a wedding exactly when you want it also makes them more expensive. Weddings and wedding planning have always been big business, but couples are now finding it more difficult to stick to a budget. Those who manage to keep the costs more reasonable are having to do it with wedding hacks and more borrowing than ever before.
The average wedding is not cheap. The Knot polled around 13,000 U.S. couples who were married in 2017, and they said the average price of those weddings was about $33,291. That is down slightly from 2016, when The Knot did a similar poll and found the costs were around $35,000.
Few traditional elements remain
Trend watchers say about the only traditional elements of a wedding that are still standing are the elegant reception, romantic wedding cakes, upscale photography and lots of personalized details in the ceremony and after parties. Yes, that's right, multiple parties, each with their own theme are among the trends for 2019 and beyond.
Photography has become a specialty item where the bride and groom create spontaneous moments rather than staged pictures, said John F. Martin, a Grosse Pointe Woods-based professional photographer who does everything from CEO portraits to commercial work to occasion weddings.
"I do very few weddings (four this year) and am considered a more boutique option. I don't have set packages and prices, preferring to cater coverage to each couple's exact wants and needs. If they're on a budget, I'm not for them," Martin said. "People who come to me appreciate the fact I am not a full-time wedding shooter and know I will provide far better customer service and more unique coverage than a 'big box' wedding photographer."
Martin said younger brides are definitely more in tune with exactly what kind of things they want to see in their wedding photography – and what they do not want to see.
"Younger clients are far more about the moment. I pose almost nothing except the 'formal' family photos. Older couples, vow renewals, or second-marriages, don't care about the moments as much. They see the events more as a family reunion and want a lot more staged portraits," Martin said.
Brides also are opting for standout dresses, one-of-a-kind ring settings and other options that are not only age appropriate, but special to that particular woman. Generational differences are common as Gen Z or millennial brides seek more candid moments and unplanned events during their ceremonies and receptions, especially when it comes to the pictures or floral arrangements, wedding experts generally agree.
Focusing on a new generation
In New York, Floravere recently opened its bridal shop to focus on millennial women and younger brides and the way they like to shop. For example, brides can set up a private appointment with a stylist through the shop's website, a text or Instagram direct message.
"Until now, the bridal industry has been tethered by traditional, dated ideas of the 'blushing bride' marrying her Prince Charming. With Floravere, we're creating a brand and a space that speaks to our core belief that there is no 'right' way to be a bride," said co-founder Molly Kang. "More than ever, she feels empowered to break the rules and do things her way when it comes to her wedding – from what she wears to how she approaches the entire day."
Upon arrival, the bride's favorite styles she's pre-selected online will be waiting for her in a private suite, along with personalized details such as a digital wedding moodboard and custom playlist, all facilitated through Floravere's digital questionnaire, a key step in building this relationship with each of their brides.
"With our New York flagship, we've created a retail experience that reflects how our bride actually shops: from IG to IRL. Every detail of the design – from the private bridal styling closet to the in-store retail technology – is guided by an understanding that today's millennial woman has done most of her research on us before she even steps through our doors," said Denise Jin, also a co-founder.
"This offers us an unparalleled opportunity to craft a truly bespoke and memorable retail experience for each and every bride based on the rich data we have on her before she walks in the door," Jin added.
Other 2019 trends include balloon feature walls, nontraditional floral arrangements that include grasses or even wheat, custom artwork designed for that wedding in particular for invitations and related paperwork, as well as welcome bags instead of parting gifts for every guest attending the reception. Reception sites also are adding things like couches, outdoor reception areas and the like to make their event spaces more like destinations.