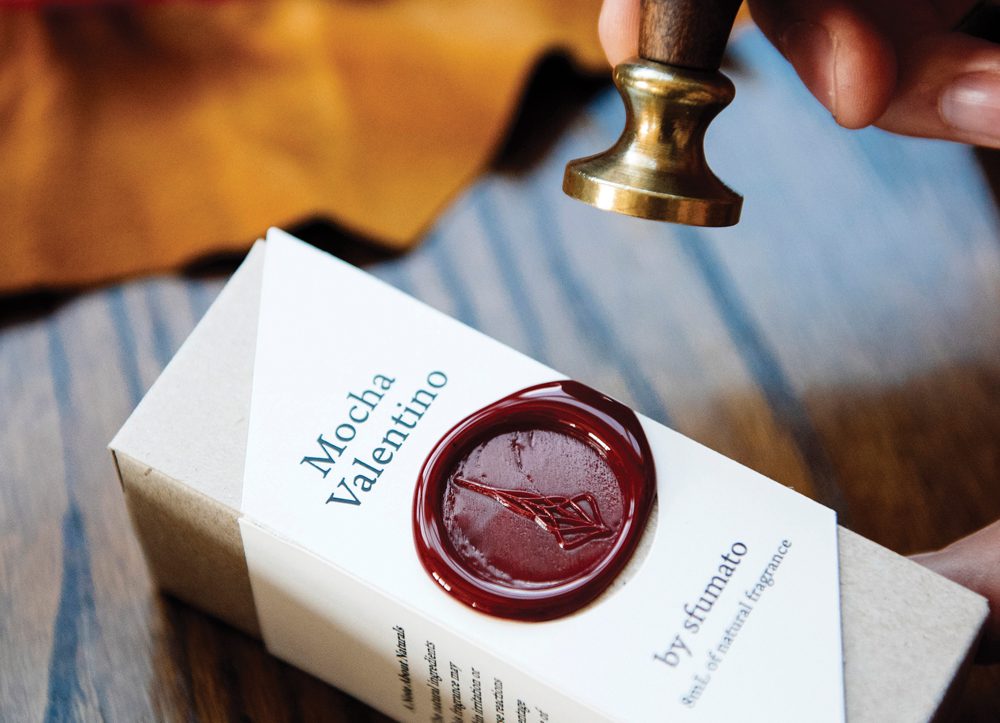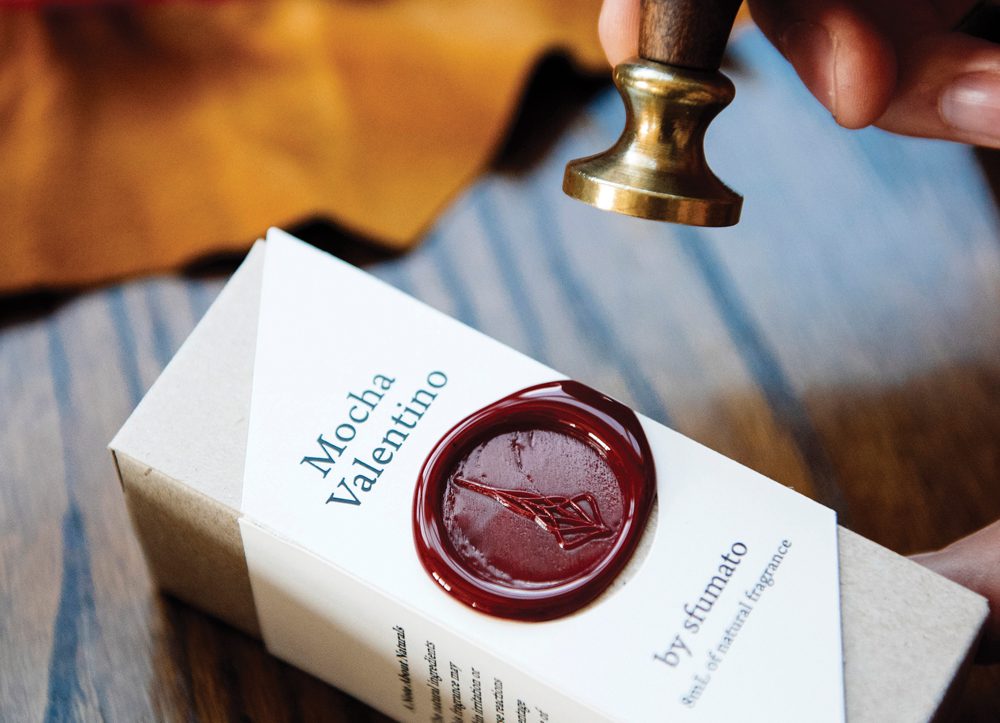 The small, brown package is made of a single square of crisp kraft paper. It was hand-folded five times, then sealed with a splotch of red wax. The gooey wax was then embossed with Sfumato Fragrances' logo, a symbol resembling an inverted caduceus. Printed just above the seal, in small, black type is a humble message for the package's recipient, a hint of what lies inside: "denatured alcohol + natural fragrance hand-blended in detroit michigan." No comma divides the geographies; they are not even capitalized. It is as if the package's designer wanted to ensure that not even the smallest detail would detract from the presentation of the whole package.
That designer is Jane Larson, co-owner of Sfumato Fragrances. Whereas most business owners are men aged 45 to 54, Larson and her five counterparts featured here are women under 35. Nationally, that cohort accounts for approximately 5 percent of business owners, according to the U.S. Census Bureau's 2012 Survey of Business Owners.
Their ages make these women millennials. Yet, they seem to defy that generation's stereotype. Rather than presenting as entitled, socially awkward, and device-obsessed, these women appeared at ease speaking in person or over the phone about their paths to entrepreneurship, learning lessons along the way, and the role of community in their work.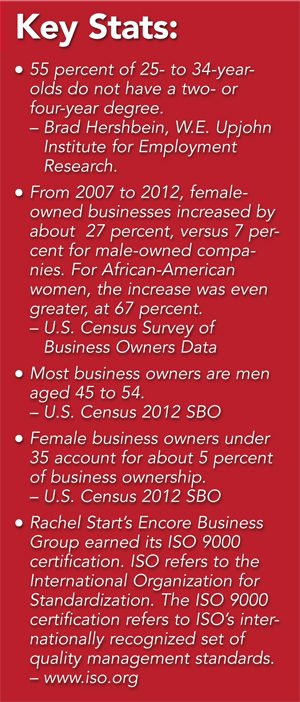 These women are also not part of the millennial majority: those young people who are underemployed, undereducated, and, perhaps, under-represented in the media. Fifty-five percent of 25 to 34 year olds do not have a two- or four-year degree, wrote economist Brad Hershbein in an article published in this magazine last year. The women featured here have either an associate's or a bachelor's degree, and all are gainfully employed.
While they may not represent the majority of millennials or women, the experiences of these entrepreneurs transcend those categories. And that may be the point. They represent the increasing normalcy of the business world and entrepreneurship in particular (to borrow a phrase from TV creator Shonda Rhimes). From 2007 to 2012, female-owned businesses increased by about 27 percent, versus 7 percent for male-owned firms, according to the SBO data. For African-American women, the increase was even greater, at 67 percent.
Josephine White, Rachel Start, Jen P. Smith, Leigha Rankin, Brittni Brown, and Jane Larson are a few of the women who make up Michigan's "lady-boss revolution," a term Smith used to describe the growing number of women CEOs she is seeing in Detroit. While some of them launched businesses based on long-time passions, others saw an opportunity for a more engaging career or a chance to try something new.
All of them seemed concerned with community, with making their city or region a better place–either by moving back to it after college, by teaching that community to open its arms wider, as White is attempting to do; or by contributing to the growing energy of the community as Start, Brown, Smith, Rankin, and Larson are doing.
Except for White, none of these women have business degrees, and it does not appear any regret that decision. Many of them have degrees in the arts or communications. For most, their education seems to have informed their career paths or their world views. Larson's liberal arts degree exposed her to different ideas and disciplines, she said.
For most of these women, the Internet has made a profound difference in their business success. Knowledge found on the Web can bridge education gaps, and social media can serve as a marketing platform, recruiting network, and support system. Now, to meet the lady-bosses…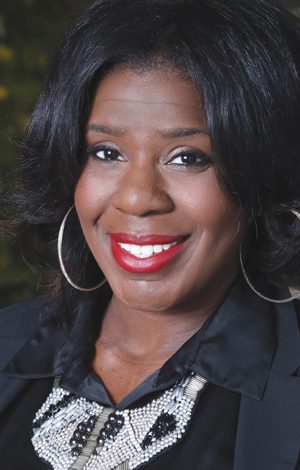 Josephine White (33)
JoJo's House of Beauty
While attending college at Western Michigan University in Kalamazoo, Josephine White stopped in at a local salon to have her hair done. The salon door did not have time to close behind her before a staff person declared, "We don't do your kind of hair," recalled White. Embarrassed, she left the salon immediately, she says.
White grew up in Detroit where she says roughly 83 percent of residents "look like me" (she is African American). In Kalamazoo, though, she was part of a roughly 22 percent minority, according to the U.S. Census Bureau.  Rather than potentially reliving that feeling of embarrassment, for the next few years White would make the two hour trip home to Detroit for hair appointments.
Despite these initial challenges or, perhaps, because of them, White chose to make Western Michigan her home, adding that she felt God put her in West Michigan for a reason. In 2014, she opened JoJo's House of Beauty in Grand Rapids as a multicultural salon, specializing in all hair types.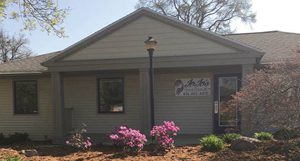 Though she had been doing hair "on the side" since high school and had even talked about opening up her own salon one day, cosmetology was not her first career path. She graduated from WMU with a degree in human resources and a minor in business administration. But, her heart was not in the work. So White put herself through cosmetology school, got a job at the salon that would one day be hers, and, five years later, bought that salon, reopening it as JoJo's House of Beauty.
She advises entrepreneurs to take their business out of the hustle mindset. A business is not supplemental income. It's a business. That means dressing and behaving professionally, respect your clients' time; and do not undercut your value by discounting prices. "You can turn your hustle into a business," but you have to "be intentional," she adds.
In addition to business owner and stylist, White considers herself an educator. When she noticed the number of interracial families in her area, she saw an opportunity to help families. For most parents, the ability to care for and style their children's hair is intuitive. But, for interracial families, that daily task may reveal a knowledge gap to rival that first diaper change or bottle feeding. What is the process; what are the tools? Just how does this get done? That is where White steps in. She teaches parents at her salon but has also taught a class at a local adoption agency. In an online grant application seeking funding to expand this work, White wrote that "caring for a child's hair helps with self-esteem, and it empowers the parent."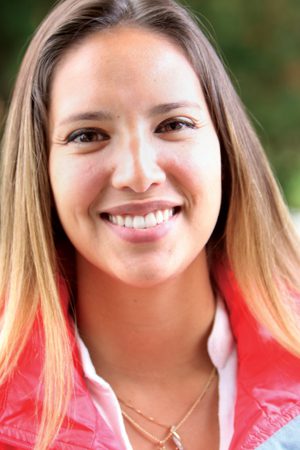 Rachel Start (28)
Encore Business Group
Rachel Start's path to entrepreneurship may well have started with her path to high school, that is, the actual driving route from her parents' home to her high school. As a new driver in her junior year, the seven-mile journey from home to school was more cornfield than gas stations and businesses. She was concerned about being able to address car trouble along the way. (Though it may be hard to imagine now, cell phone use among teenagers in that area had not yet caught on, she says).
As a result, she enrolled at the local vocational center which taught automotive mechanics, CAD, and other skilled trades to area high school students. Initially, she just hoped to gain some practical knowledge. In particular, when could she keep driving the car and when should she just pull over and walk. But, she quickly found that mechanics came easily to her, and by her senior year, she had decided to pursue auto mechanics as a career.
But her mother had wanted her to attend a four-year college, and so Start earned an associate's of applied science in automotive technology at the local community college. That degree and her work in the auto mechanics customer service industry lead her to a training session in Chicago where she met her future husband, Jonathan Start.
He and his friend Josh Crumback had experience in the manufacturing industry. Together, the three saw an opportunity to start their own manufacturing business in the Grand Rapids area. It became Encore Business Group, specializing in product assembly, packaging, and rework. It took the trio a year to research their idea, network, and earn ISO certification. "We started from scratch," but, by early 2016, the business took off, Start said.
Despite being a woman in a traditionally male-dominated field and in a business partnership with two men, Start says she has not experienced gender bias. She is grateful to have an equal business partnership with Crumback and her husband. The partnership makes the challenges of entrepreneurship manageable, she said. As for the male-dominated industry, it can still be a surprise to see a woman in the room, Start said. But, she said, she is proud to be one of them and leading the way for more to come.
Jen P. Smith (28) &
Leigha M. Rankin (26)
Jen Smith and Leigha Rankin are Michigan natives who got to know each other in the California mountains where they lived together in 2012. On that adventure, they discovered they were on parallel career paths, both being creatives who shared a love of paper art and Madrone trees (Arbutus enziesii). From that, the idea for Madranas was born.
Officially launched in 2013, Madranas started as a paper goods company, specializing in invitations. But, the more work they did, the more Smith and Rankin identified a gap in Detroit's event services industry: event production and design. Now, the company does both paper and production. The result is a do-it-yourself feel without the do-it-yourself look, says Smith.
Madranas' success is tied closely to that of Detroit, said Smith. Just 10 years ago, starting this kind of "luxury service" company there would have been impossible, she adds. Their services and products appeal to those higher-income, millennial "city-dwellers" who value art and creativity, says Smith.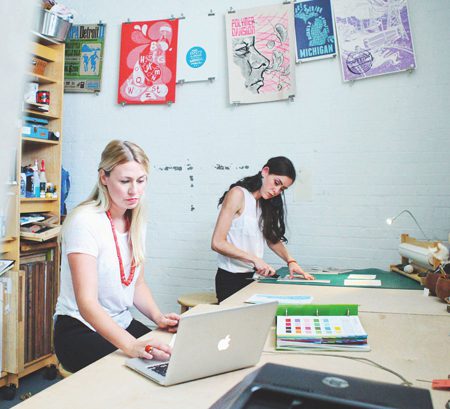 Perhaps closely tied with those well-off, urban millennials is the growing entrepreneurial network that appears woven into Detroit's landscape. "Entrepreneurism seems to be a self-reinforcing phenomenon — once you have one entrepreneur, you're likely to have more, as that person influences others," says Jesper Sørensen in Stanford University's online magazine, "Insights."  Sørensen is co-author of the Stanford University study "Workplace Peers and Entrepreneurship."
There is a "creative entrepreneur spirit" in Detroit and other cities, says Smith. That reality is evident in the popularity of small business incubators like the Build Institute and Ponyride. That creative entrepreneurial spirit is also pulsing through the social networks that link entrepreneurs to each other, to clients, to business knowledge, and to potential staff. Smith and Rankin recruit "day-of" staff through their social networks, so they have never had to hire a stranger.
Though creatives to their cores, as business owners, Smith and Rankin spend a good portion of their time dealing with bookkeeping, taxes and payroll. To navigate this unfamiliar territory, they rely on experts within their client and social networks as well as internet materials. "I'd love to take a business course, but I don't wash my hair sometimes," she says of her busy schedule.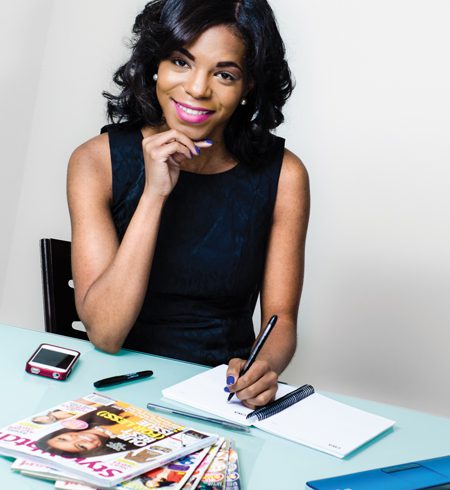 Brittni Brown (28)
The Bee Agency
As a college student at Eastern Michigan University, Brittni Brown started The Bee Agency as a pro bono public relations firm with the long-term goal of, one day, attaining paying clients. The turning point came when she landed her first prominent client, Tommy Walker, creator of DETROIT VS EVERYBODY.
With Walker, she worked for trade. He served as a business mentor and her first significant client. She gained experience and recognition by including his name on her client list. "The opportunity to work with DVE changed my career in the best way," says Brown. With Walker as a client, Brown could bridge the divide between being a volunteer PR professional and a paid one.
The road to Tommy Walker was somewhat intuitive for Brown. Since high school, she had been making contacts, networking, and keeping tabs on the hottest social spots, she said. Walker approached her at EMU's Fashion Week–an event she co-founded.
After graduating from EMU, she took a job with Quicken Loans, but continued operating Bee out of the "trunk of my car," she says. Within the next few years, her business had grown significantly. Like Madranas owners Smith and Rankin, Brown was not prepared for that growth. Both companies had been working for years before they established themselves as limited liability companies. Without that license, the owner's personal finances are not shielded from liability. "Your brand is your house," she says, advising others to lay a strong foundation before developing the façade.
Setting up a strong foundation also applies to Brown's thinking on self-care. Though not typically a priority topic in business circles, avoiding burn out is critical, she says. Generally, people are brought up with a mindset of "you work till you die" but after landing in the hospital, she had to reevaluate that philosophy, changing how she prioritized her time and energy. Today she holds fast to advice she once heard from an associate: Without the health of the body, the brain is lost, she says.
A self-described "suburban girl" from Romulus, Brown is sometimes assumed to be Detroit-born, she says. That assumption may reflect the long-standing racial stereotypes that haunt southeast Michigan, as Brown is African American. Yet, that assumption has also made her a professional role model in some circles. She has been invited to speak with Detroit high school students and with students at EMU's GEAR UP, a federal program designed to prepare low-income students for college. To connect on a deeper level with these children, Brown talks with them about the impact of losing her mom in her senior year of high school, offering a message of resilience, of finding inspiration in adversity.
Jane Larson (33)
Sfumato Fragrances
Jane Larson is the woman responsible for Sfumato Fragrances' visual appeal, from its packaging to its online presence. Without her, the scents would be labeled with shreds of masking tape and scrawled Sharpie, quips her business partner and husband, Kevin Peterson. He is "the nose" of the company, developing the fragrances; she is "the eyes," she says.
Sfumato aims to change the way people use and think of body fragrances. Colognes and perfumes sold in department stores are often marketed as a tool to boost sex appeal: Spray this on, and "women will flock to you," says Larson. But Sfumato Fragrances occupies a different place in the market. They are all natural, meaning a person might be able to find these ingredients at their local health market, rather than a chemistry lab. And, they are gender non-specific. But, perhaps most intriguing, Larson and Peterson are dabbling in olfactory experimentation. They are bringing the fragrance bottle out of the bedroom and making it a centerpiece of the…well, the dining room table.
They started by inviting business associates over for meals at their apartment in Corktown. The theme of the meal was a particular Sfumato fragrance. The scent's ingredients would be passed around the table as a sort of olfactory-aperitif. Notes of the fragrance were echoed in the meal itself, and bottles of the fragrance lined the table. Some guests sprayed the fragrance onto their napkins, said Larson. On Oct. 30, this concept went public as Sfumato Fragrances, headlining the menu at Revolver Restaurant in Hamtramck.
In 2014, their first year of operation, Larson and Peterson earned just a few thousand dollars. By the end of 2015, that revenue increased roughly 600 percent, says Larson. Like other business owners, Larson and Peterson have to deal with the seasonal-nature of the fragrance business. But, this year, they saw mid-year sales increase. Also providing cushion are Larson's and Peterson's day jobs which allow for flexible scheduling and paid time off. Recently, Larson dropped her day job hours to 32, so she could give more focus to the business.
Much like Smith and Rankin, Larson attributes the founding and success of Sfumato to its birthplace, Detroit. She doubts they would have started Sfumato in Ann Arbor where they lived previously. In Detroit, Larson and Peterson would simply bump into neighbors and associates who had started businesses themselves. The reality that others had done it and survived made the thought of starting a business seem possible, says Larson.
One fellow-entrepreneur was Jason Reed. He ran the Start Gallery which was near Larson and Peterson's first Detroit home. In talking with him, they found out he also owned a print shop, and he offered to handle their printing needs. (Since then, Reed has gone on to found ZIPR Magazine).
Despite that 600 percent increase in their second year, Larson considers their growth slow, which she says is a benefit, the pace helping them avoid loans and investors, thus allowing them to keep the company as their own.
Nestled inside that hand-wrapped package that Larson designed, the one sealed with red wax and marked with Sfumato's caduceus-like logo, were four tiny vials of fragrance: Gravitas, Siren Song, Epiphany, and Survival Instinct. Each seems to aptly describe these lady-bosses and their paths through entrepreneurship. Even more apropos is that the caduceus was the staff of Hermes, the guardian of merchants.