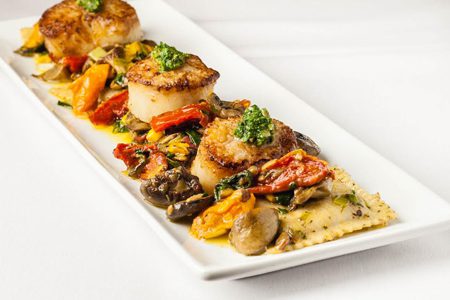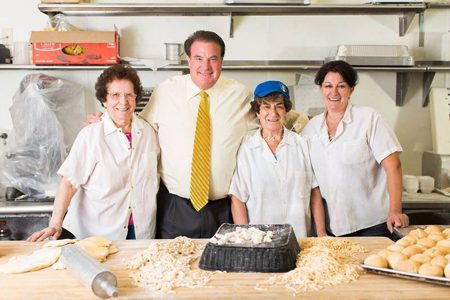 Planning grand, impressive meals for some may be the most stressful part of the holidays. Everyone wants to cook like a restaurant, but few know how.
That's where Andiamo restaurants come in. At Andiamo locations across metro Detroit, Executive Chef Jim Oppat is putting the finishing touches on a seasonal menu additions that makes the most of fresh, high-quality ingredients to celebrate the holidays right around the corner.
Chef Jim has been kind enough to share a recipe here that the home chef may want to try. It creates a beautiful presentation, tastes great and is relatively simple. Ingredients can be found at most grocery stores as well as fish markets.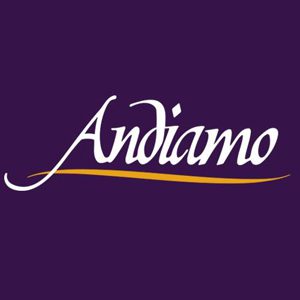 The recipe is for George's Bank Sea Scallops. The recipe starts with the finest sea scallops, recognized as the premier scallops worldwide. They are pan seared with lemon brown butter-thyme crema, artisan handmade butternut squash ravioli with mascarpone, autumn root vegetables, forest mushrooms and citrus gremolata.
And, if you don't feel like cooking, Andiamo's nine locations are an easy choice for those planning to dine with family, gatherings with friends or co-workers throughout the holiday season. From a quiet table for two to large groups or catering, Andiamo can accommodate any request.
Cooking is in the company's blood. Andiamo Founder and CEO Joseph Vicari knows what it takes to build a Restaurant Group based on three simple Italian principles – great food, great family, and great zest for life.
Over the past 26 years, Vicari has developed nine Andiamo Restaurants, which have redefined Italian dining in metro Detroit, as well as one location in Las Vegas and one inside Detroit Metro Airport. Vicari, who also owns the award-winning Joe Muer Seafood, has 17 restaurants in his restaurant empire.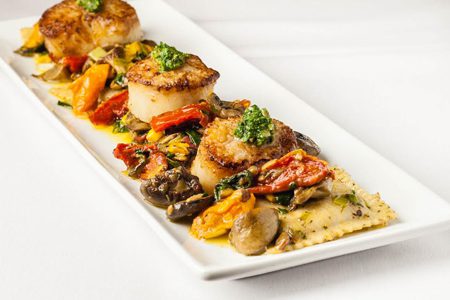 Ingredients:
4 ea ravioli butternut pasta
3 ea sea U/10 scallops
¼ fl oz olive oil
1 tsp salt and pepper
1 tbsp  unsalted butter
1½ oz butternut squash roasted
1½ oz Mushrooms – Roasted
½ oz oven roasted red tomatoes
½ oz oven roasted yellow tomatoes
1 oz kale
1 tsp fresh sage
1 tsp fresh thyme
1 tbsp Italian parsley
Salt and pepper
Method:
Season the 3 scallops and sear heavily on top side, flip and cook just one minute longer. Remove to skillet to finish in oven or keep warm. In same pan using the brown butter and oil mixture, saute the butternut squash with the mushrooms.
Add the tomatoes and caramelize all gently. Add the kale along with the fresh herbs, season lightly with salt and pepper. Remove from heat immediately. Toss the ravioli into this mixture to coat them.
Place the array down the center of large rectangle plate, spreading out the four ravioli. Place the three scallops in between the ravioli neatly. Add a tiny dollop of citrus gremolata on each scallop.