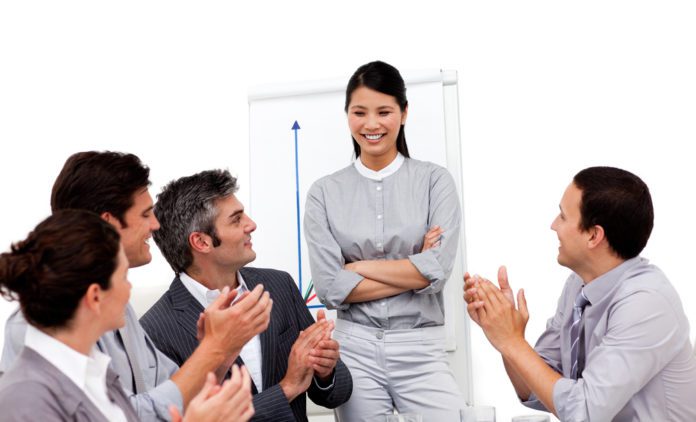 Sometimes, what a worker wants when it comes to training and what they are forced to endure can be two different things.
Employee education should be a two-way street, according to Susan Murphy, Chief People Officer at Office Revolution, a Chicago-based furniture dealer that provides unique office space solutions and has the experience to help transform customers' designs into spaces that help them succeed.
The goal at Office Revolution is to help new hires, longtime employees and managers come together and develop learning opportunities for all, Murphy said.
"We wanted to get away from learning on the job or new hires coming in and feeling like they're drinking from a fire hose," Murphy said.
In other words, the learning opportunities had to come from individuals as well as from managers, who often requested specific learning that tackled specific needs. While that's important, Murphy acknowledged, it also was important for Office Revolution to think larger and more comprehensively when it came to employee education.
"We wanted to create a culture of learning and growth that helps to fulfill employee aspirations that are aligned with company's needs and growth," Murphy said. "Often, employee training and development is requested, but it might not be what (the employee) may want … Our goal is to seek what's meaningful for them and for the company, so it is a win-win for both."
Saving for costs
This approach often starts with tuition reimbursement. According to the Society for Human Resource Management's (SHRM's) 2015 Employee Benefits survey report, 56% of organizations offered undergraduate education assistance; 52% offered post-graduate education assistance and just 3% offered company-provided student loan repayments. SHRM's survey also revealed that 11% of organizations offered 529 plans, which are tax-advantaged savings plans designed to encourage saving for future college costs
After the "basic blocking and tackling for business function of the job" is complete, Murphy said, there are lots of opportunities to come up with training, skill building and personal or professional development that is appropriate for each company, especially for new hires.
"We try to work with the individual on their needs and wants. That may mean we need to offer a lot of different programs," Murphy said.
For example, the company may offer something unique, like a workshop for designers on owning your own brand. Helping people stretch or grow incrementally boosts their personal development but also helps them be better workers and helps the organization as a whole, she noted.
These kind of "soft skills" training helps employees develop themselves internally so they feel fulfilled and want to grow, Murphy said.
"We're looking to try to help the employee have continuous employee growth in want matters to them and every employee is different," Murphy said. "Being great at presentations is key for people on our sales teams. But designers may feel differently – some need it or want it but some don't. We work with those that want to develop that skill."
Helping employees align their needs and wants with those of the overall company has been the bottom line – and it develops a relationship that engages both worker and manager, Murphy added. Having one-on-one conversations about how to plan an employee's training and learning opportunities also helps make sure everyone is focused and understands one another during this process.
The company also puts together an annual development or training plan that gives specific educational opportunities. The HR team finds out what the overall company and its employees want to learn that year – maybe it is persuasive dialogue training or owning your success – and then creates a year's worth of training on that topic.
"We're trying to create a culture that focused on learning," Murphy said. "We're not afraid to try new things."