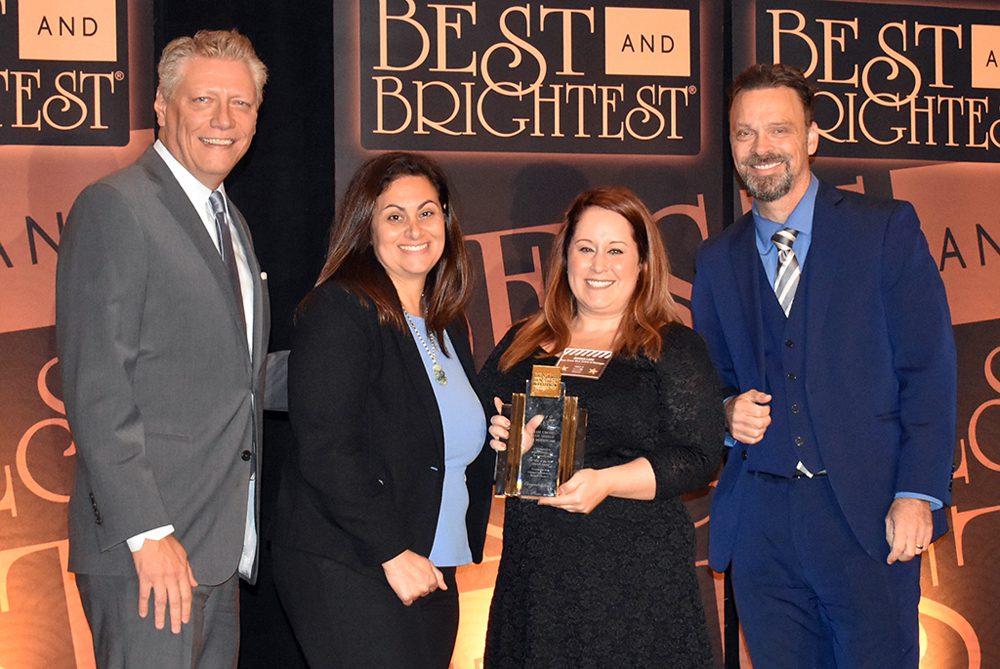 The Best and Brightest Programs recently wrapped its 20th annual Metro Detroit Best and Brightest Awards Celebration Tuesday, Oct. 22, at The Henry Autograph Collection in Dearborn.
Best & Brightest attendees were greeted at The Henry with mimosas following the "Wake up with the Stars" theme, along with interviews on the red carpet from long-standing winners. Advisory Board member Pieter Winne helped out as the interviewer.
The event drew 450-plus attendees, with many exhibitors. Four of the exhibitors participated in the Community Row/Corner in the room to network with guests, promote their nonprofits and have the opportunity to hear the panel and keynote speaker.
Roop Raj moderated the Brilliance Award (every year winners for 20 years straight) panel of winners, the panelists included Mike Cooper, President and Managing Principal of Harley Ellis Devereaux; Ted Gillary, Executive Manager, The Detroit Athletic Club; and Nicole Pawczuk, CEO, Blue Chip Talent.
The panel covered how to sustain employee engagement in the process of improving and maintaining best practices, got an insight on the 20-year winning companies "secret sauce" on maintaining excellence for such a long period of time and shared some takeaways with the audience of their 20-year winning experience.
Keynote speaker Paul Glantz, the co-founder of Emagine Entertainment, talked about his life experiences in business in Detroit. Motivational speaker Shelly Rood touched on the Armed Forces, strong, successful women and business in the Detroit market.
The top male Detroit News Anchor (as named by Hour Detroit), Devin Scillian of WDIV-TV4,  and Tom Jordan of WWJ 950 emceed the awards, which incorporated movie themes from National Lampoon Vacation, Grease, Rocky and a special Detroit themed Best & Brightest video compilation with music to coincide with the groups.
We invite you to join us in extending our congratulations to the winners:
Elite winners
Best of the Best – Large Business
Best of the Best – Medium Business
Best of the Best – Small Business
Communication and Shared Vision
Community Initiatives
Compensation, Benefits and Employee Solutions
Employee Achievement and Recognition
Diversity and Inclusion
Employee Education and Development
Employment Enrichment, Engagement and Retention
Recruitment, Selection and Orientation
Strategic Company Performance
Work-Life Balance
Winners
Baker Tilly Virchow Krause LLP
DeMaria Building Company, Inc.
Educational Data Systems, Inc.
Fieldstone Architecture & Engineering
Friedman Integrated Real Estate Solutions
G-Tech Services, Inc.
Health Management Systems of America
Humanetics Innovative Solutions
Mahindra Automotive North America
Mid-America Real Estate – Michigan Inc.
Plastic Omnium Clean Energy Solutions
Prudential Advisors, Great Lakes Financial Group
Spalding Dedecker Associates, Inc.
Taylor's Special Care Services, Inc.
University of Michigan Credit Union