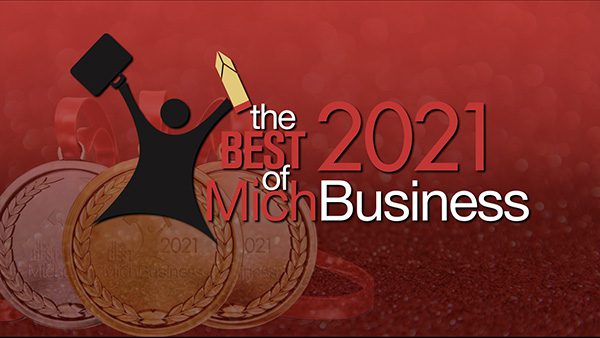 The level of talent in the annual Best of MichBusiness Awards every year is incredibly high, and 2021 was certainly no exception.
The MichBusiness awards program is presented annually by Corp! and celebrates the programs and companies that make Michigan a great place to live and work. This year's awards program will honor the companies that made a difference in 2021 and showed outstanding leadership in a time of social and economic uncertainty.
"The awards honor success as the most exciting, connected business awards and networking opportunity in Michigan," said MichBusiness Vice President Sara Scheffer. "The Best of MichBusiness Awards Program is committed to recognizing companies and individuals that make Michigan a top notch place to do business."
Awards are made in five different categories Enterprise, Large Businesses, Medium Businesses, Small Businesses and Startups. The winners listed below will be recognized in a virtual awards ceremony Thursday. Overall winners in each category will be announced at that time.
Here's a shout-out to the winners in each category:
Enterprise Honorees
Ally Financial took several actions over the past year. They were the first in the industry to eliminate overdraft fees, increased minimum wage by 18% and expanded benefits for their employees, along with making a considerable impact within their communities through Ally Charitable Foundation.
Leveraging an over-125-year history of product development and manufacturing innovation, quality, and performance, Gentex Corporation is dedicated to improving personal protection and situational awareness for global defense forces, emergency responders, and industrial personnel operating in high-performance environments.
ICONMA, LLC's greatest success in 2021 was the ability to expand their client base globally and to provide them with new service offerings.
LaBelle Management began in 1948 with its first location, the Pixie Restaurant, and has grown to 26 restaurants, 5 hotels, and various real estate operations in the Mt. Pleasant area.
Through all the adversity faced in 2021, LaFontaine Automotive Group focused on things they could control like supporting the local communities, providing complimentary home and work pick-up and delivery for sales and service, and offering a comprehensive digital retailing experience.
MNP ​​Corporation supports increasing production of the billions of fasteners presently produced through their manufacturing facilities annually; additionally, they have their own steel processing and washer manufacturing divisions, as well as flat roll capabilities.
Munson Healthcare believes everyone should have easy access to quality healthcare; that's why their heart, cancer, and orthopedic specialists travel throughout northern Michigan.
National Heritage Academies takes pride in its Moral Focus virtues, which include compassion, perseverance, and wisdom, to name a few. The leaders live these core values daily which helps support their mission of ensuring children have learning environments where they can thrive.
North American Bancard had a 250% increase in community donations with larger donations going to the National 9/11 Memorial and Museum's Never Forget Fund, World Central Kitchen to assist Afghanistan Refugees, GLAAD, The Trevor Project and Feeding America.
POWERHOME SOLAR held their first virtual job fair late in 2021 as they continually find new ways to recruit for their ever-growing business. Digital recruiting continues to be at the core of how they fill their employment needs as they've hired approximately 100 positions in Michigan alone in 2021.
Stoneridge is well-positioned to meet the global needs of the mobility industry, providing solutions that power vehicle intelligence, provide dramatic increases in fuel efficiency, reduce vehicle emissions, and improve safety and security for vehicles, cargo and drivers.
Dow Chemical plans to further advance their key sustainability initiatives to decarbonize their assets and capture increasing demand for lower carbon and circular solutions.
Many small independent trucking and car haul owners went out of business during the pandemic. United Road used their scale and created the National Vehicle Transporters Alliance to help trucking companies reduce their operating costs on fuel, insurance, and other items needed to run their business.
2021 proved to be a great year for United Wholesale Mortgage, from going public on the New York Stock Exchange, growing their teams and implementing a flexible 4-day work week.
Western Michigan University is a learner-centered, research university, building intellectual inquiry and discovery into undergraduate, graduate, and professional programs in a way that fosters knowledge and innovation, and transforms wisdom into action.
Large Business Honorees
Arrow Strategies enjoyed an 81.5% growth in revenue over the last three years. They are a leader in IT, Engineering, Healthcare, and Professional staffing.
Blake's Orchard and Cider Mill has recently expanded their operation into hard cider while offering family fun and entertainment at their locations, including their tasting rooms, skating rink and igloo dining.
DeVon Industrial Group is a minority-owned construction company, providing innovative, forward-thinking construction management services to automotive, industrial, commercial, healthcare, institutional, and educational customers.
A recent initiative Genisys Credit Union has been working on is supporting the building of accessible and inclusive playgrounds in Southeast Michigan; they've partnered with Huron Clinton MetroParks, the Inclusive Playground Pals of Clinton Township, and Independence Township Parks, Recreation, and seniors to further these efforts.
MMS Holdings is a global clinical research organization that supports leading pharmaceutical and biotech companies as well as many smaller enterprises across their spectrum of services.
Olga's Kitchen has served over three generations of loyal guests with great tasting food made with fresh, local and regional ingredients. Like many other restaurants this past year, Olga's has found creative incentives to attract talent. Such as free college tuition programs, work-life balance, discounts and rewards.
In 2021, over 200 Service Express team members participated and completed close to 3,000 volunteer hours; helping over 30 organizations, including Kids'​ Food Basket, Habitat for Humanity and Feeding America.
Stefanini Group partnered with Forgotten Harvest to provide food to families in need in metro Detroit, raising over 1,500 meals.
Village Green, one of the nation's largest privately owned apartment companies, achieves success by taking a hospitality and service approach to multifamily operations.
Despite extreme labor challenges, and part shortages, the Work Skills Corporation team stayed strong and provided services to over 1,500 people and opened their second residential home for adults with intellectual and developmental disabilities.
Medium Business Honorees
Acro Service Corporation is committed to addressing the nation's high veteran and military spouse unemployment rate by offering portable careers, training, and professional support to military families; over the past year, Acro has increased Veteran hiring both internally and for its clients, by 15%.
ASPRA World, Inc. is a woman-owned minority business, focused on engineering and manufacturing components for powertrain, driveline, steering, suspension and fuel systems.
Beyond Basics works to achieve literacy for everyone, transforming the lives of students and creating stronger communities through an intensive tutoring program that helps students achieve grade-level proficiency and beyond in reading.
Consumers Credit Union experienced record growth while maintaining high levels of employee engagement and low turnover with plans for growth into a new market.
Current Global continued expansion of the agency's award-winning program, Accessible by Design, with the goal that every piece of communication they develop, curate and publish for clients meet the highest accessibility standards.
Detroit Rescue Mission Ministries (DRMM) has grown to become one of the nation's largest providers of services to homeless, hungry and hurting men, women and children, including veterans, domestic violence victims, abandoned teens, and substance use disorder patients; they also opened 2 new locations during the pandemic.
Since day one, Detroit Wing Company has been focused on providing the highest possible quality and giving its customers a consistent experience during every visit; from starting with only four employees in 2015 to now having approximately 150 employees across 11 locations, the mission to provide exceptional food and service has never wavered.
DOBI Real Estate is a full-service brokerage dedicated to providing exceptional service to enable growth and give the agent, the buyer, and the seller the best experience; their sales volume grew by 268% within 3 years.
The most unique factor about Farbman Group is that they are the only company that truly provides full-service commercial real estate solutions; services include property management, construction, brokerage and recently HVAC, plus many more.
A person-centered workplace, GT Independence has many elements in place to support team members and encourage their growth, from access to comprehensive training materials and a success coach who provides career guidance that influence GT's success.
Home Instead – Clawson developed a new website that is designed specifically to recognize and honor the caregiving workforce, allowing for first in the industry vertical recognition of team players both in the office and in the field.
Every day, Michigan Orthopaedic Surgeons is committed to being fast-paced and patient-focused; their team members are committed to the community and making a difference in and out of the office by supporting the Arthritis Foundation, Motor City Hit Dogs and Come Play Detroit.
Despite unexpected demand, decreased staffing levels and the supply chain disruption this past year, Mission Point Resort has prospered while fulfilling guests' pent-up demand for reconnection, celebration, excitement and fun; serving 50,000 plus guests this past year.
MMI Engineered Solutions, Inc. significantly expanded during the pandemic and aggressively pursued new business with a new 82,000-square-foot plant in Warren and expanded their Mexico operations by 100%.
Peter Basso Associates is a 100% employee-owned consulting engineering firm excelling in the design of technically challenging, sustainable and high-performance mechanical, electrical, and plumbing systems serving primarily educational, healthcare, laboratory, and commercial markets.
Due to capturing additional market share and new business in the markets, Prefix Corporation completed the purchase of a new 25-acre campus that will become their new corporate headquarters in 2022.
The Sachse Construction team adapted by remaining vigilant to their process, living and breathing their core values, and ensuring they provided a unique and exceptional customer experience at every turn.
Towne Mortgage has implemented many best practices to drive company culture, team member engagement, and retention, from having a dedicated culture committee that meets weekly to plan and orchestrate culture-themed activities to a 30-60-90 Touchpoint program to ensure their new hires feel welcome, informed, and happy.
Through Viola Brands, Viola Cares focuses on providing immediate resources for people in need of support, shaping local cannabis industry policy, social justice reform, expungement, and successful reentry into society.
At Watson Engineering, Inc. company growth and additional locations have been a direct result of customer-driven needs being satisfied consistently.
Small Business Honorees
Alerje Inc. (pronounced just like allergy), is a Detroit-based, food allergy management company committed to increasing the quality of life for millions dealing with life-threatening food allergies.
Allied PhotoChemical Inc. are leaders in the UV coating industry, free of volatile organic compounds and hazardous air pollutants, helping to make our planet more green.
While continuing to expand and diversify their offerings, the Apex Digital Solutions team earned Advanced Specializations as a Microsoft Partner, an honor less than 1% receive.
Batch Brewing Company created a safe, comfortable dining experience outdoors protecting customers and their own staff to adhere to the best Covid-19 practices while offering handcrafted, from scratch kitchen pub cuisine.
Over the past year, Bromberg & Associates worked with the State of Michigan and FEMA to ensure equitable access to community members through Michigan's mass vaccination campaign regardless of language or communication needs.
To keep morale high, Bundled provides free lunches, volunteer opportunities, team events and retreats, showing appreciation for their hard work.
Camp Casey provides a safe, fun experience for children and families affected by childhood cancer, rare blood disorders, and other life-threatening illnesses through accessible horseback riding programs.
Cannatron believes in employee engagement and fun. They hold monthly birthday lunches, have a huge break room with video game systems and classic arcade games, and get competitive with a Fantasy Football league!
D.R. Nelson & Associates works with residential builders to navigate them through the maze created by the Building, Energy, and Fire Codes in the most cost-effective way.
DayStarr Communications has an Annual Give Back Day! Their office shuts down to volunteer for multiple local non-profits. They have a blast with one another while giving back to the community that shows them so much support.
Detroit Area Pre-College Engineering Program hosted a Back to School STEM Fair to increase awareness in the community about DAPCEP programs and celebrated graduating seniors with drive-by celebrations throughout Southeast Michigan.
DG Technologies is a vehicle networking company creating diagnostic tools for all vehicles.  They are involved with the annual CyberTruck Challenge bringing together students with industry experts, hackers, and government engineers.
Dose Detroit Company is a retail concept, boutique and brand created with the primary goal of partnering with local and emerging fashion and lifestyle brands to curate a unique shopping experience that allows brands to test market their products in a thriving brick and mortar setting.
Eagle Specialties is a construction materials provider that supplies items for public restrooms, such as partitions, hand dryers, fire extinguishers, lockers, roller window shades and much more. If you've used a public washroom recently and couldn't see the person next to you, you're welcome.
Energy Sciences is a certified Women's Business Enterprise with a commitment to job creation and workforce development, substantial greenhouse gas emissions reduction, energy waste reduction program innovations, and energy efficiency education and mentorship.
Folk Cafe and Market says their greatest success in 2021 was increasing visibility and building a strong customer base for their new market and cafe hybrid model, which they did from scratch.  The company also has a robust financial giving program centered on food, nutrition education and supporting services.
With 5 locations, Ann Arbor, Warren, Flint, Saginaw, and Dearborn Heights, Frego & Associates has been able to help over 30,000 families of Michigan have a financial fresh start.
Gleba & Associates hosts a team building event quarterly, supports the Furniture Bank of Southeastern Michigan, Oliver's Foundation – an animal welfare non-profit, as well as Alternatives for Girls and the team volunteers for local fundraising events like comedy night and euchre parties.
Good Cakes & Bakes will be building out a 5,000 square foot fulfillment center this year allowing the company to offer more nationwide shipping and adding 10 to 15 more members to their team.
After a hugely successful 2021, Great Lakes Business Credit grew in revenue, employees and workspace. On the heels of all of this success, they are looking forward to expanding their business footprint to include the eastern half of the U.S., from Minneapolis to Dallas and all points east.
Great Lakes Segway and Pedego Walled Lake experienced great company growth in 2021, while working with the diverse senior community in Southeast Michigan to promote physical and mental well-being.
HRPro/BenePro uses local, small businesses for supplies and catering, and has made it a mission to support the community by giving back to local charities.
Hubbard Supply Company is engaged in a comprehensive company campaign with the United Way and through the pandemic connected with their local Chamber to utilize local businesses as much as possible.
ILE Excavating, Inc. is proud to be able to donate too many non-profits in need.  In 2021 alone, they supported Michigan Animal Welfare Foundation, Michigan Animal Adoption Network, Detroit Dog Rescue, Michigan Humane Society, Huron Valley Humane Society, Forgotten Harvest, Fallen and Wounded Soldiers Fund, and the Michigan Rose Hill Center.
James Oliver Coffee started in New Hampshire in 1995 and relocated to Detroit in 2019. They continue to roast with the highest standards to ensure that the recipe and process are maintained for ultimate client satisfaction.
This year JEM Tech Group got involved with Friends of Foster Kids where they volunteered to wrap Christmas gifts for children and focused on supporting local family-owned restaurants on Fridays when they ordered in lunch.
Jireh Metal Products, Inc.'s ability to adapt while staying true to their core values is their greatest success over the past year.  Flexibility has been the key theme for leaders and patience and transparency has been their best practice.
As a minority business, JMAX Logistics stands for excellence. As a business leader in West Michigan, the owner demonstrates principled leadership. He has given of his time, talents and treasures to many organizations and individuals in West Michigan.
Jo's Cleaning & Organizing has been juggling the ever-changing comfort level of employees and clients due to Covid, and has adapted to accommodate each and every client and employee with their various needs.  They are very active with the Habitat for Humanity "Women Build" program.
Kapstone Employment Services is a Detroit-based company specializing in recruitment, relationship building, and establishing and maintaining positive connections with their candidates and clients.
Kevin's Song, for the first time, presented its annual Conference on Suicide virtually due to the COVID-19 pandemic. More than 400 teachers, counselors, social workers psychologists, mental health professionals and others took part. Because of the group's active social media posts and its newsletter, people have remained aware of their work.
Kids Kicking Cancer Inc.'s mission is to ease the pain and trauma of children while empowering  them to heal physically, spiritually  and emotionally. Their focus is on pain and stress management for pediatric patients, as well as creating resilience and support.
Kirk, Huth, Lange & Badalamenti, PLC continues to thrive, adding multiple staff members and attorneys to their practice. On the recruitment side, they started inviting other team members into the hiring process which helps in finding new hires that acclimate almost immediately to the culture. Now that's a best practice!
Kyros Digital had an explosive year ever in revenue, team size and clients in 2021.  They have been working with local schools to build an internship program and help coach up-and-coming software developers.
LaFleur's commitment to philanthropy and volunteerism is an essential part of who they are as an organization. Every month, they block at least a half-day for volunteer work.
Lighthouse MI proudly partners with Neighbor Works America, the Pontiac Collective Impact Partnership, the Alliance for Housing, and many more local, state, and national collaborative efforts to forward their mission to alleviate poverty.
Lumin Financial LLC launched a mobile app, built closer connections with clients and their team, conducted stay interviews, and held socially-distanced team outings to allow time and space to "exhale."
Management Business Solutions surprised the staff with a home-cooked meal dropped off by the CEO while leadership found ways to have a virtual game and happy hour engagement to foster camaraderie despite working from home.
Meadowbrook Insurance Agency is proud of their emerging leaders throughout the course of the past year as they embraced their new work environment while encouraging innovation, personal development, open communication, and flexibility with their teams.
MedNational Staffing offers an annual scholarship to anyone pursuing higher education through their Internship Academy program. This past year they supported individuals at the University of Michigan, Oakland University, Adelphi University, Michigan State University, Ferris State University, and Valencia College.
Multi-Automatic Tool and Supply Company provides replacement parts, attachments, tool holders, and cutting tools for multiple spindle automatic screw machines, single spindle and rotary transfer machines.
MVP Collaborative's community service efforts include clean-up efforts in the neighborhood, fundraising events for childhood cancer and abused and neglected children, as well as hosting a holiday gift drive for the underserved. 
Nakee and Co. donates to community events, especially those focused on healthy eating and physical and mental wellness. They generously donate Nakee Butter pouches to promote healthier eating and to demonstrate that simple steps can have a huge impact.
Ocean Inc. achieved success in 2021 and stayed competitive by overcoming challenges to help businesses in crisis. They were able to successfully implement strategies to fulfill purchase orders while setting up clients with remote access, ensuring their clients could operate without interruption, while also keeping everyone safe.
Omega Computer Services held their first annual Tech Recycling Event in 2021 where the community could bring unwanted electronics to be safely disposed of. It was an amazing success and look forward to continuing it again this year!
In the past year, SFL Companies organized a food truck fundraiser to raise thousands of dollars for local charities. Employees volunteer to pack food weekly for their local Blessings in a Backpack program and may take a paid workday to volunteer at the nonprofit of their choice.
During the pandemic Sindbad's Restaurant, stayed open and busy.  Working hard and staying in good communication with employees while donating Gift Certificates to many charities.
The Peacock Room, Frida and Yama is a small, woman-owned, Detroit business specializing in clothing, jewelry, unique gifts, and accessories led by designer Rachel Lutz. The first Peacock Room was opened in 2011, Frida opened in 2014, and the second Peacock Room and Yama both in 2017.
At Total Security Solutions "community" starts with their own employees, and corporate outreach initiatives. They intentionally work to positively impact the local community and the greater security industry community.
Ultimation Industries, LLC is as flexible and progressive as possible with their policies including a parental leave program. They offer an annual scholarship for STEM students and the CEO supports women entrepreneurs around the world personally by providing micro-credit loans to women, over 1,400 to date.
Universal Solutions Management is a Metro Detroit female minority-owned business whose backbone was founded on integrity, excellent customer service and providing satisfactory results. USM was able to pivot their business model, while staying true to the backbone of their company foundation in 2021.
Unlimited Recycling, Inc. is unique in their ability to help create, manage and promote an industry-leading corporate recycling and waste management program to maximize the benefits of recycling initiatives.
Utility Reduction Analysts is a reliable, honest and results-driven woman-owned business participating in a shared savings program, a sort of treasure hunt to find savings for its customers.
West Michigan Compounding LLC hosts monthly sponsored events such as food trucks and picnics which has helped to attract new talent to the company. WMC also has a community involvement team that reaches out to dozens of organizations in our local community.
Startup Honorees
Balanced Physical Therapy specializes in Outpatient Orthopedic Rehab for all ages and fitness levels; their owners, Dr. Robert and Dr. Tori, provide 1-on-1 treatments to Mt. Clemens, Macomb County, and surrounding areas with certifications in orthopedic manual techniques, athletic training, surgery recovery, and balance training.
Plum Health Detroit is excited to continue their accessible health care service and expand their efforts in 2022 with another location, and the opportunity to help more doctors serve more patients via the direct primary care model.
RealtyOffer, the first automated bidding platform of its kind, designed to educate and empower consumers looking to buy or sell a home and connect them with top-rated certified agents.
Regardless of challenges, Rizzarr had its best year ever in terms of the growth in customers and the growth of their content creator network.
Venture HR is a Human Resource Total Solutions company specializing in all facets of Human Resources and Payroll. Their employees are energetic, and passionate about Human Resources and foster camaraderie amongst their clients and employees.
Company revenue increased over 300% for VTS – Virtual Technology Simplified as they launched data capture services for telecom and utilities, and captured over 1700 sites; their team expanded from a handful of employees to over 20 with another 40 pilots and technician subcontractors.
Yoshi Hibachi Grille is Detroit's neighborhood Japanese Steakhouse serving Harper Woods, Westside Fenkell, Redford, Southfield, Livernois and Chesterfield.