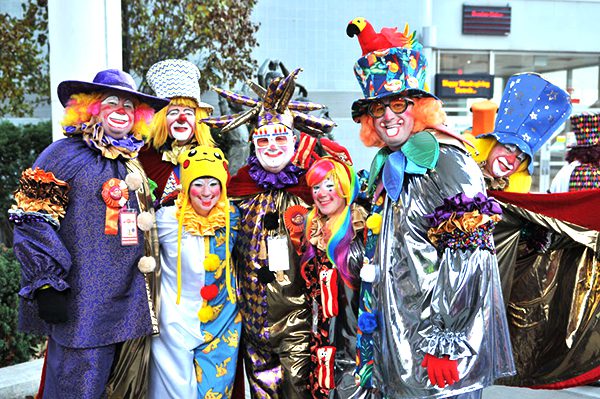 DETROIT – The Parade Company announced Emagine Entertainment as the new presenting sponsor of the Distinguished Clown Corps, bringing a special magic to this iconic group of 200 business and community leaders who march in America's Thanksgiving Parade presented by Gardner White.
"We are excited to welcome Emagine Entertainment to The Parade Company family," said Tony Michaels, President & CEO, The Parade Company. "This amazing Michigan-based company is the perfect partner to bring magic to our Distinguished Clown Corps and we look forward to a very special partnership."
"We are thrilled to be a part of this wonderful tradition in the city of Detroit. Community is very important to us and we know how important this event is to our entire community," said Paul Glantz, Co-Founder and Chairman of Emagine Entertainment.
"Partnering with The Parade Company and the Distinguished Clown Corps is an exciting moment for our organization. We look forward to enjoying this cherished event with our Emagine teammates and guests," added Anthony LaVerde, CEO of Emagine Entertainment.
This year's event is hosted by 2022 Distinguished Grand Jester, Longine Morawski. Longine is a 28-year DCC who clowns with his son and daughter, and his brother, Lawrence (25-year DCC) and nephew. Morawski will have the honor of leading the group down the parade route for the 96th America's Thanksgiving Parade presented by Gardner White.
The DCC began in 1983 with business leaders Tom Adams, then the chief of Campbell-Ewald advertising and Walter McCarthy, then chief of Detroit Edison, who served as the spark in creating a way for the leadership to become personally involved in helping The Parade Company. With over 200 members, the DCC is one of the parade's most beloved traditions.
DCC Committee Members include Maggie Allesee, Eric Borman, Van Conway, Rick DiBartolomeo, Grenae Dudley-White, Pat Fenton, Joe Fleck, Austin Kanter, John Landis Eric Larson, David Markiewicz, Luther "Skip" Rosemond, Syd Ross, Peter Schweitzer, Rebecca Sorensen and Bill White.
DCC annual membership is $1,000 per person with all proceeds benefiting the Michigan Thanksgiving Parade Foundation. For nominations, contact CarolAnn Barbb at [email protected].