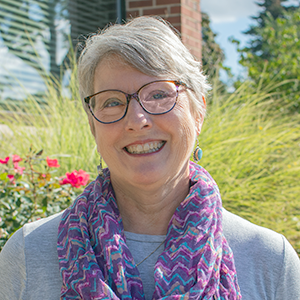 GRAND RAPIDS — After more than two decades serving Catherine's Health Center, chief executive officer Karen Kaashoek, RN, MBA, has announced her intention to retire from the Grand Rapids community healthcare nonprofit in early 2022.
Kaashoek has volunteered or worked for Catherine's since 1997, including serving as the chief executive since 2007. Prior to Catherine's, Karen served in nursing positions for 22 years at Saint Mary's Hospital in Grand Rapids and Munster Community Hospital in Munster, Indiana.
The organization's board of directors has assembled a search committee and will engage an executive search firm to assist the organization in finding its next leader. Kaashoek intends to stay in her role until a new leader has been selected and has offered to the board to orient the new leader for a period.
"As Catherine's moves into another season with multiple sites across our community, I felt that season should start with a new leader," said Kaashoek. "For the past 24 years I've had the honor to serve the community at Catherine's. It will be my honor to welcome a new leader to carry forward the organization's critical mission and work."
Prompted by conversations and concerns among Creston neighbors in 1993, Catherine's (then called Catherine's Care Center) was founded in 1996 as a joint venture between Mercy Health Saint Mary's (then called Saint Mary's Health Services), St. Alphonsus Parish and the Creston Neighborhood Association. The organization worked from the basement of St. Alphonsus on Leonard Street until 2011, when it relocated around the corner to the former St. Alphonsus School on Lafayette Street. A capital campaign launched in 2009 to raise funds for the renovations to the now LEED Gold-certified facility. It was also 2009 when the organization changed its name to Catherine's Health Center, to better reflect its extended programming offerings.
Catherine's Health Center is now a 501(c)(3) non-profit Federally Qualified Health Center providing primary medical, behavioral health, dental, and health promotion/disease prevention services.
Under Kaashoek' s leadership the organization achieved the following accomplishments:
Obtained 501c3 status.
Raised $1.3 million to move into an expanded facility.
Achieved LEED Gold-certification.
Expanded service offerings.
Changed name to reflect a more comprehensive offering.
Received the coveted Torch Award from Better Business Bureau of Western Michigan.
Launched Health Insurance Navigation services.
Launched a dental clinic.
Achieved national accreditation as a Patient Centered Medical Home.
Partnered with Streams of Hope to open a third clinic location.
Catherine's board chairperson Dr. Jim Byrne, former longtime Priority Health chief medical officer, and the entire board knew the time would be coming for Karen to announce her retirement and remain thankful for her service.
"On behalf of the Board of Directors of Catherine's Health Center, I would like to express our deep appreciation to Karen for her many years of inspirational leadership and her unbending commitment to providing high quality, compassionate health care services to those most in need in our community. She leaves behind a strong organization with deep community roots and a talented and committed staff, poised for even greater contributions in the future. She will be greatly missed, and we wish her and husband John a wonderful "next phase," said Dr. Jim Byrne.
As a "resource" nurse for Saint Mary's, Karen often went wherever there was a need. One of those needs took her to a neighborhood clinic at St. Alphonsus Parish. She immediately knew there was a need to provide quality, affordable healthcare to the people of the Creston area.
"The space was small, crowded, and while it wasn't anything special to look at, it was a sacred space," says Kaashoek. "Families who had nowhere else to turn for affordable health care found a home at Catherine's. Patients living with untreated chronic diseases found a safe space to learn about their health and got the tools they needed to get and stay healthy. At Catherine's I had the opportunity to not just help people one by one, but to make a lasting difference, opening doors for community members who were too often denied lifesaving and sustaining care."
Kaashoek first got involved as a volunteer, then neighborhood health Services coordinator, clinical supervisor, executive director and, since 2017, chief executive officer.
"I like to say that I grew up as Catherine's grew, taking on more responsibility as the organization grew in complexity," she adds. "For the past 24 years I have had the privilege to serve beside an incredible team of staff and volunteers who meet the needs of the community. I will cherish the time spent here and the many wonderful people I have met."