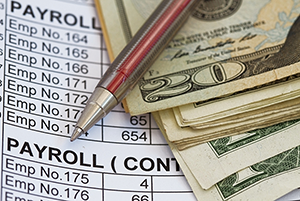 • Payroll employment increased by a net 467,000 jobs in January, better than consensus.
• The unemployment rate rose to 4.0% from 3.9%, worse than consensus.
Job growth was better than expected in January, but the unemployment rate still rose as Omicron weighed on the recovery. The U.S. added 467,000 nonfarm payroll jobs in January after a gain of 510,000 jobs in December, which was revised from 199,000 in the prior report; surveys of economists prior to the release showed most forecasting 100,000-200,000 jobs added in January (Comerica had 175,000). These data are seasonally adjusted, meaning the BLS removes the effects of recurring seasonal patterns in employment to tease out the underlying trend.
Employment usually falls in January from December, so this January's seasonally-adjusted payroll job gain actually reflects smaller seasonal job losses than in a typical year. In a very difficult hiring market, employers held on to more workers at the turn of the year than they typically do. By industry, leisure and hospitality added 151,000 jobs in January, accounting for a third of the month's net job gains.
Other noteworthy gains included retail, up 61,000; professional and technical services, up 46,000; couriers, messengers, warehousing and storage, up a combined 35,000; local government education, up 29,000; and temp services, up 26,000. Employment in goods-producing industries was little changed on the month. Manufacturing jobs rose 13,000, mining (including oil and gas) fell 4,000, and construction fell 5,000.
The household survey—used to calculate the unemployment rate—was weaker than the payroll survey. The unemployment rate rose to 4.0% from 3.9% in December, versus no change expected in Comerica's forecast. Employment in the survey of households fell 272,000 in January, while the number of unemployed (people without a job who searched for one in the last four weeks) rose 135,000; these changes are after accounting for adjustments the Bureau of Labor Statistics (BLS) made between the December and January reports to incorporate 2020 Census data. Some of January's uptick in the unemployment rate was due to workers being out sick or caring for someone who is, and some was from reduced foot traffic with people again spending more time at home.
The labor force participation rate was 62.2% in January, unchanged on the month after accounting for revisions. It was 63.4% in February 2020. Labor force participation has recovered slower than employment, held back by early retirements, childcare and other caregiving burdens, and covid-related disability. Policies like enhanced unemployment insurance, tax credits, rent and student loan moratoriums, and the child tax credit probably slowed job-seeking in 2020 and 2021, but most economists agree their effect was smaller than the effects of the pandemic itself. Those programs have lapsed, and their effects on the job market are fading.
Big, messy data revisions affected the survey of establishments ("payroll survey") as well as the household survey. The BLS revises the previous year's establishment statistics annually to incorporate broader data sources and to better filter out seasonal variations. Revisions for 2021 were large—measuring a pandemic economy is much harder than a normal one. Revisions raised payroll employment by 211,000 at year-end 2021 and smoothed out last year's crazy month-to-month swings in job growth. In the household survey, revisions incorporated information from the 2020 census, which raised the BLS's count of working-age Americans and reduced the number of older Americans. This resulted in higher employment and a higher labor force participation rate than earlier data show.
Racial disparities in the labor market narrowed in January. The Federal Reserve closely monitors racial disparities as alternative measures of how close the economy is to maximum employment, since they narrow in a strong economy. The unemployment rate for Black or African Americans fell 0.2 percentage points to 6.9 percent, and the unemployment rate for Hispanic or Latino Americans was unchanged on the month at 4.9 percent.
The gap between Black Americans' unemployment rate and the overall rate was 2.9 percentage points in January, narrower than the 3.2 percentage point gap in December. The gap between the Hispanic unemployment rate and the overall unemployment rate narrowed to 0.9 percentage points from 1.0 percentage points. The narrowest gap between Black unemployment and overall unemployment in the last expansion was 1.7 percentage points in August 2019, and 0.5 percentage points for Hispanic or Latino Americans.
Average hourly earnings rose 23 cents to $31.63, an increase of 0.7% on the month and 5.7% on the year. The average workweek fell 0.2 hours to 34.5 hours from 34.7 hours in December. More sick days from Omicron meant fewer hours worked. With average hours down but employment and average hourly earnings up, aggregate income rose 0.5% in January from December and was up 9.6% from a year earlier. Average hourly earnings are lagging inflation—the CPI was up 7.1% on the year in December—while aggregate earnings are outpacing inflation.
Despite payrolls coming in above expectations in January, the month's uptick in the unemployment rate and the fall in average hours worked points to a meaningful drag from the Omicron surge. Other recent data like the ADP® National Employment Report™ and initial claims for unemployment insurance also point to a slowdown at the turn of the year. But with Covid cases falling, growth will pick up, possibly as soon as in February.
After January's job gains, payroll employment is 2.9 million or 1.9% below its level in February 2020, before the crisis. The recovery is a bit stronger in the household survey, with employment just 1.1% below the pre-crisis level despite January's setback. Payroll employment would recover to its pre-crisis level by June at the 541,000 monthly pace of the last three months, but job growth is likely to moderate with the job market very tight. Comerica Economics forecasts for average monthly payroll gains of just over 400,000 in the rest of 2022. Employment is set to recover to the pre-crisis level this summer and the unemployment rate to fall to 3.5% by year-end, matching the half year before the pandemic for the lowest since 1969.
With the labor market tight and set to strengthen and inflation far above the Fed's target, Comerica Economics forecasts for the Fed to raise the federal funds rate 0.25 percentage points at their March 16 decision, and to make three additional quarter percentage point rate hikes by year-end.
Market Reaction: U.S. equity markets rose in the afternoon post-report, with the Dow up 0.1% on the day and the NASDAQ up 2.0%. Interest rates rose, with the two-year Treasury yield up 0.12 percentage points to 1.32% and the ten-year Treasury yield up 0.09 percentage points to 1.93%.
Bill Adams is senior vice president and chief economist at Comerica.