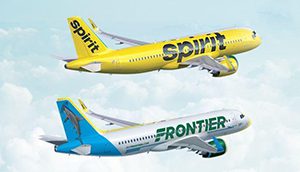 Frontier Airlines and Spirit Airlines have agreed to merge in a $6.6 billion deal that would make the combined carrier the fifth-largest airline in the country.
The merger gives Frontier, based in Denver, a 51.5% controlling stake in the combined airline, according to a CNBC report. Spirit investors will receive 1.9126 shares of Frontier plus $2.13 in cash for each share they own, giving Spirit shareholders an implied value of $25.83 per share, which is a 19% premium over the value of Spirit shares at the end of last week, the companies said, according to the network.
"The transaction is centered around creating an aggressive low-fare competitor that will better serve guests, expand career opportunities for our team members and create value for our shareholders," Ted Christie, CEO of Miramar, Fla.-based Spirit, told analysts on a call discussing the deal on Monday. "We believe we are a perfect fit with Frontier. Our businesses share similar values, including our long-standing commitment to affordable travel."
The boards of both companies approved the deal over the weekend. It would be the first merger of large U.S. airlines since Alaska Airlines' combination with Virgin America in 2016.
Frontier Chairman Bill Franke will chair the combined company, which he said "will create America's most competitive ultra-low fare airline for the benefit of consumers," according to the CNBC report.