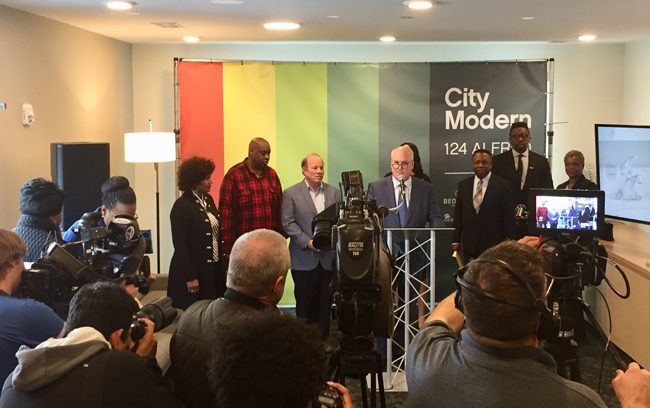 Imagine an apartment with floor-to-ceiling windows, an upscale kitchen with an island and seating as well as a comfortable bedroom with a walk-in closet. That is the new style and substance of affordable housing in Detroit.
The city of Detroit and Bedrock, the real estate arm of Dan Gilbert's family of companies, on Tuesday offered the first glimpse of its new affordable-housing option. This development, called The Flats at 124 Alfred, is designed for residents who are 55 years and older in Detroit's historic Brush Park neighborhood minutes from downtown.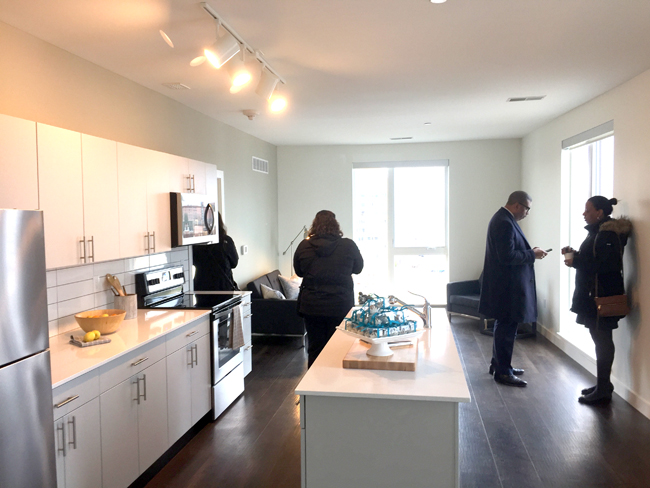 The Flats, which are on Alfred Street just steps from Little Caesars Arena and Comerica Park, are a part of Bedrock's 8.4-acre City Modern development. The Flats at 124 Alfred is the first of six total apartment buildings to be completed.
"We prioritized completing The Flats at 124 Alfred first because we know there is a huge demand in Detroit for affordable housing options," Bill Emerson, Bedrock CEO, told a standing-room only crowd of media and interested developers at the grand-opening event.
The Flats at 124 Alfred contain 54 apartments for lease offering stunning balcony views of Detroit, light-filled interior spaces and open floor plans. One-bedroom units range from 600-735 square feet and include floor-to-ceiling windows, walk-in closets and energy efficient, stainless steel appliances.
The complex also is equipped with a fitness center, residential lounge with a large outdoor terrace, outdoor garden spaces, bike share, gated underground parking and high-speed internet.
These units are open to residents that are 55 years and older who earn 30-60 percent of the Area Median Income (from $14,910 to $29,820 for a single person).
Detroit Mayor Mike Duggan highlighted Bedrock's commitment to affordable housing in Detroit, and he took time to honor the apartment's first residents, who are longtime Detroiters. In 2017, Bedrock made a commitment to the City of Detroit that 20 percent of its residential portfolio would be dedicated to affordable housing units.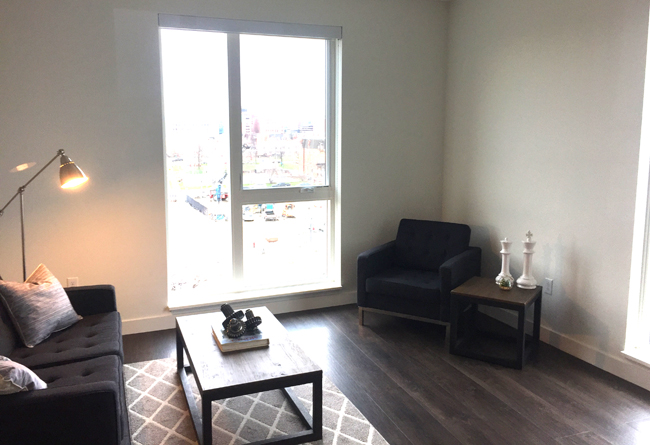 Over the next several years, Bedrock plans to develop or rehabilitate a total of up to 3,500 residential rental units. This means 700 units of affordable housing will be added and preserved within Detroit's market.
The building was designed by Detroit-based Hamilton Anderson Associates using Detroit's industrial heritage as inspiration. The Flats at 124 Alfred add to the diverse mix of architecture, community and lifestyle choices at City Modern.
"All of us at HAA are pleased to have been part of this historic project for the City of Detroit," said Hamilton Anderson Associates Principal Rainy Hamilton. "Our mission mirrors that of Bedrock and our city leaders – we are rebuilding Detroit, one home, one block and one neighborhood at a time – an inclusive community for all to enjoy."
The development encompasses four existing Victorian mansions with 20 new buildings in the City Modern master plan. When combined, these 24 buildings will result in five different building typologies – Townhomes, Carriage Homes, The Duplettes, Historic Homes, and the Flats — and create a total of 410 contemporary residential units, 285 which will be for lease. This deliberate blend of historic and modern architecture celebrates the past, while looking toward the future to create a 21st century narrative for Brush Park and Detroit.
When complete more than 20 percent of the total 285 for lease units in City Modern will be designated affordable.