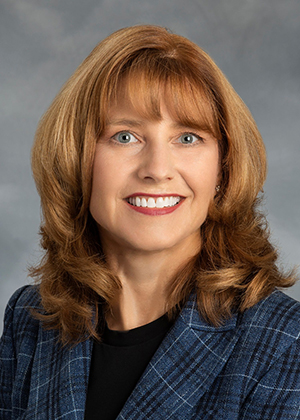 Beaumont Health's Board of Directors has appointed Julie Fream, of Beverly Hills, as its new Board chair and Christopher Blake, of Grosse Pointe Farms, as its Vice Chair. The transition will occur in June as part of a normal governance leadership rotational process.

Beaumont Health was formed seven years ago to provide compassionate, extraordinary care every day to the patients and communities it serves.

John Lewis, Beaumont's inaugural Board chair, embraces the importance of good governance, which includes paving the way for natural transitions and new Board leadership. Therefore, Lewis is stepping down from his role as Chair. He will remain a member of the Board until his term expires at the end of this year. Lewis, along with Board members Steve Howard and Gersh Cooper, was instrumental in establishing the founding governance structure of the health care system.

"I want to thank my colleagues on the Board and the Beaumont team for working so diligently to form Beaumont Health and for what has been accomplished over the past seven years by providing and expanding safe, high quality care for patients and families in our communities. In addition, we have expanded Beaumont's footprint to serve even more people, for example building an extensive urgent care network and our soon-to-be opened mental health hospital. The pandemic has stressed our clinical teams, particularly on the front lines. However, Beaumont's health care heroes have tremendous skill and compassion," Lewis said. "As I continue to serve Beaumont Health, I have complete confidence in Julie's abilities to lead the Board moving forward."

Fream has served as Vice Chair of the Board since 2018. Lewis, Fream and Blake were three of the founding thirteen Board members that joined together to form Beaumont Health in 2014.

"I am honored and humbled to accept the role as Beaumont's next Board chair. Beaumont is a true gem in our community, and I will do whatever I can to help the organization continue to thrive so we can serve our patients for decades to come," Fream said. "One of my first goals will be to continue to increase the diversity on our Board."

Fream currently serves as president and CEO for the Original Equipment Suppliers Association. She previously held roles at Visteon, TRW, Ford Motor Company and General Motors. She earned an MBA from Harvard Business School after graduating with a chemical engineering degree from Michigan Technological University.

Blake is the founder, president and owner of The Blake Company, Inc. He earned a B.S.B.A. from Georgetown University.

"We are so grateful for John Lewis' service and commitment to Beaumont Health. Through his leadership, we were able to help create our health system. I'm confident Julie will be an effective and compassionate leader for Beaumont's Board," Beaumont Health CEO John Fox said.