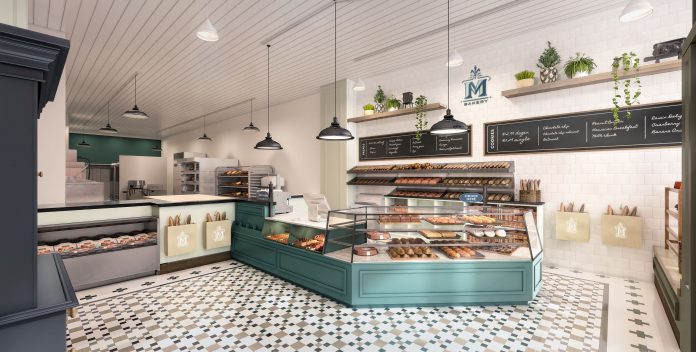 Vicksburg – Baked good lovers across Southwest Michigan are closer to enjoying old favorites and new artisanal products now that construction has started on the new Mackenzies Bakery in downtown Vicksburg. Crews from general contractor Frederick Construction are renovating the interior of the 1,700 SF space at 103 E. Prairie Street to accommodate a production kitchen and small retail storefront. When open in spring 2022, the new iteration of the popular former Kalamazoo bakery will offer both retail and wholesale items, including many original bread recipes.
The location will serve as both a wholesale center and customer-facing bakery to contribute to the emerging vibrancy of the charming downtown by offering a walk-in storefront where patrons can grab fresh-baked breads, including the popular Pretzel, Struan, Crispy Italian and Paesano blends, as well as a small selection of cookies, muffins and beverages.
"My hope is that a visit to Mackenzies Bakery will kindle memories from childhood, with eyes locked on the tempting goodies behind the case, while creating generations worth of new memories for residents and visitors to enjoy an elevated retail experience in my thriving hometown," said owner and Vicksburg native, Chris Moore. "I'm excited to bring this memory-making experience to downtown Vicksburg."
Moore, who also owns The Mill at Vicksburg—an $80 million mixed-use project currently undergoing renovations on the west end of the village—grew up enjoying MacKenzie's baked goods and jumped at the chance to revitalize the brand and bring more business to the 3,400-person village, about 12 miles south of Kalamazoo.
Construction signage depicting lifelike renderings of the space are currently being installed over the windows to give patrons a glimpse of the elevated retail experience that awaits at Mackenzies. The renovation of the space, which includes two adjoining buildings, is part of Moore's vision to create a thriving Vicksburg along with its surrounding areas.
To ensure continuity through the transition, Moore engaged former owner John MacKenzie to provide consultation and hired two longtime MacKenzie's employees to handle daily operations—Production Manager Jill Younger and Head Baker Cris Najar.
"I couldn't be happier with seeing the MacKenzie's brand live on the way it will in Vicksburg," said former owner John MacKenzie. "Chris Moore and his team are absolutely committed to doing things in top-notch fashion, so I can't wait to see what the next iteration does for the region."
While the physical building takes shape, Mackenzies leaders are hard at work revitalizing recipes, establishing sales channels, determining price points and preparing to distribute the products throughout the region.
"We're very excited to bring Mackenzies bread into stores and dining establishments across Southwest Michigan," said Jackie Koney, Chief Operating Officer of Paper City Development, Moore's Vicksburg-based company. "Cris and Jill are hard at work preparing to offer large-scale bread production for wholesale."
Younger, a resident of Portage, began her career at MacKenzie's Bakery in 2000 at the retail counter learning the importance of taking care of customers. She is thrilled to continue the MacKenzie's legacy in the Village of Vicksburg where she will welcome a brand-new community of bakery enthusiasts.
"My goals are very clear—to deliver on our brand promise to provide an elevated retail experience featuring high-quality, artisanal baked goods in an inviting space," said Younger. "Whether people interact with our brand in person, online or in a store, they'll enjoy great service and delicious baked goods that will keep them coming back for more!"
Najar, a resident of Kalamazoo, is a skilled baker with a passion for incorporating art into pastry-making. He started his career in the culinary industry, working at a variety of restaurants in his hometown of Chicago before making the switch to baking—a practice he fell in love with.
"I am thrilled to return to the kitchen and continue the tradition of creating MacKenzie's bread and treats," said Najar. "I can't wait to engage with patrons and share our high-quality, seasonal offerings in an environment that will rival major culinary venues!"
Mackenzies Vicksburg expects to share more information soon on its website, www.mackenziesbakery.com, about opening dates and specific product offerings.