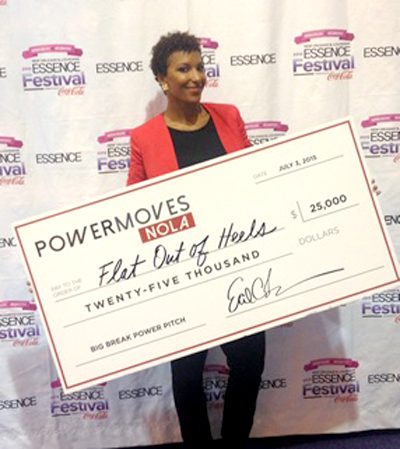 For Dawn Dickson, winning an entrepreneur pitch contest held at the annual PowerMoves.NOLA conference in New Orleans this year yielded much more than the $25,000 check she received.
The instant validation offered from potential investors who, after Dickson's pitch, discussed the longevity and foundation of Dickson's "solution to stiletto-sore feet" was an added bonus.
Flat Out of Heels www.flatoutofheels.com/ are the solution to stiletto- sore feet. The stylish, rollable flats fit in a small clutch purse. Placed in vending machines in venues like airports, nightclubs, malls, and hotels, Flat Out of Heels make it convenient to get emergency shoes when needed.
Dickson was invited to pitch at FashInvest in December 2013 in New York and May 2014 in Miami. She pitched at the NMAN Formation to Funding event in Silicon Valley in May 2014. She won the Tech Cocktail Pitch Competition in Miami in June 2014. In July 2014, Dawn won the Miller Lite 'Tap the Future' 2- minute pitch competition in Miami, and the 'Shark Attack' pitch competition in Atlanta in October 2014.
Making connections with investors is just as beneficial as, and possibly more fruitful than, the winnings an entrepreneur earns from a pitch competition. Here are five basic Business Pitch Contest Tips from veteran Dickson:
1. Fine-tune the presentation so that investors are hooked early. Condensing everything you need to say about your company into 3-10 minutes is tough. Remember, the key is to hook potential investors within the first 30-60 seconds. Incorporating investor language and keywords is vital as well. Conducting countless revisions will help produce the clear since of clarity needed to figure out a way to tell your founding story as quickly and succinctly as possibly.
2. Identify the problem you're solving. State what your company does as clearly as possible. And don't stop there: How do you know it's a problem? And is it a big enough problem to support your solution as a business? These are all questions you need to answer.
3. Passion. Without it, it is difficult to convince a judge you will be successful. Plans that consistently get the highest scores must demonstrate the entrepreneur's passion about the vision of where they are taking their company. This is almost always #1 in all contests.
4. Be real, be conversational. This one is a deal breaker at a pitch competition: Oversell your burgeoning product, and you lose credibility fast. Don't be the one with the slick salesperson voice.
5. Inspire trust and confidence. It is important to explain why you and your product are qualified to fulfill this market need. Showing that you have experience in your domain can help build audience confidence. Inspiring trust and confidence demonstrates to the audience why you and your product are tailor made for the job.