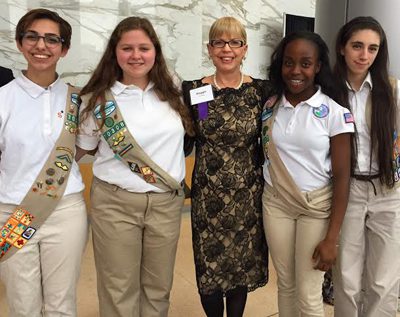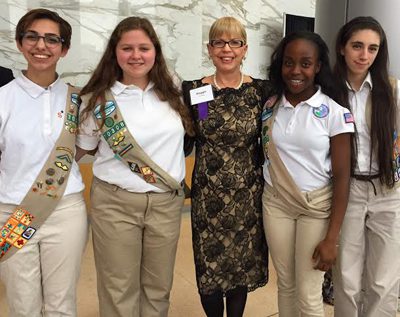 The dictionary defines "tough" as the following: physically and emotionally strong; strong enough to withstand adverse conditions. That seems like the right description for Maggie Varney.
Varney, the founder and CEO of Wigs 4 Kids, recently was awarded with the Southeastern Michigan Girl Scouts "One Tough Cookie" Award. The award is given out to women in the community that display great acts of leadership and community service.
Varney said she was humbled to receive the "One Tough Cookie" Award which brings more credibility to Wigs 4 Kids, and helps the organization reach out to additional children in need.
"Girl Scouts is a wonderful organization that teaches girls and young women leadership skills that will last a lifetime. We are fortunate to have several Daisy, Brownie & Girl Scout troops who come in with their leaders to volunteer with our program. Several of our wig recipients are also
Girl Scouts," Varney stated.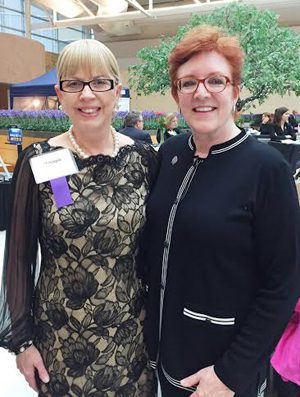 Varney has been in the beauty industry for more than 40 years and has been a successful business owner and entrepreneur for more than 25 years. She is the president and owner of Go Green, a socially responsible and eco-friendly full-service salon, and a Michigan certified technician of the national Look Good Feel Better Adult & Teen Programs for more than 25 years.
Varney also volunteers her time and talent to teach cancer patients how to deal with the appearance-related side effects of chemotherapy & radiation.
During these experiences, Varney noticed a need to help young people and families in their struggle with health challenges causing hair loss. Varney founded Wigs 4 Kids in 2003; it is a local grassroots nonprofit 501(c)3 organization that provides wigs and support services to Michigan children losing their hair as a result of any illness or disorders.
The program is available to children and teens between the ages of 3 through 18 at no charge to them or their families. Since the organization's inception 13 years ago, Varney has changed the lives of over 2,500 children in need of wigs and support services.
Varney works to continue her mission for Wigs 4 Kids. However, she still finds time to personally guide and mentor both her employees and the wonderful children who go to Wigs 4 Kids for support. With a first-in and last-to-leave mentality, Varney shows what can be accomplished when you truly believe in a cause.
In 2010, Wigs 4 Kids Wellness Center & Salon opened the doors to further assist the children of Michigan. In the Center, Wigs 4 Kids offers emotional, psychological and social support where kids participate in art & music therapy, nutrition, and self-empowerment activities. Field trips and counseling on an individual and family basis is also provided at no charge to the kids and their families.