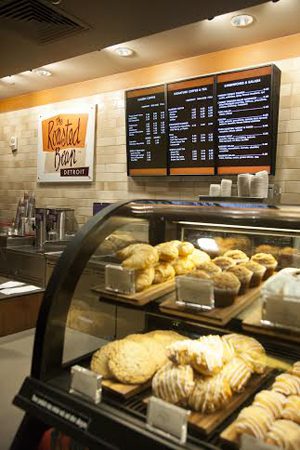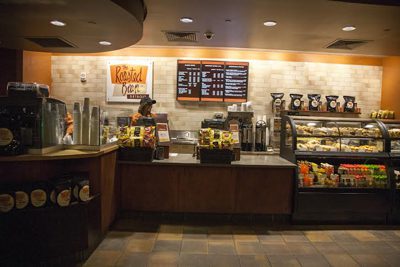 Sometimes, you need another place to work than your office. Perhaps it's because you need some solid quiet; maybe you need to get a project done without interruption. That is where having a few hidden spots are ideal – and coffee houses are a great place to get space and get caffeine at the same time.
That is one reason why the opening of the Roasted Bean – Detroit is something to note; it is a great place to get work done and get away from your cubicle. Yet is also is a unique place to learn about Detroit, to enjoy locally sourced coffee and have an amazing pastry.
The Roasted Bean – Detroit is inside MGM Grand Detroit, which means you benefit from the venue's renowned pastry team. They have stocked the shop with their fresh baked goods as well as snacks from other local companies including Faygo, Guernsey Dairy, Better Made and the Detroit Institute of Bagels.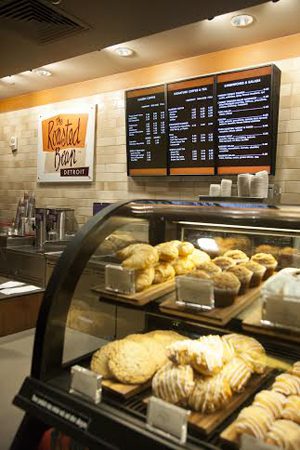 The Roasted Bean transforms the casino entrance in the space formerly occupied by Starbucks. Designed by Sachse Construction, the venue takes the best of its sister cafés at the Mirage and Beau Rivage and adds a strong Detroit influence. For example, there is a mural wall with images of iconic Detroit brands, places and faces. Staffers say it is a challenge for patrons to see if they can recognize every picture there.
Another reason to visit the Roasted Bean? Its hours. Hours of operation for Roasted Bean – Detroit will be Sunday through Thursday 6 – 1 a.m. and 24 hours on Friday and Saturday. So if you need to blast through a project, you know you can go there day or night.
"Our company always likes to take a look at how we interact with the communities where we operate. We're very pro-Michigan and we're clearly pro-Detroit," said Steve Zanella, president and COO at MGM Grand Detroit. "We see it as part of our corporate social responsibility – we want to support local businesses in real ways. We don't see them as just vendors; we see them as our business partners."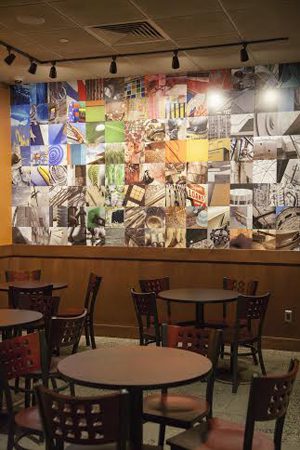 The coffee and espresso served at Roasted Bean was developed after weeks of testing between Royal Oak-based Crazy Fresh Coffee and the culinary team at MGM Grand Detroit. The blends developed are proprietary and will be roasted fresh daily.
"Our team members had worked with Crazy Fresh Coffee in the past, so we knew we loved their products. We took a took trip out to Royal Oak to learn more about their roasting process," Zanella said. "It's an art. Their stuff isn't computerized; there's an artist sitting there that's roasting the beans and creating the coffee."