One of the best things about new leadership at any organization is the fresh enthusiasm this person brings to the organization. It's like springtime – everything feels full of potential.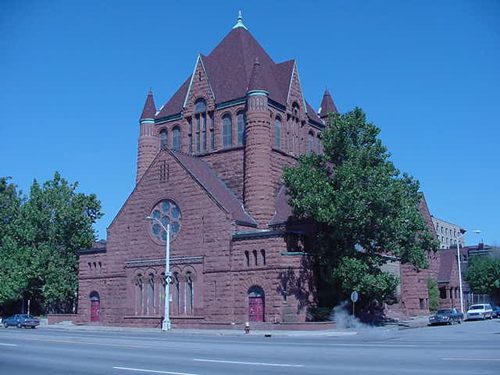 One such place is the Ecumenical Theological Seminary (ETS) in Detroit. The seminary is located in the historic landmark church of First Presbyterian at 2930 Woodward Avenue in midtown Detroit. Right now, ETS is in the midst of its own rebirth of sorts, gaining a new leader who has bright ideas not only for the city but for how to grow the seminary, its reputation and its student base.
ETS' new leader is Rev. Dr. Stephen Butler Murray, an extremely well educated man with impressive credentials. What's great about that is he arrives in Detroit as a bright-eyed newcomer with no previous experience here. He's optimistic, interested and intrigued with the city. And he's ready to create partnerships with everyone around.
"(The revival) is not just about Christian communities in Detroit; there's an credible opportunity for interfaith opportunities here as well," Rev. Dr. Murray told me during a meeting in what will become his new office. "I have that sense of the city – that is really is a phoenix rising from the ashes. Detroit has that sense of renewal, revival and revitalization. Could there be any more exciting opportunity than that? To come into a place where there is real work to be done and the work that is to be done matters – genuinely matters."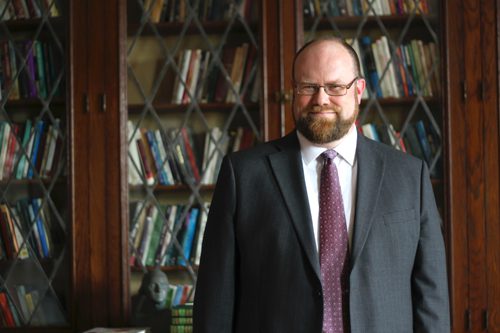 Rev. Dr. Murray has been appointed president and professor of Systematic Theology and Preaching at ETS. He will officially assume his position as ETS president July 1. He replaces Dr. Marsha Foster Boyd, who was president since July 2006.
"We have a real opportunity at ETS to be a place where the urban and the suburban can come together. It is a place where the two can have a dynamic conversation and find a way to truly be of service together," Murray said. "That's not to say that we can bridge every gap that exists by any means. But we do create an opportunity where those constituencies can come together."
ETS is unique because of its universality, Murray said. For example, ETS is one of two locations in the United States with a Muslim chaplaincy program, which provides the advanced training and credentials to become a chaplain in a prison or military setting.
"Everyone is welcome here," Murray said. "Most seminaries are based around a specific denominational background. There are Presbyterian seminaries. There are Methodist seminaries. This one, from its very inception, was an ecumenical theological seminary put together by diff denominational backgrounds with the intentional sense to serve as a hub for people of different backgrounds to engage with each other."
Currently, Rev. Dr. Murray is the founding Dean of the College and Associate Professor of Theology at Barrytown College, a new liberal arts college in upstate New York, which focuses on the study of world religion and philosophy. He also serves as Senior Pastor of The First Baptist Church of Boston, Massachusetts and as American Baptist Chaplain to Harvard University and Denominational Counselor and Lecturer in Ministry at Harvard Divinity School.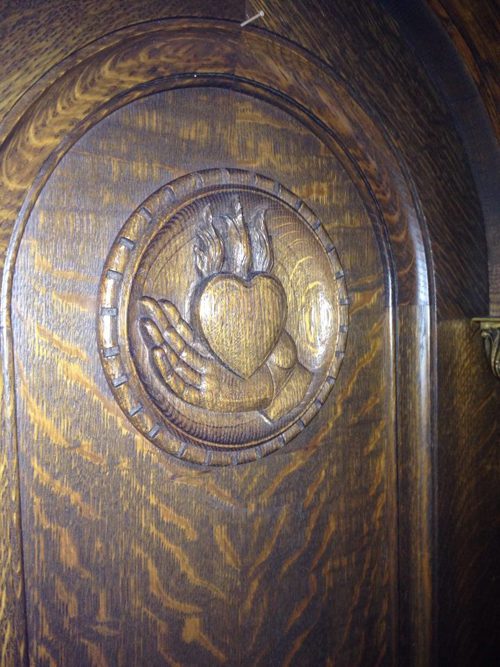 Some background on ETS: Established in 1980, ETS is an accredited institution that provides students with an outstanding theological education, preparing them to serve as skilled pastors in religious institutions and also teaching them the skills they need to become active, compassionate ministers in today's complex, multicultural and economically diverse communities. ETS alumni serve congregations and communities throughout Michigan, the United States and the world.
"A seminary is not just a place that trains ministers. It also has the role of coordinating among ecumenical and ecclesiastic bodies. In that way, we can be a real hub for conversations about how churches and people of social consciousness in the city can really to do this work together," Murray said.
Murray's parents were his first introduction to Michigan; they attended Michigan State University for some of their higher learning. His parents were from the Buffalo area, and his father graduated from Cornell University. There was a particular MSU professor his father wanted to work with, Murray said, so the couple ended up in East Lansing for a few years.
Murray himself was born and raised on the East Coast. He grew up around Delaware and Philadelphia. Rev. Dr. Murray received a Bachelor of Arts degree in philosophy and religion from Bucknell University, a Master of Business Administration degree from Endicott College, a Master of Divinity degree from Yale University Divinity School, and the M.Phil. and Ph.D. in systematic theology from Union Theological Seminary in New York City.
Previously, he served as the chaplain and on the faculty of Endicott College, Skidmore College, and Suffolk University, and as an administrator at Yale University's Dwight Hall Center for Public Service and Social Justice.  In parish ministry, Rev. Dr. Murray has served as the pastor of American Baptist, Lutheran, Presbyterian, and United Church of Christ congregations in urban, suburban, and rural settings of Massachusetts and New York.
Murray jokes: "I had a friend who introduced me once at a conference as an 'ecumenical movement onto myself.' When you consider I grew up Episcopalian, I've covered almost every base."
"What's great is that my wife and I have friends in Windsor and Ann Arbor, so we're starting off with a little community here," Murray said.
And he says he cannot wait to get to know the people, places and religious organizations now around him in Detroit. One of his goals is to not only get to know his neighbors, but to spread the words about ETS around the nation.
"ETS has its identity for urban ministry, but we've got to market ourselves better. We've got to open the doors to more people. We need to be innovative and to offer specializations," Murray said. "In that way, we can bring in students from a variety of places, interested in understanding what our mission is here. And part of our mission is Detroit.
"I'm terribly excited about the city. What's amazing about Detroit is there are so many ways for people to get in get their hands dirty and get to work," Murray said. "It allows people to be innovative and creative and try to look at things with a diff perspective."