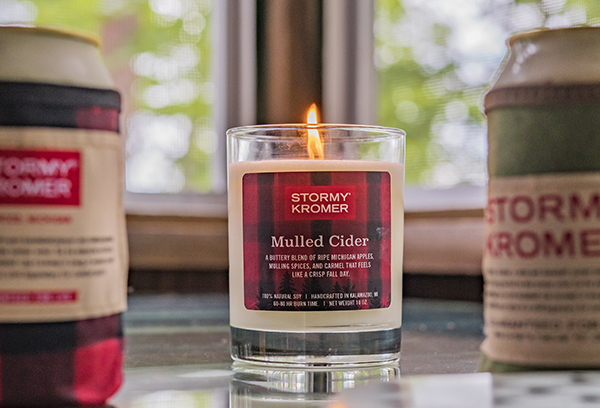 Ironwood, MI — Stormy Kromer's 2022 holiday collection highlights small businesses in Connecticut, Wisconsin and Michigan with new product collaborations. The collection includes 13 limited edition items from caps, mittens, headbands, candles, blankets and more. The outdoor apparel company worked with Kalamazoo Candle Company, American Woolen Company and Northwoods Manufacturing run by Hurley High School in Wisconsin to create the Limited Edition Snowdrift Cap, Cribbage Board and the Balsam & Cedar, Campfire and Mulled Cider scented candles. 
"As a small business ourselves, it's important to us to shine a light on other companies in the U.S. making great products and supporting their local communities," said Gina Thorsen, CEO of Stormy Kromer. "The cribbage boards designed by Hurley High School in Wisconsin are in the shape of our original cap and support Northwoods Manufacturing, the company run by the students themselves. It's a one-of-a-kind gift."
The Limited Edition Snowdrift Cap ($99.99) features wool produced in Connecticut by the American Woolen Company, then cut and sewn in Ironwood by Stormy Kromer. The six-point crown of the wool blend Snowdrift is lined to provide the ultimate lightweight warmth. Let down the cozy tie-up ear flaps, and you're ready for that winter wonderland.
The Limited Edition Cribbage Board ($99.99) was created by Northwoods Manufacturing – a business run within Wisconsin's Hurley High School by the students themselves – the custom Cribbage Board in the shape of a Stormy Kromer cap is the ultimate Stormy Kromer gift.
The Balsam & Cedar, Campfire and Mulled Cider candles ($19.99) are manufactured by Kalamazoo Candle Company. These glass candle jars with plaid labels are the perfect addition to your holiday table. Balsam & Cedar is an outdoorsy scent of fresh-cut pine, cedar and eucalyptus that feels like a mountain hideaway. Campfire combines woodsy balsam, patchouli, and wild flowers to spark memories of stories and friends under the stars. Mulled Cider is a butter blend of ripe Michigan apples, mulling spices, and caramel that feels like a crisp fall day.
"Making our sustainably made soy candles for a company that has been around for such a long time and continuing to innovate is an inspiration," said Adam McFarlin, Founder & CEO of Kalamazoo Candle Company. "The designs and fragrances Stormy Kromer selected are a great representation of their brand. We are proud to work with amazing Michigan companies whenever we can."
For the full collection, visit www.stormykromer.com/holiday-shopping-guide To find Stormy Kromer online, visit www.stormykromer.com or follow along on social media at @StormyKromerOfficial on Instagram and @StormyKromer on Facebook.