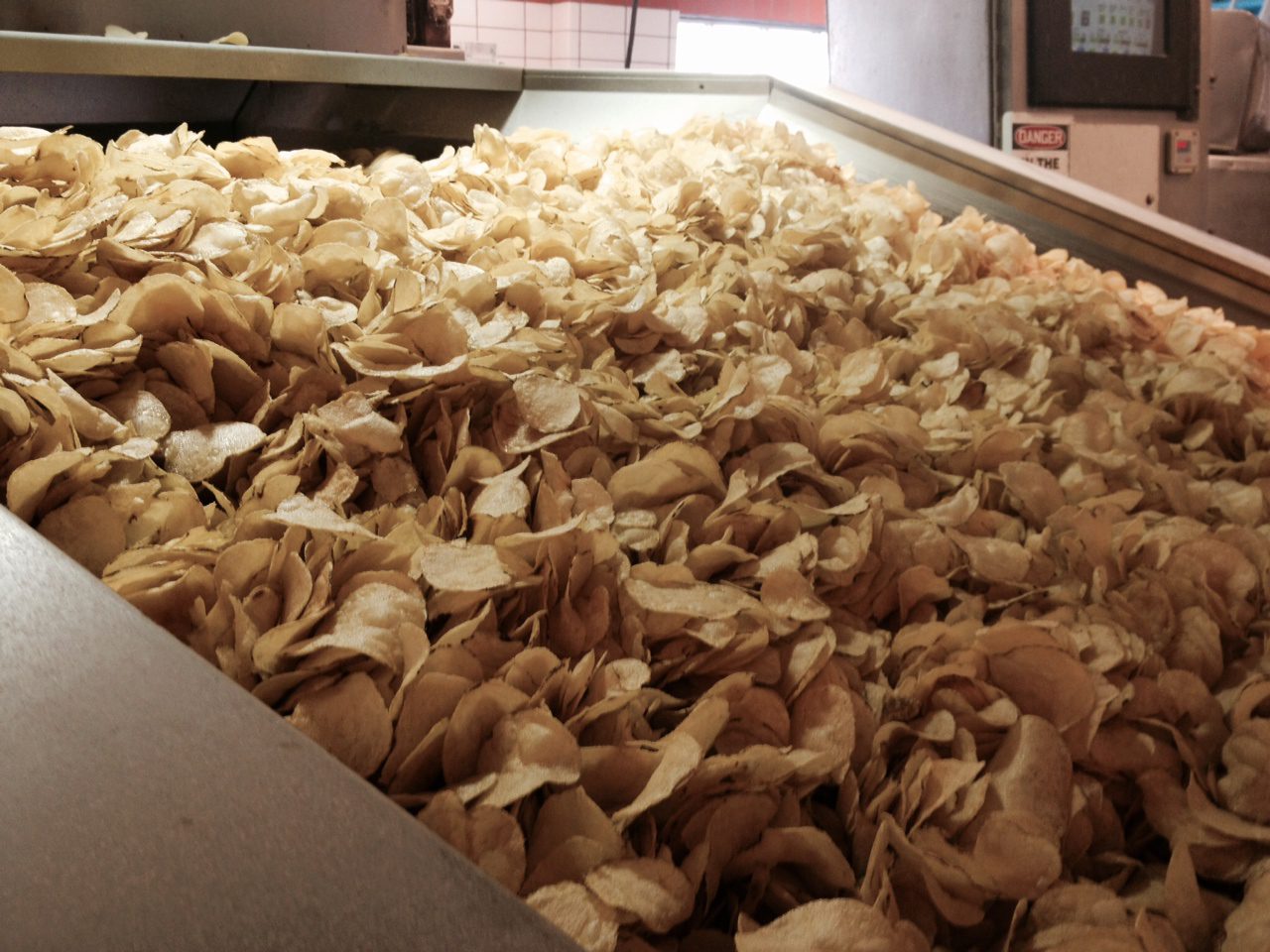 There are few things more crispy, salty and lovely to munch than a potato chip. They're the epitome of snacking goodness, if we do say so ourselves.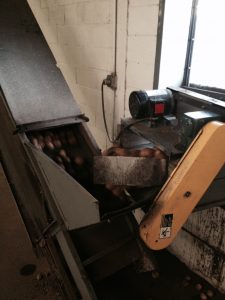 That is why Corp! was thrilled to visit the Better Made Snack Foods manufacturing plant in Detroit in honor of National Potato Chip Day, which was celebrated March 14. This family-owned company employs about 250 people in the city. They are reinvesting not only in Detroit, but in its reputation for manufacturing prowess, our tour showed.
Bill Kleine, the vice president of Plant Operations, was kind enough to take us through the well-organized plant at 10148 Gratiot. There is something reverent about this location; it has housed Better Made for about 70 of its 80 years in the city. Seeing its bright-yellow signs as we pulled into the parking lot was about as good as it gets for native Michiganders.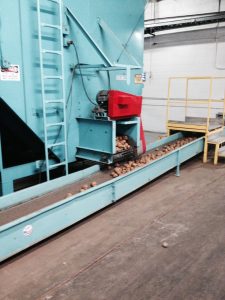 Because the company is obsessed with running a safe, clean operation, Kleine had us wear a hairnet, safety glasses and laboratory jackets. Earplugs came in handy as well as we walked the production line from start to finish. The goal, he said, is to ensure every Better Made customer gets only golden, tasty potato chips in their bags. So when you toss your head back to catch the last crumbs, you find only crumbs inside. (Not that we know anything about cleaning out the chip bags that way…or something.)
A little about the Better Made facilities: Everything starts with Michigan-made products. At least nine months of the year, Better Made uses Michigan-grown potatoes. It also uses mostly Michigan-based spice companies for its salt and flavorings, Kleine said.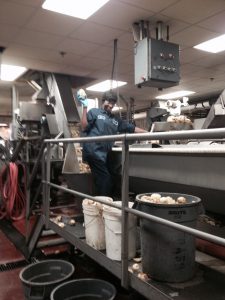 The chip process starts with the potato delivery. Every day of the work week (and some weekends), 50,000 pounds of potatoes are poured into the processing equipment. That happens six times a day on average. That means about 300,000 raw pounds of potatoes are processed daily, five days a week.
From conveyors, those potatoes are sent into bins that hold them until they are sorted and sent to the peeling area. Here is where we wish you had Scent-o-vision. The dark, earthy smell of dirt permeates the plant – it's a heady, wonderful smell of Mother Nature. (In fact, if you visit the plant, you'll have the light scent of potatoes about you for the rest of the day. It's kinda great.)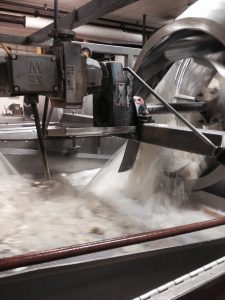 On this part of their journey, the potatoes are brushed to remove most of their peels, and quality inspectors make sure the green bits don't make it too far. Now, green just means the potato got a sun burn, Kleine said. But some people don't want that on their chips, so they cut that out, he noted.
Next, the potatoes go through automated peelers that can chop through 12,000 pounds per hour. The resulting slices are almost paper thin; Better Made likes to have a slightly thicker slice so it can absorb more of the cottonseed oil it uses for frying. The result is a tasty, crisp chip that satisfies its longtime customers, Kleine said.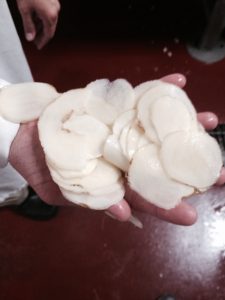 From there, the slices go into the fryer. Because potatoes are about 75 percent water, they are kept moist throughout the trip from the bin to this point, washing off starch as they're prepped to be cooked. They are salted here for the most part; some receive flavoring as they travel to the packaging area.
All in all, it takes about seven minutes for the mighty spud to go from its natural state to a chip. That's it – seven minutes. And, trust us, you'll want to try a hot chip fresh off of the line if you ever get a chance. They're fluffy, crisp and so fresh tasting – it's a slightly different experience than opening the bag and diving in like we usually do.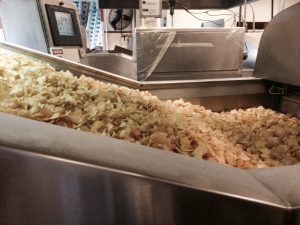 Every part of the process is thought out, considered and evaluated, Kleine said. Humans are very much part of the process, and there are quality inspectors all along the line. But there's also a great deal of automation where it makes sense and helps improve the product, he said. More importantly, the family that owns the Better Made company is always reinvesting in equipment, adding new bagging systems and processing bins as recently as February.
Kleine said he loves the teamwork and spirit that exists within the facility, where he has worked for the past five years. He hopes to be with the company for the rest of his career, something he knows that most of the people working there today also hope. And, thanks to so much reinvestment in the city and its residents, that will keep this Detroit mainstay around for at least that long.
"We're going to revitalize Detroit one chip at a time," Kleine said.