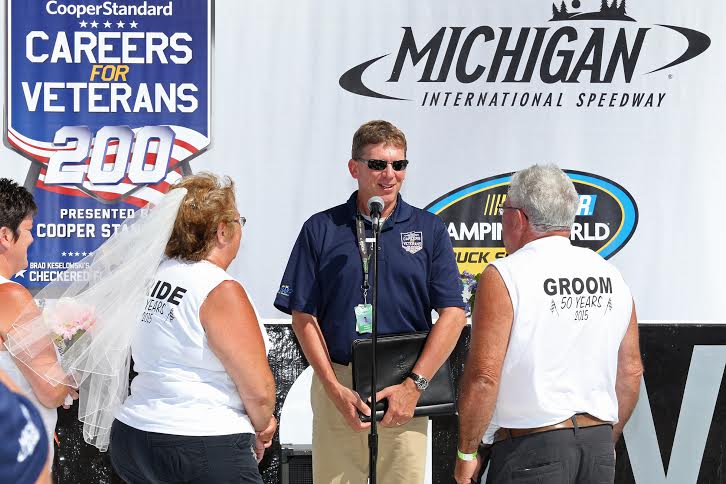 Some jobs come with "side gigs" that can be difficult or challenging. Then there are the work-related extras that bring true joy to the daily grind.
Let's just say that Roger Curtis, president of Michigan International Speedway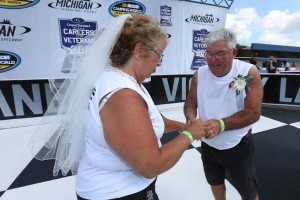 , has one of the best jobs around, and that's not just because he gets to do what he loves and in a place that's surrounded by serious Michigan beauty. He also gets to hold weddings and re-marry the bride and groom every once in a while.
NASCAR fans Karen and Dave Hastings of Brussels, Ontario, Canada, renewed their wedding vows on their 50th anniversary Aug. 15 at Michigan International Speedway in Brooklyn.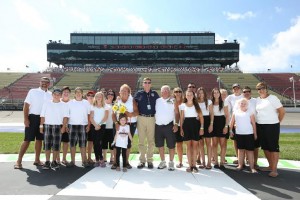 MIS President Curtis performed the ceremony in Gatorade Victory Lane following the Careers for Veterans 200 presented by Cooper Standard Foundation and Brad Keselowski's Checkered Flag Foundation.
The couple, who have been attending NASCAR events at the track for more than 20 years, brought all their children and grandchildren to the ceremony. It was the first time the entire Hastings family has been to MIS together. They wore "bride" and "groom" T-shirts to the wedding.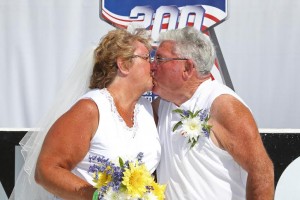 "Oh, we love it here," Dave Hastings said of MIS. "The first time I came here, I was hooked. It used to be a boys' trip, and somewhere along the way, the girls started joining us. There's no place we would rather be in the summer, and to get to spend it with our family has been unbelievable."
Curtis, ordained online to perform weddings, does so to raise money for MIS Cares, the speedway's official charity. He performs one wedding per race weekend.