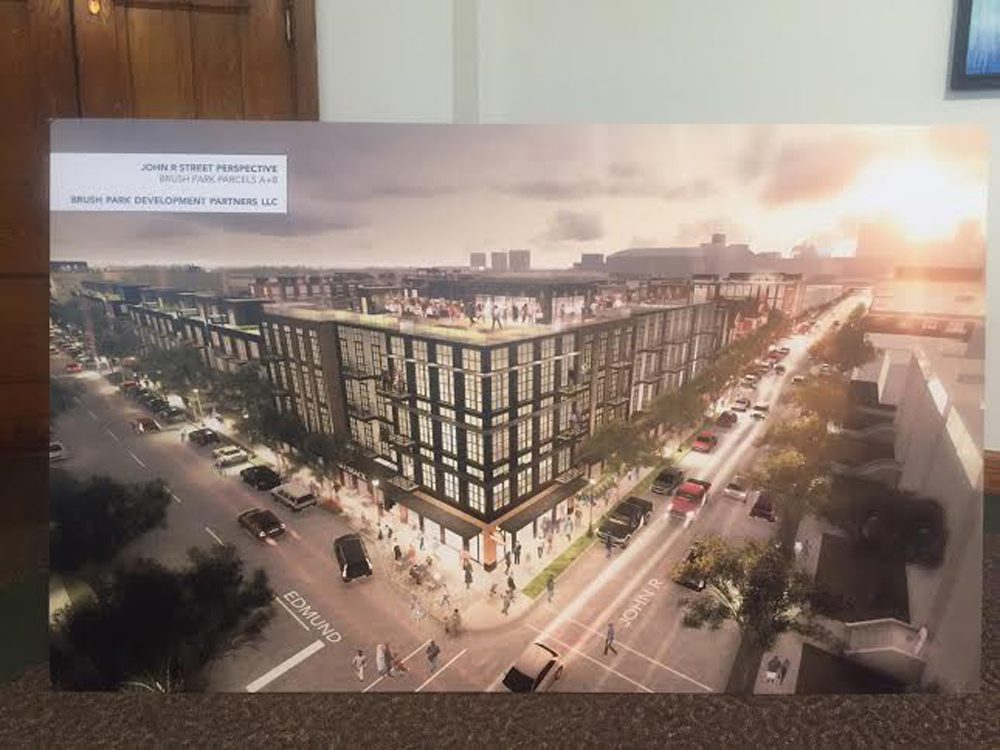 Detroit's historic Brush Park – near the future location of "The District"  hockey arena and other significant projects – is about to gain even more attention with a new student architecture competition.
With the help of nearly 40 students, advisers and professors from the University of Detroit-Mercy, Lawrence Technological University and Illinois Institute of Technology, Bedrock Real Estate Services along with the Brush Park Development Co. has launched a competition to revitalize one of Detroit's most promising neighborhoods.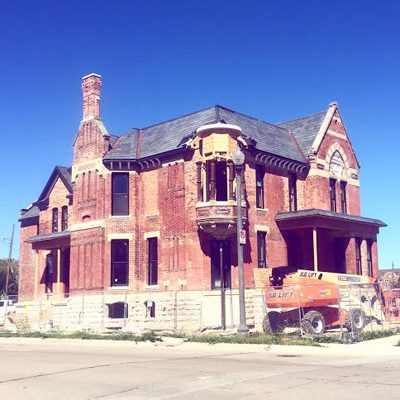 The group came together Sept. 22 for an orientation session at the Ecumenical Theological Seminary on Woodward to discuss the Student Architecture Ideas Competition. This fall, the three student groups will dedicate one of its studios to the Brush Park project. The goal, explained Melissa Dittmer of Bedrock, is to develop a mixed-use project that puts people of all income levels, ages and experiences in a top-notch residential and retail development.
While professional architecture firms will take on the bulk of the project, the students will have their own section to dream about, experiment on and develop in a real and substantial way.
At the end of the semester, Bedrock plans to post all of their work on our project website and display it in a public exhibition. The juried competition includes cash prizes: First prize, $3,000 and a paid architecture internship at Bedrock; Second prize: $2,000; Third prize: $1,000.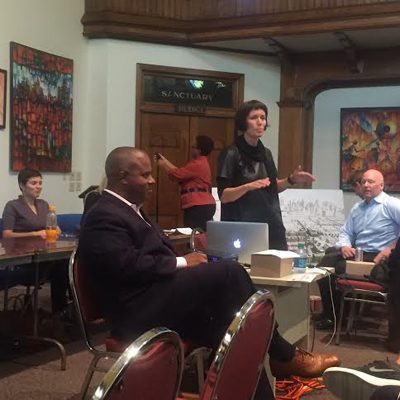 "We feel pretty passionate that the success of this project will set a tone for Detroit redevelopment going forward," said Dittmer, director of architecture and design for Bedrock.
Residents, area historians, real-estate experts and community representatives came to the Sept. 22 meeting. Students got to tour the area, see inside residents' current homes, hear about what residents wanted in terms of design and check out area landmarks, including the Ecumenical Theological Seminary as well as the Nicole Curtis/HGTV "Rehab Addict" project at the venerable Ransom Gillis mansion. Midtown Detroit was also there, showing its support.
Background: The Brush Park project will be a 47-parcel new residential development in Detroit's historic Brush Park neighborhood. A four-block area of Brush Park will be completely transformed under a development agreement between the city of Detroit and Brush Park Development Co.  LLC.
The majority of the four-block area, which is generally bounded by Edmund Street to the north, John R to the west, Brush to the east and Alfred to the south, will be new residential construction designed to complement the existing neighborhood architecture.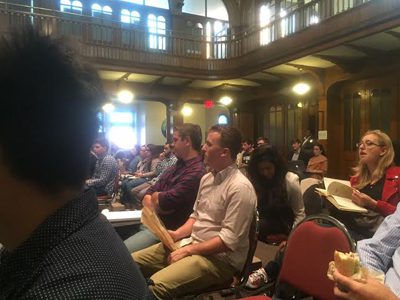 Among the partners of Brush Park Development Co. are: Marvin Beatty, Darrell Burks, Freman Hendrix, Pamela Rodgers, Sam Thomas and Bedrock.
Brush Park Development's internal project team includes development, finance, architectural and real estate professionals from Bedrock. Externally, the  team is working with Hamilton Anderson Associates and Giffels Webster. Project advisers include Henry Ford Health System and The Skillman Foundation.
Restoration on the area's historic houses began this summer, and work on the new residential construction also is expected to begin by year-end. Completion is expected  in 2017.
For more information, visit www.BrushParkDetroit.com. Competition entries are due the first week of December. A Jury will view the presentations during the week of Dec. 7.