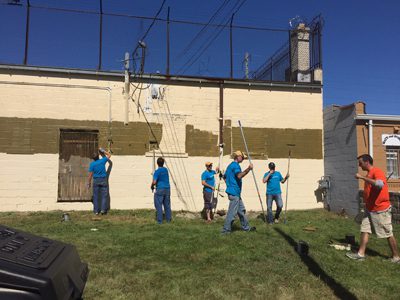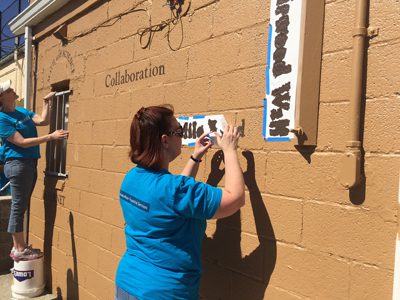 Going to work every day on the same route, seeing the same office, talking to the same people – it's certainly good to have a routine, but it's always good to shake it up now and again.
Perhaps that is why there were so many smiling faces, enjoying a perfect Michigan summer afternoon as they created a painting masterpiece of sorts on Eight Mile in Detroit. There, a group of volunteers from Mercedes-Benz Financial Services USA participated in the "Week of Caring" event at Vintage Coffee, where they rehabbed the building's exterior and much more.
The "Week of Caring" on Eight Mile included a $5,000 grant and nearly 50 volunteers who helped spruce up local Detroit businesses along the busy corridor. The Eight Mile Boulevard Association (8MBA) helped organize the volunteers, who spent Monday and Tuesday fixing up a series of buildings with new brick work, flowers and many gallons of paint.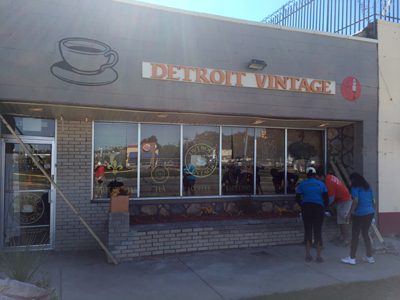 Vintage Coffee has been a neighborhood mainstay, but it's front didn't reveal the unique and character-driven business on the inside, noted Melinda Mernovage, media relations for Mercedes-Benz Financial Services. By painting the entire building, adding new signage that included a coffee cup and some new plantings, Vintage Coffee sprung to life as a great spot for caffeine lovers.
The mural painted on the back of the building was designed by business owner Pam Duvall, whose grandparents built the shopping center. They once owned the Paris Inn, a well-known soul-food restaurant there. Duvall maintains their spirit with her coffee house, and the fresh paint on the back highlighted the structure as well as a new patio the volunteers installed.
The project is part of the third-annual MBFS "Week of Caring" campaign, an annual, company-wide service initiative supporting projects in Metro Detroit and Dallas/Fort Worth, where the company is located. It is a core philosophy of MBFS that Every Community Matters, and the company has put considerable muscle behind that commitment each year. This year, MBFS is committing more than 500 volunteers and 3,000 service hours to 11 projects in Metro Detroit alone (1,100 volunteers and 7,000 service hours total).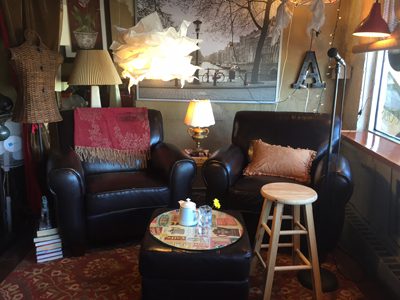 Over the course of five days more than 500 volunteers will help with a variety of Detroit area projects including: Harvesting food at Forgotten Harvest's Farm; preparing food for the hungry and making doormats from recycled tires to support the homeless at Cass Community Social Services; helping with construction of an existing Habitat for Humanity home in Warren; and contributing to landscape beautification efforts throughout the neighborhood where this house is located.
This year's Detroit Community Partners are: Beyond Basics, Community Living Centers, Forgotten Harvest, Junior Achievement, 8 Mile Boulevard Association, Neighborhood Service Organization, Alternatives For Girls, Cass Community Social Services, Habitat for Humanity, Greening of Detroit and Kids Against Hunger.