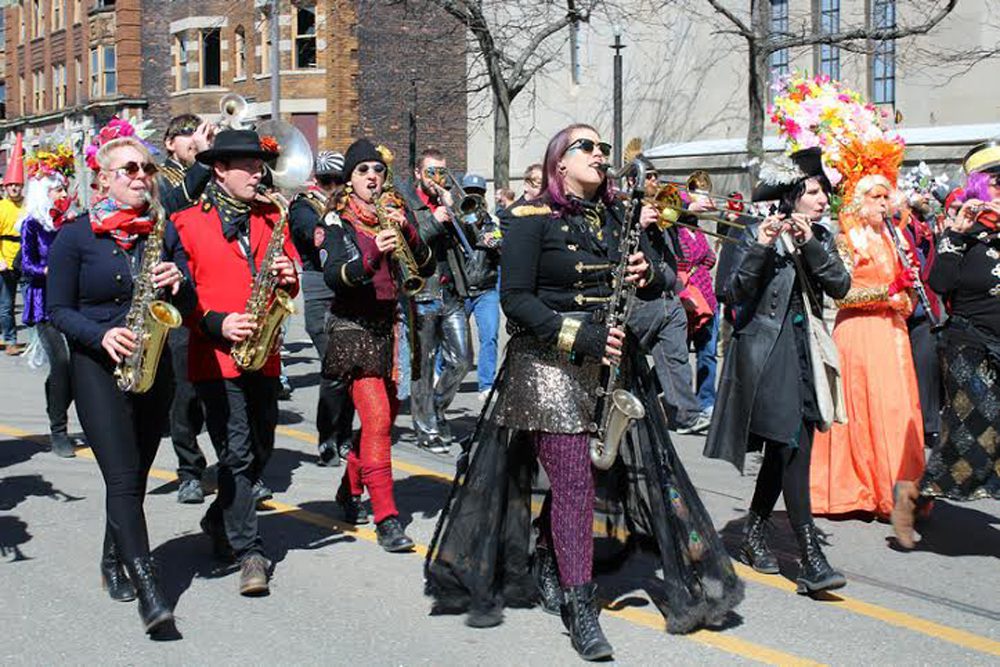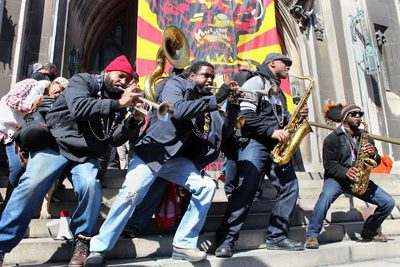 Maybe you are looking for something to do outdoors. Maybe you are interested in seeing the growing number of businesses in Detroit's Midtown and nearby neighborhoods. Perhaps you are curious about who this "Nain Rouge" who haunts the city might be.
For those reasons and many more, one of the best bets for fun, festivities and a family-friendly outings is the "Marche du Nain Rouge," the annual party and parade that will start at 1 p.m. Sunday, March 20, at the corner of Second and Canfield streets in Detroit.
This is the seventh year that organizers including Francis Grunow and friends have put together the parade, which not only highlights the start of spring but the city's growing resolve to bond together in order to improve Detroit.
"With every Marche, we have seen more Detroiters participate in bolder, more creative ways," Grunow says. "Our grants and workshops have helped plant the seeds to make this the best display of Detroit love, yet."
The Marche began as a small group of revelers who came together to oppose the "harbinger of doom," or the Red Dwarf who was said to have brought Detroit bad luck since the city was founded. Today, the parade is a sizable event, drawing thousands of Metro Detroiters to the Midtown/Cass Corridor area.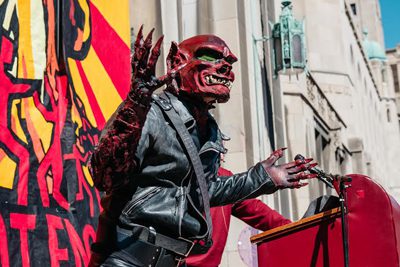 New this year is a community-funded float competition. Community groups from all seven Detroit districts will join in the revelry, thanks to seven $1,000 grants from the parade organizers. The grant money was donated through the parade's first crowdfunding campaign, and matched by Midtown Detroit Inc., a sponsor of the Marche du Nain Rouge.
Detroit's Caribbean Mardi Gras Productions hosted a free Neighborhood Marche Workshop to share its expertise, tips, and creative genius to help participants be Marche-ready.
"I love to help people take their most creative visions and make them into reality," says Ralph Taylor, President of Caribbean Mardi Gras Productions. "You don't need much more than a good idea and some simple materials to make stunning visual displays."
The Marche du Nain Rouge sponsors include: Midtown Detroit Inc., Masonic Temple, The Auburn, Quicken Loans, Skillman Foundation, Zipcar, Roxbury Group, Traffic Jam & Snug, Honest John's, Canfield Lofts, Hop Cat, Slows To-Go, Third Man Records, Selden Standard, Yelp, Cass Café, Detroit Fire Collective, Good Vibe Tribe at TV Lounge, Green Dot Stables, Iconic Tattoo, Jolly Pumpkin, Majestic Theatre, Old Miami, Temple Bar, Go Sy Thai, Noir Leather and more.
Many Detroit businesses also will offer specials to usher in Sunday's Marche du Nain Rouge. Some highlights:
City Bird and Nest – 460 W. Canfield St.: Throughout the Fete du Nain Week, City Bird will feature their exclusive, limited-run Nain Rouge-themed merchandise, including a new t-shirt in honor of the 2016 Marche du Nain Rouge, designed by Detroit artist, Don Kilpatrick. From 11am to 2pm on Marche day, both stores will host their 7th annual Fête du Nain Rouge. Each offers complimentary Nain-themed refreshments, as well as free Nain Rouge beads with every purchase. In addition, City Bird will feature amazing vintage-style paper masks and costume accessories with free mask-making table for any finishing touches to your costume.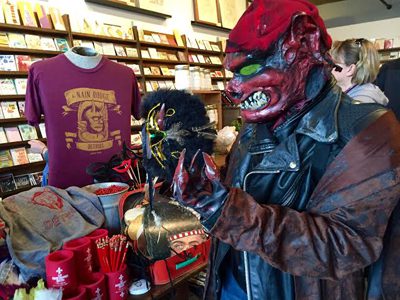 Hopcat – Detroit – 4265 Woodward Ave.: Go to HopCat all Fete du Nain Week for fiendishly delicious Nain Wings and check for Nain drink features. Don't miss the special 11 AM Saturday March 19th tapping of the special Nain beer and mead.
Jolly Pumpkin Pizzeria and Brewery Detroit – 441 W. Canfield St. #9: All Fete du Nain Week, enjoy our Nain-inspired food specials! Celebrate the Nain with a "Blood Bath Beer" or a Watermelon Peppercorn Bloody Mary. On Marche morning we will be doing a special opening at 10AM.
Majestic Theatre – 4120 Woodward Ave.:  Prepare for the Nain with 15% off brunch in the Majestic Café on Marche Day, including bottomless mimosas and Bloody Marys.  Want to take out your disgust for the Nain, throw some bowling balls down a lane afterwards – free bowling with your brunch receipt.
Stella Good Coffee – 3011 W. Grand Blvd. #110A: Don't miss the Nain Rouge Latte dusted with cinnamon – available all week. Nain Rouge Roast – whole bean coffee will be available all week too. Look for Stella's Nain in a Cup which will be appearing around Detroit all week.
Traffic Jam & Snug – 511 W. Canfield St.: Get ready for the Nain with specials Fri to Sun. Crawfish Boil – A devilish mess of fiery red hot crawdads just up from NOLA with Redskins, corn on the cob and Andouille sausage. Devil in a Red Dress – Devil's food cake filled with chocolate ganache clothed in a red raspberry cream frosting and vanilla ice cream. Happy Hour pricing at bar from 2:00-close.