Thanks to a lot of social-media hustle, a lot of votes and a dynamite presentation, Sister Pie is the winner of the 2014 Comerica Hatch Detroit Contest, presented by The Detroit Lions.
According to its description, Sister Pie "aims to celebrate the seasons through pie and will use seasonal, locally sourced ingredients to create sweet and savory food, including pies, cookies, breads and breakfast pastries." That means your pie will be made with the brightest, tastiest fruits and more from places like Eastern Market, so each delicious bite will be memorable and remarkable – according to Sister Pie's loyal fans.
Sister Pie will receive $50,000 from Comerica Bank, which provides the grand prize. This tasty new business also will receive legal, accounting and information-technology services from a variety of Hatch Detroit sponsors. This is the fourth year the contest has put a business on the map – previous winners include Midtown's Hugh and LaFeria as well as Batch Brewing Company. (Hugh and LaFeria are already open; Batch is opening in Corktown in the fall.)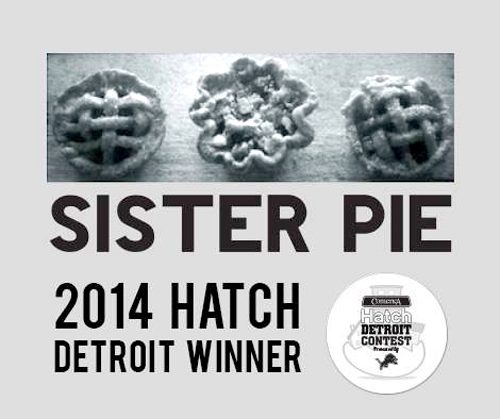 Wednesday night was a monumental night for Sister Pie, but it also introduced everyone who follows the contest to an amazing batch of finalists this year. The other three top contenders for the contest this year were Third Wave Music, Gabriel Hall and Cockadoodle. All were worthy ideas, and chances are Hatch Detroit and its noble employees, sponsors and friends will help these three visionary entrepreneurs get their businesses off the ground – because of the 30 finalists so far, 14 of them have gone from fantasy to retail reality. That's a pretty great track record.
A little about why Sister Pie won. Dang it, Lisa Ludwinski is smooth. She is fearless in front of a crowd. That acting background – she used to do her own television show called "Funny Side Up" from her tiny New York kitchen – truly paid off. She was funny. She was engaging. She had her numbers down and her business acumen was sound. Last year, Batch Brewing did the same thing – swept you off your feet with MBA suave. Lisa did the same and then some.
Here's the kicker. It's not just presentation. You have to have the chops – and Lisa does. She knows how to make pie, natch. But she understands that personnel costs are going to be her biggest bite of her budget – making pies are a labor of love, she said, and that takes time and good labor. She knew that having an association with grocers, wholesalers and the like would be key to her success. But she also knew that having the public on her side, via a cookbook and cooking classes, would also bring her regular money in the till.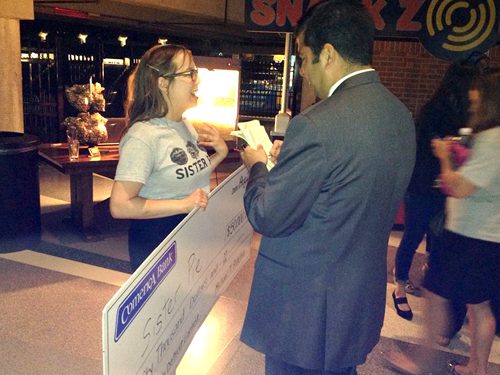 She dances, too. Dances with spirit. With joy. With pie in her hands and in her mind and, clearly, in her heart. Wait until you see her – it will be the icing on the cake (cookie? Pie? Whatevs.) when Sister Pie opens in spring 2015. (Sister Pie is looking at renovating and opening in the West Village at the corner of Kercheval and Parker Streets.)
And what's more, Lisa knew to talk to mentors. According to those in the know, she was the only one who reached out to Stephen Roginson, the guy who turned Batch nanobrewery into reality by winning Hatch Detroit LAST YEAR. Yes, you read that right. Lisa called Roginson. She talked to him for an hour about the contest. And what she learned was important because IT SHOWED. She made me and everyone else around us believe in her. In pie. In Detroit.
Isn't that what a business competition should be all about? I want a communal pie store. I want food that "demands to be shared," as Lisa put it. I want her weird ingredient combinations. I want her mom to tell me stories about her. She's good people. She's the future of this city.
"This isn't a job for her. This is her life's dream," her mother, Diane Ludwinski, said. "I told her, if you can be there from 10 a.m. in the morning to 10 p.m. at night and still be singing by the end of the day, you've found your life's passion."
Lisa's grandmother, Irene Skarjune, said her granddaughter "puts her heart and soul into everything. She's a hard worker."