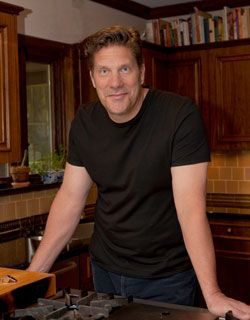 John Prepolec is the kind of guy that loves a great summer day, a hot barbecue and a house full of family ready to sit down together to enjoy a meal.
That is why the Bloomfield Hills resident – who works as a chef under the name of Johnny Prep – was kind enough to share one of his classic recipes with us. Prep is the new owner of Mr. B's in Royal Oak, only the second person to hold that title. He is in the middle of revamping its menu and adding some other new elements (which we will tell you more about next week…Stay tuned!)
Prep recommends barbecue for a variety of reasons. It's tasty, of course. It is fun to include other family members in the prep work, natch. But it also is a perfect way to match your meals to the weather – mixing food and fun is part of the reason Prep says he loves to cook.
One of his most favorite dishes is Barbecue. Here are two plates that he regularly prepares. He also loves to see variations of this. For example, his family regularly does Korean Barbecue at its family reunions. He uses a simple base (such as the one found here) and adds other tastes to it, such as soy sauce, sesame oil and chili paste. Add some scallions and garlic and you're off to the races.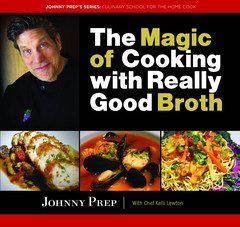 A little on Prep: He is a graduate of the University of Michigan with a degree in engineering (he also played offensive guard on the Wolverine's football team) and later became an automotive supplier executive. In 2011, he started Quality for Kids (Q4K), which aims to provide a competitive learning advantage to educators and students by teaching the methods, science, and culture of quality.
In 2010, Prep published his first cookbook, The Five Star Entertaining Casual Cookbook, which highlights how easy it is to make restaurant quality food at home. He is now at work on two other books, The Magic of Cooking with Really Good Broth, which shares the fundamentals of making broth and its use in many of our favorite recipes, as well as a book on child nutrition in conjunction with Wayne State University's Department of Nutrition and Food Science.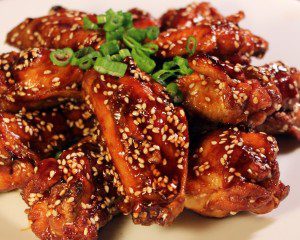 Johnny's Asian Barbecue Wings
Preparation Time: 25 minutes
3 lbs. chicken wing sections
3/4 cup hoisin sauce
1/4 cup sake
1/4 cup miirin (can be replaced with one tbsp. water and 1 Tbsp. sugar dissolved)
3 Tbsp. sesame seeds
salt and fresh ground black pepper for seasoning
1. Preheat oven to 500 degrees.
2. Lightly season the wings with salt and fresh ground black pepper.
3. Place wings on a foil lined baking sheet that was sprayed with non-stick spray. Place in the 500 degree oven for 15 minutes.
4. Whisk together hoisin sauce, sake, mirin, and sesame seeds in a large bowl. Place wings in the bowl and toss wings in sauce with tongs (don't use the tongs on the raw chicken) for 1 or 2 minutes until coating has absorbed into chicken skin.
5. Using tongs, pick up the chicken and place them bake on the baking sheet. Place back in 500 degree oven for 5 minutes.
6. Remove to a plate and brush with extra sauce.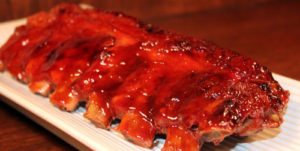 Baby Back Ribs
Preparation Time: 2 Hours
Ingredients
2 slabs baby back spare ribs, peeled
1 12 ounce bottle original recipe Open Pit BarBQ sauce
1 cup brown sugar
2 teaspoon Worcestershire sauce
Preparation
1. Wrap both slabs of ribs in heavy duty foil and bake in the oven on 350 degrees for 1 1/2 hours. Remove and let cool. Cut into 3 to 4 rib sections.
2. Preheat your grill or broiler on a high setting.
3. Mix the rest of the ingredients in a flat large bowl so you can dip the rib sections in the bowl of sauce instead of brushing. Make sure you stir the ingredients until the sugar dissolves.
4. Grill the ribs until the surface is dry on both sides. Then dip the ribs in the sauce and place back on grill. Continue to do this several times until all the sauce is used up. Make sure you dip and turn as soon as the sauce starts to turn brown so it doesn't burn. This method will give you a thick sticky outside with a fall off the bone texture on the inside.